The Ballwin mayor said he thinks the merger proposal is an effort to "water down the crime statistics."
The audit paints a picture of a runaway program that has cost far more than projected. 

Daily dose of news and notes in the STL from columnist Joe Holleman
McClellan
St. Charles
Illinois
Nation
Politics
Obits
Crime
More News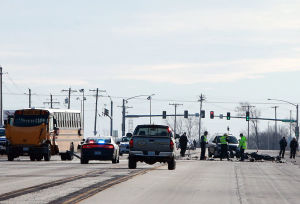 No students were on the bus when the crash happened just before 7 a.m.
US
World
Tech
Politics
Strange
Today in history
In 1986, a newborn wrapped in a red sweater was found abandoned in the bathroom of a fast-food restaurant. Nearly three decades later, the baby is all grown up and loo…
Stocks
Columns
Calendar
Salary Info
More Business
The percentage is expected to grow as the population ages.
Blender
Tube Talk
Restaurants
Movie Times
Movie Reviews
Comics
Tess Boyer and Theresa Payne were both featured on Monday's show.
Food
Health
Parenting
Religion
Travel
Pets
Deals
Fashion
Columns
The 22-pound cat trapped its owners inside their bedroom after attacking their baby.
Miklasz
Burwell
Cards
Rams
Blues
Mizzou
Colleges
High School
Matheny said 'it's not possible' unless Cards' top prospect can get healthy — and stay there. Latest setback is a hamstring problem.