RSSSt. Louis Post-Dispatch Contact Information
GENERAL WEBSITE HELP
Email the webmaster: sitehelp@stltoday.com
CIRCULATION CUSTOMER SERVICE
To subscribe, to report missed delivery, to make vacation stops/ starts, to order a change in service, to purchase back issues or to ask billing questions:
Phone: 314-340-8888
E-mail: service@stltoday.com
Hours of operation are:
Monday through Friday: 6:30 a.m. to 4:00 p.m.
Saturdays/Sundays: 7:00 a.m. to 11:00 a.m.
Holidays: 7:00 a.m. to 10:00 a.m.
GENERAL INFORMATION
St. Louis Post-Dispatch
900 North Tucker Blvd.
St. Louis, MO 63101
314-340-8000
For calls from outside the 314 and 636 area codes, you can call us at 800-365-0820.
You can e-mail Post-Dispatch staff members by using an individual's first initial and last name @post-dispatch.com
ADVERTISING DEPARTMENT
Click here for Advertising Information
To place a church directory ad: 314-340-8549.
To place a classified business ad or private party ad: 314-621-6666 or 1-800-365-0820.
Or visit: http://www.stltoday.com/ads
To place a Death Notice online and in the newspaper: 314-340-8600
Or e-mail: deathnotices@post-dispatch.com
MARKETING DEPARTMENT
The marketing department creates awareness about the Post-Dispatch and its products by communicating ways it has impact on people's lives, their businesses and communities. Listed below are some of the Post-Dispatch marketing programs and the people who oversee them and carry them out.
NEWSPAPERS IN EDUCATION
The Newspapers In Education program helps educators use the newspaper as a living textbook in the classroom.
E-mail: nie@post-dispatch.com
PUBLIC RELATIONS/COMMUNITY RELATIONS
To submit a notice of your event go to http://events.stltoday.com/
To send a press release go to http://interact.stltoday.com/pr/
To contact a member of the newsroom, see the directory at the bottom of this page.
All inquiries from other media (TV, radio, etc.) should:
Phone: 314-340-8903
E-mail: trouch@post-dispatch.com
THE POST-DISPATCH STORE
All merchandise sold by the St. Louis Post-Dispatch at www.thepost-dispatchstore.com. 1-877-POSTSTL (1-877-767-8785)
Mail: No mail orders available, use for RMA Returns only
Top Marketing USA
The Post-Dispatch Online Store Fulfillment
1332 Baur Boulevard
St. Louis, MO 63132
HAVE A CORRECTION?
If we made a mistake, we want to fix it.
For corrections in the newspaper, contact the editor in charge of the section in which the mistake occurred.
PREP SPORTS WEBSITE CORRECTIONS
Corrections to the prep sports section must come from the school coach. Have the coach contact our prep sports editors at 314-830.5400 or by e-mailing stats@stltoday.com.
NEWSROOM ARCHIVES
Looking for an old article, photo or obit? Click on link below for more information: http://www.stltoday.com/help/archives/
PHOTO DEPARTMENT SUGGESTIONS
If you have a suggestion for a photo assignment, please try to make your suggestion at least a week before the scheduled event. You can submit those suggestions:
Mail: Photo Department
St. Louis Post-Dispatch
900 N. Tucker Blvd.
St. Louis, MO 63101
Phone: 314-340-8277
Fax: 314-340-3103
For breaking news assignments of possible interest to the photo department, use the fax number or contact our assignment desk at 314-340-8277.
FAX NUMBERS
Classified 314-340-8665
Retail 314-340-3140
Circulation 314-556-6401
Business 314-340-3060
City Desk 314-340-3050
Editorial 314-340-3139
Features 314-340-3080
Metro 314-340-3050
Photo 314-340-3103
Sports 314-340-3070
TO SUBMIT AN EVENT
Our Events Calendar features events for your school or church, your bar or restaurant, your band or community organization. We hope it makes submitting and finding events on STLtoday.com, in the Post-Dispatch and in Go!, much easier! This will give you more control over listing your event and make it easier for our readers and your customers to find out what is happening in the St. Louis area. To submit an event, click the link below:
TO SUBMIT A PRESS RELEASE
This press release site is designed to allow you to share news with the readership of STLtoday.com. The Post-Dispatch has reviewed the contents of these news releases before they were posted on STLtoday.com, but has not verified their accuracy.
QUESTIONS ABOUT DIGITAL SUBSCRIPTIONS
NEWSROOM LEADERSHIP
EDITORIAL PAGE
NEWS REPORTING
BUSINESS
ONLINE
PHOTOGRAPHY
NEWSROOM ADMINISTRATION
PRODUCTION
SPORTS
ENTERTAINMENT & LIFESTYLE
FOLLOW OUR REPORTERS ON TWITTER
A list of our
reporters and photographers who have Twitter accounts.

Click here to find out how to contact us about customer service issues, advertising, PR and a list of newsroom editors and reporters.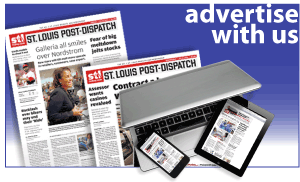 Click here to learn more about how to advertise in our network of print, targeted delivery, digital and niche products.