Mehlville schools have room for about 150 students wishing to transfer from the troubled Riverview Gardens School District — and no more, Superintendent Eric Knost has said time and again.
But others question how Knost can make that claim when classrooms in his south St. Louis County school district have lost more than 1,000 children since 2004, and school officials neither closed schools nor reduced capacity.
Enrollment at the district's two high schools has dropped by about 470 students in that time, according to state data. The district by its own count could take on more than 900 in its 10 elementary schools without violating state class size requirements, according to enrollment numbers last spring.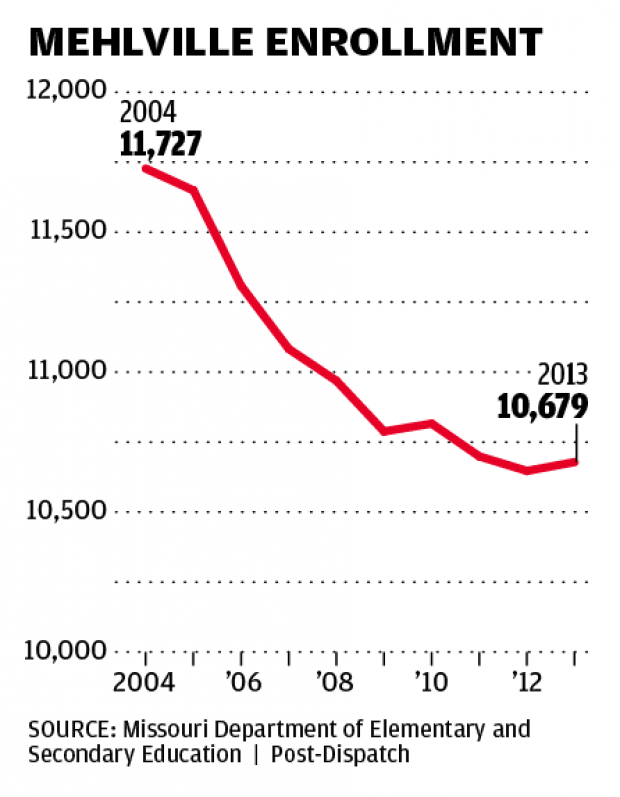 Yet the class size targets adopted last week by the Mehlville School Board could allow Knost to tell most of the 560-plus applicants from Riverview Gardens in north St. Louis County to go elsewhere if they want to transfer to better schools under a recent court ruling. The ruling applies to students living in the region's two unaccredited school districts — Riverview Gardens and Normandy — as well as the Kansas City Public Schools.
The new class size targets, recommended by Knost, are well below the actual enrollment of most classrooms in Mehlville. The district is attracting more transfer applicants than any other school system because Riverview Gardens has opted to send buses there. Knost had no say in the matter.
"Mehlville has always struggled with class sizes," Knost said Monday, adding that class sizes in the district have always been closer to the maximum size allowed by the state. He pointed out that progress has been made to reduce them. The target class size policy, he said, "was written in the spirit to not compromise the integrity of those efforts."
But at least one Mehlville school leader questions the motivation.
Ron Fedorchak, one of two school board members who voted against the policy, questioned Knost for more than 30 minutes last week about the wisdom of even having a board-approved class size policy, a first for Mehlville. Knost said the policy would protect the district from having to hire more teachers. Fedorchak said the district could easily afford more teachers given that it stands to gain $4 million from tuition from Riverview Gardens for the transferring students. If more teachers are needed, he said, "Hire them."
On Monday, Fedorchak said the district's goal should be to help children in failing schools have a shot at a good education.
"I'm a believer in school choice," Fedorchak said. "If my three daughters were in an unaccredited district, I'd like them to be able to get out and go somewhere else."
UNCERTAINTY SURROUNDS PROCESS
Mehlville's situation illustrates the uncertainty surrounding the state's school transfer statute that allows students in an unaccredited districts to attend school in higher-performing districts in the same or adjoining counties. By law, failing school districts must finance tuition and transportation costs.
However, the law does not give districts guidance in handling the situation that school officials throughout the St. Louis area find themselves in.
So far, close to 2,000 students have applied to transfer from the unaccredited Riverview Gardens and Normandy schools, according to Cooperating School Districts of Greater St. Louis, the organization coordinating the effort. This is nearly 20 percent of the student populations of both districts.
The estimated cost to Normandy and Riverview Gardens is a collective $26.1 million for tuition and transportation expenses, according to figures released Tuesday by Cooperating School Districts.
While Riverview Gardens has a $32 million reserve fund to keep schools open while financing transfers for up to two years, Normandy's reserves are less than $8 million, potentially bankrupting the district by spring.
The law gives receiving districts no leeway to turn away transferring students when classes become full. To avoid overcrowding, the Missouri Department of Elementary and Secondary Education has advised districts to set class size policies, and then turn students away when classrooms are full.
Dozens of school districts, including Lindbergh, Ritenour, Clayton, Francis Howell and Maplewood-Richmond Heights, have adopted such policies. Many of those policies are a continuation of what had already been in place for years. And most don't appear to be much of a departure from previous policies or current practice.
Francis Howell schools, which Normandy selected to send buses to, ranks second in the number of applications, with 372. The district should be able to accommodate from 400 to 600 transfer students based on previous enrollment trends, a Francis Howell spokeswoman said.
Last week, Knost told a crowd packed into the library of Mehlville High School that he and Mehlville school officials will do whatever they can to welcome and accommodate as many transfer students as possible.
"They're our kids, and they're getting caught in the crossfire," Knost added.
The deadline for students to apply for a transfer is Thursday. On Friday, Cooperating School Districts will place the students according to their preferences and space availability. When applicants exceed space for any grade level in any district, officials will hold a lottery.
Some say Mehlville should be more accommodating.
"Certainly there are limits to how many students can fit into a school building," said Kate Casas, state director of the Children's Education Alliance of Missouri, an organization that advocates for school choice. "It's another thing to be given the ability to break the law without any repercussions. I don't know for sure that's where Mehlville is, but they appear to be getting dangerously close to that."