Address
1317 Tom Ginnever Ave
OFallon, MO 63366
Last Updated: March 20, 2015
Hours
| | |
| --- | --- |
| Sunday | Closed |
| Monday | 4:00 pm - 8:00 pm |
| Tuesday | 4:00 pm - 8:00 pm |
| Wednesday | 9:00 am - 8:00 pm |
| Thursday | 9:00 am - 8:00 pm |
| Friday | 4:00 pm - 8:00 pm |
| Saturday | 9:00 am - 2:00 pm |
About Northside Gymnastic Academy
Northside Gymnastics Academy is are located at 1317 Tom Ginnever in O'fallon, MO. Classes are available for ages 18 months to 18 years. Come by and check us out or call for a free trial class. We invite you to explore our website and see what we are all about! Be sure to check our additional classes page for more information on our new cheerleading classes, homeschool classes and Bootcamp Challenge!

Our Mission:

Northside Gymnastic Academy's mission is to build strong bodies, strong minds and smiling faces through the art of gymnastics and positive motivational instructors.


Janet Besselman is the proud owner of Northside Gymnastics Academy. Janet's Gymnastic career began at age 11 when the St. Charles YMCA began a gymnastic program. Two years later, the first gymnastic academy was opened in St. Charles County; Olde Towne Gymnastic Academy. It was there Janet competed at the optional level with the United States Gymnastic Federation.

Janet began her coaching career in 1981, when she started coaching recreational gymnastics. As a high school graduate she began coaching full time directing the recreational programs for 2 St. Louis gyms. In 1985, she started coaching competitive gymnastics. Janet is currently the head coach for the NGA Twisters girls team. The Twister team begins at Level 4 and goes through Level 10. Northside Gymnastic Academy is a USAG member club and competes in USAG sanctioned competitions.

Janet started Northside Gymnastic Academy in the summer of 2007. She is USAG professional member and is anxious to offer her knowledge and experience to her coaches and students.
Our Facilities
We offer a 10,000+ sq ft. facility with full size gymnastic equipment:

☆ 42' x 42' spring floor
☆ Uneven bars
☆ Vaulting table
☆ Balance beams
☆ Tumbling track/tramp
☆ Still rings
☆ Training foam pit w/single bar trainer
☆ Smaller equipment for recreationalgymnasts
☆ Open viewing area for friends and family w/ free Wi-Fi
☆ Pro shop to meet all of your gymnastic needs.
Birthday Parties
Spend your birthday celebration at Northside Gymnastic Academy and your day will be filled with fun and excitement.

The party will begin with an hour spent in the gym. During this time, the birthday child and his/her guests will enjoy the trampoline, foam pit, uneven bars, and the balance beam; all led by our safety certified staff. The gymnastics will be followed by a thirty minute party time for gifts and treats.

Package A In this package you will receive one hour of gymnastic instruction for up to 10 children and a half hour of party time. This option does not include any party supplies. Price-$125.00. Each additional child is $8.00.

Package B In this package you will receive one hour of gymnastic instruction for up to 10 children and a half hour of party time. Party Invitations, a birthday cake, candles, plates napkins, forks, cups, and punch are all provided. Price-$170.00. Each additional child is $8.00.

NOTE: A deposit is required to hold your date. Each child will need a signed waiver to participate in the gymnastics portion of the party.
We also offer scouting field trips!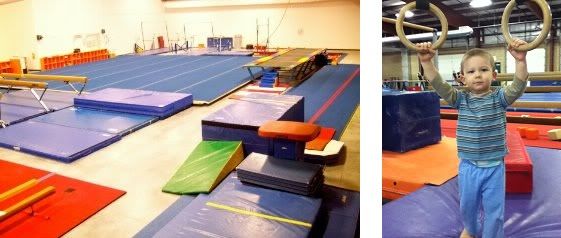 Accepts:

American Express

Cash

Check

Discover

MasterCard

Visa
Tags: gymnastics, gym, tumbling, acrobatics, cheerleading, cheerleaders, summer camp, gymnastics camp, kid's activities, kids activity, childrens camp, youth sports, sports
Northside Gymnastic Academy Special Offers & Events
Northside Gymnastic Academy Offers & Events
Email Northside Gymnastic Academy