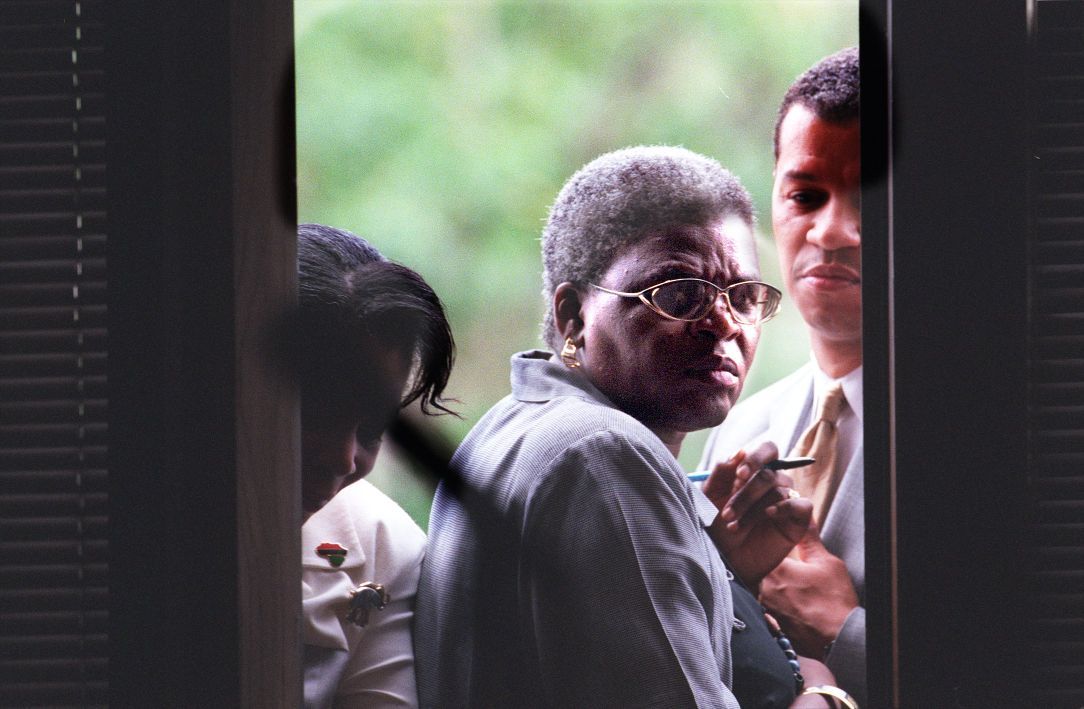 Originally published on Aug. 15, 2001.
Alderman Irene Smith, a former city judge, now will face a city judge over an incident last month where Smith appeared to urinate in a trash can during an aldermanic debate.
Smith, D-1st Ward, was charged Tuesday with violating a city ordinance that bars urinating in a public place. If convicted, she could face a fine of up to $500 and up to 90 days in jail. City Counselor Patricia A. Hageman filed the charge, saying in a statement that a trial date would be set. "I can only emphasize that, at this stage of the proceeding, this was a routine determination of whether probable cause exists to issue the charge," Hageman said.
Hageman also lamented that Smith's "alleged actions ... unfortunately have commanded widespread media attention."
Smith couldn't be reached Tuesday. She earlier has declined comment. Also unavailable was the alderman who sought the charge, Tom Bauer, D-24th Ward.
But a Smith ally, Alderman Greg Carter, D-27th Ward, said the real issue is how to redraw the city's 28th Ward boundaries to reflect the 2000 census. "She's the sacrificial lamb, " Carter said. [A correction on his statement ran after the article, the paragraph has been changed to reflect the correction.]
Carter and Smith are among those opposing a proposed map that critics say could reduce the number of black aldermen. The map, said to be supported by a majority of the board, would move the 20th Ward across town. The residence of that ward's controversial alderwoman, Sharon Tyus, would be in the same ward with Smith.
Supporters of the map blame larger population losses in the city's predominantly black wards. They say a ward has to be moved and note that African-Americans now live in other areas of the city. Carter and Smith support an alternate map that keeps all wards roughly where they are. African-Americans now make up a slight majority of the city's population, although whites hold a majority among voting age residents.
During the July 17 aldermanic meeting, Smith controlled debate over the map when she asked permission to leave the chambers to go to the women's restroom. Acting Aldermanic President Jim Shrewsbury told Smith that she would lose that power if she left the chambers.
So friends draped a sheet, a tablecloth and a quilt around Smith, who appeared to relieve herself in a trash can.
Carter said he believed that nobody in the aldermanic chambers that day actually saw any urine. "I'm curious to see their evidence," Carter said. "I think the perception of what she did and what she actually did are two different things."
Shrewsbury, who also has come under fire for his decision, said Tuesday that he hoped the court case would reduce aldermanic tension over the incident. A courtroom "is probably the more appropriate forum for dealing with this," he said.
Shrewsbury added that he still planned to press for aldermanic approval of the contested map when the board goes back into session Sept. 14. "If there ends up being a court fight over it, so be it," Shrewsbury said.
Meanwhile, the top aide for Mayor Francis Slay emphasized the mayor's view that "if (Smith) broke the law, she should be prosecuted, " said chief of staff Jeff Rainford. "Everybody should be treated the same under the law, including elected officials."
Next: A jury clears Irene Smith on the charge of urinating in public
​Beth O'Malley • 314-340-8869