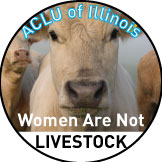 UPDATE - WEDNESDAY, APRIL 13 • After a debate involving pro-choice and right-to-life arguments, hospital safety and colonoscopies, the Illinois House voted 'no' on the abortion clinic health standards bill sponsored by state Rep. Darlene Senger, R-Naperville.
The bill, referred to by House Majority Leader Barbara Flynn Currie, D-Chicago, as an effort to shutter abortion clinics around the state, narrowly failed and could be debated again.
If signed into law, the measure would require higher standards for the buildings where abortions are performed "than for colonoscopies," said Rep. Monique Davis, D-Chicago.
Sixty votes were needed for passage; the final tally was 57-51-7.
SPRINGFIELD, Ill.--What does agriculture have to do with abortion rights?
Nothing--except in the well-fertilized soil of Illinois politics.
The Illinois House Agriculture & Conservation Committee today passed a measure that could put expensive new standards on abortion clinics statewide, essentially forcing them to become miniature hospitals if they want to keep their doors open.
Proponents say they're just trying to keep the clinics up to safe medical standards. Opponents say it's a backdoor attempt to shut them down.
What everyone agrees on is that the issue has nothing to do with cows, corn, or the other standard subject matter of that particular committee.
``They've spent more time asking questions about road kill and muskrats than they did (debating) this bill,'' before passing it 13-0, complained Ed Yohnka of the American Civil Liberties Union, which opposes the bill.
The bill's sponsor, state Rep. Darlene Senger, R-Naperville, didn't even try to defend the committee assignment, which undoubtedly worked in her favor. She laughed when asked about it, and said, ``Honey, these committees have been all over the place.''
The real explanation is actually less mysterious. ``House Ag,'' as it's called, is full of lawmakers who are interested in farm and rural issues, as you would expect. As a demographic, these tend to be the same legislators who are most often on the conservative side of social issues like guns and abortion (including downstate Democrats).
So legislators with conservative bills, who want an easy time of it in committee, naturally try to get their bills sent there, even if the bills have nothing to do with agriculture or conservation. House Speaker Michael Madigan, D-Chicago, who controls the assignment process, often acquiesces. ``It's done at the request of the sponsor,'' said Madigan spokesman Steve Brown.
(Senger denies requesting the committee assignment for her bill, or even knowing how it got there. She suggested that other lawmakers or lobbyists may have had some input into the committee assignment.)
This has been going on for years, mostly with gun issues, which often end up in House Ag even with it's about, say, conceal-carry, which has nothing to do with agriculture or conservation. Opponents have always grumbled that there are more appropriate committees, where the opposition would get a fair hearing, but for the most part it's been accepted as a quirk of the process in Springfield.
The opponents of the abortion bill, though, lobbied to call attention to the committee-assignment issue, showing up with t-shirts and buttons emblazoned with the image of a cow and the words: ``Women are not livestock.''
``They picked a committee which has members who have a long history of being hostile to women,'' said ACLU Executive Director Colleen Connell. ``. . . Would you want someone who is good at regulating fertilizer to regulate your daughter?''
Peter Breen of the Thomas More Society, who testified for the bill in committee, made one of the few attempts to justify the committee assignment. He maintained the bill is an attempt to regulate potentially unsafe abortion clinics, and said: ``They say women are not livestock. We completely agree, which is why they should not be treated like that.''
But even some conservatives, like state Rep. Mike Bost, R-Murphysboro, question the committee's catch-all jurisdiction over conservative social issues. Bost got a big laugh from the protestors when he presented an unrelated bill with the announcement that ``it might actually be an agricultural bill.''
``I'm always amazed at what goes through the Ag Committee,'' he said later. ``I'm pro-gun, I'm pro-life, but you have to question it.''
The bill, HB3156, now goes to the full House.