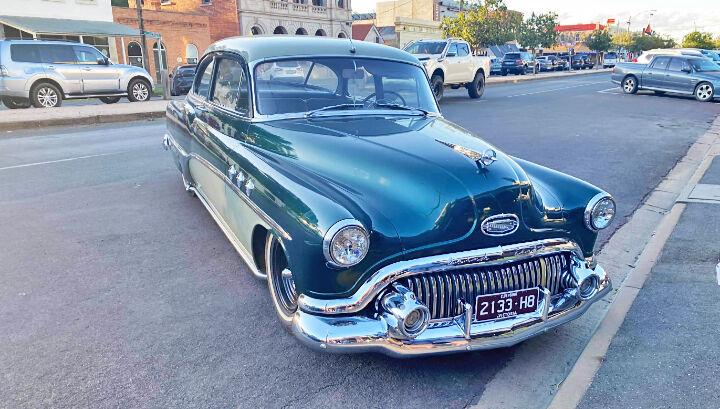 It's a weekly thing – wondering where the next OCC story is going to come from. Having done over 800 stories over the last 18 years, it's somewhat of a challenge to think of a new subject car each week. Lately I've been doing stories about cars I come across while running errands in the neighborhood or just casually driving around the area. But this week's story was inspired from a different source.
Just as I was wracking my brain about what car to do for today's column, I got a text message from our daughter Sabrina (now an eight year resident of Australia with dual citizenship), showing three shots of the 1951 Buick Special featured here in today's story. Like many of my family and friends, Sabrina occasionally sends me a photo of an interesting vintage American car when she sees one Down Under.
Sabrina, along with her husband, Chris, and our granddaughters Riley and Morgan, had taken a vacation to Echuca (pronounced uh-CHOO-ka), a small town (14,943 residents) on the banks of the Murray River and Campaspe River in Victoria, Australia – 186 miles from their home in Ocean Grove, Australia.
Heading back to their car after having dinner at Roma Pizza ("The best pizza ever," according to Sabrina), they spotted this 1951 Series 40 (model 48-D), six-passenger Buick Special DeLuxe, Tourback Sedanet parked on Main Street in Echuca. She reported that the owner named the car Sid, after "Sid the Sloth" in the Ice Age movies, because he thought they looked alike.
At first glance this handsome Buick seems fairly stock in appearance, but upon a closer look, you can see "lakes pipes" running the full length of the rocker panels. Upon further inspection, I noticed later issue, narrow whitewall tires – a style that would not appear until model years of 1962. Looking at the wheels themselves, I noticed that someone had been monkeyed with the wheels – painted rims and a barely noticeable chrome center caps and lug nuts.
This car is what would be called a 'mild' custom – changed very little, but just enough to make it unique. When you see the photos close up (on the web), you can tell the restoration and customizing was exceptionally well done as evidenced by the sparkling chrome (and there's a lot of it on this car!) and the shiny deep green paint with Sabrina's reflection in the trunk lid as she was taking the picture.
Another point of note is the fact that this Buick is a left hand drive model, which means it was imported at one point from the United States. Cars of Australian origin are right-hand drive models, and many of the early American cars seen at car shows in Australia are ones that were purchased there brand-new and are right-hand drive models.
You may also notice in the rear picture that the license plate is labeled "Club Plate" and "Victoria" which is one of the six 'states' in Australia. For a car to qualify for the Victorian club permit plates, it must be older than 25 years. You must also join a VicRoads-approved club and carry a logbook in your car at all times. Limited miles are the rule, varying from state-to-state and are strictly enforced.
Sabrina didn't get technical details from the owner, so not sure if the engine had been replaced by a more modern power plant, but the 1951 Buicks were originally powered by straight-eight cylinder engines, a popular mill for early '50s GM cars.
The standard engine for the 1951 Special and the tonier Super, was Buick's Fireball-8, 263 cubic-inch motor producing 120 brake horsepower at 3,600 rpm. They had hydraulic valve lifters and were fed by either Stromberg or Carter 2-barrel carburetors. The flagship Roadmaster cars had a larger, 320 cubic inch engine which produced 152 brake horsepower.
Transmissions included a three-speed manual with column-mounted shifter (and "Handi-Shift transmission control") as standard on Specials or the optional Buick Dynaflow – a shiftless automatic, and a Buick exclusive, offered from late 1947 to mid-1963. The Dynaflow was standard equipment on Roadmasters.
With a base-factory price (less options, shipping and dealer prep), and a shipping weight of 3,615 pounds, 54,311 Special DeLuxe two-door sedans were built – 33,000 less than the comparable four-door sedan and 60,000 less than the top seller, the Super Four-Door Tourback sedan.
1951 was a banner year for Buick sales with 404,695 units sold, the second highest in Buick history to that point in time.
UPCOMING EVENTS: Saturday, February 6, is the Dinosaur Cruise. One week later is the It's A Gas! petroleum and nostalgia swap meet (no cars or car parts) in Lebanon, Missouri. (Flyers on these events are below with the photos.)
Meanwhile stay safe, mask up... and Keep on Cruisin!
---
This content was produced by Brand Ave. Studios. The news and editorial departments of the St. Louis Post-Dispatch had no role in its creation or display. Brand Ave. Studios connects advertisers with a targeted audience through compelling content programs, from concept to production and distribution. For more information contact sales@brandavestudios.com.