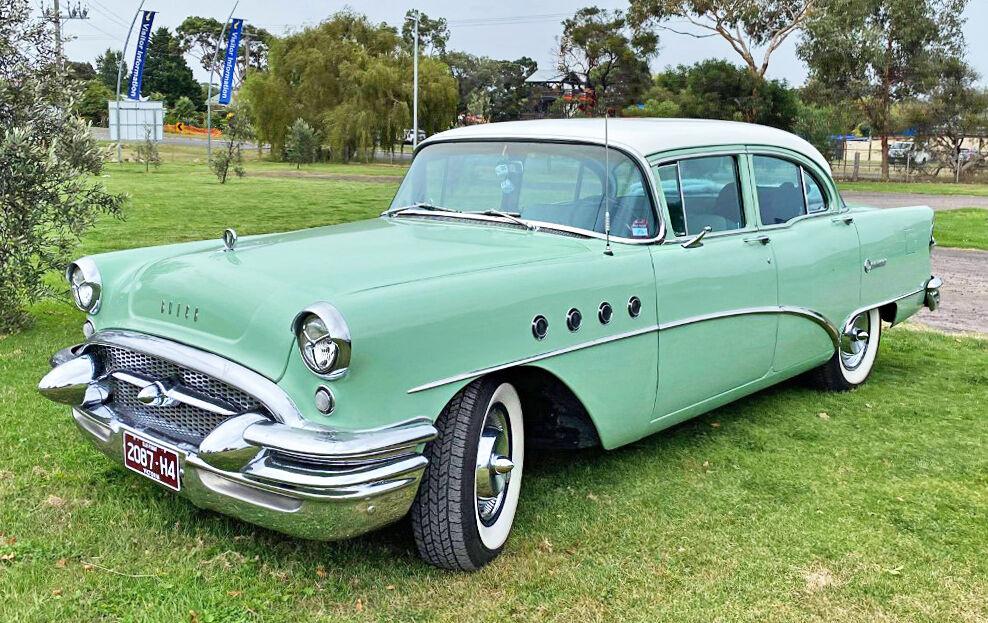 The weekend was here. It was late Friday night and I had yet to even consider what car would be the subject of the column you're reading at this moment, and my deadline was 5 p.m. Monday! There had been a few cars that I had seen in the past few weeks that I could consider, but they all still required contacting owners, setting up appointments to meet with their cars and lengthy discussions before "putting pen to paper." Sorry, that was the 'olden days' now I guess it's "fingertips to the keyboard."
Now it was 2:30 a.m. Saturday morning and I was sound asleep when the ring tone on my cell phone alarmed, waking me up with a start. Our daughter, Sabrina, a 12-year resident of Victoria, Australia, had seen a '55 Buick earlier in the day at the annual "scarecrow competition" at the Flying Brick Cider Company on the Bellarine Peninsula (about 10 minutes from the home of Sabrina, husband, Chris, and our granddaughters, Riley and Morgan), "Breezy" had sent me four pictures of a handsome, 1955 Buick Century four-door sedan all decked out in Arctic White over lido green – a carryover color from the 1954 offerings. Although I had been abruptly awakened in the middle of a sound sleep at 2:30 in the morning, I didn't mind. Problem solved!
Like many American auto makers during post-WWII years, the Buick Motor Company was on a roll for 1955, setting numerous production and sales records. Calendar year production of 781,296 vehicles was an all-time record high, moving Buick into third place among automobile makers. March 16 marked the 1-millionth Buick V-8, on April 5 the 8-millionth Buick was built, and on August 3 the 1-millionth 'hardtop' (pillar-less 'Riviera' hardtop) was made.
Buick was no slouch when it came to racing competition either. The Buick Century was capable of sprinting from zero-to-60 in just 9.8 seconds and covered the quarter mile in 17.5 seconds. One Century did 110.425 mph in the Flying Mile competition at Daytona Speed Weeks and during the year, Buick took two NASCAR Grand National stock car wins.
Powering Buicks for 1955 were one of two V-8 engines. The entry level Series 40 models were powered by a 264 cubic-inch (that's 4.3 liters for all you Gen-Xers and later in the crowd), cast iron, overhead valve engine producing 188 horsepower on a 2-barrel carburetor by either Carter or Stromberg. Series 60, 50 and 70 models were powered by a 322 cubic-inch (5.3 liters) engine producing 236 horses on a Carter four-barrel carb.
The Century had the shorter, lighter body (206.7 inches/3,825 lbs.) of the Series 40 model but the bigger engine of the Series 50 and Series 70 which measured 216" long and weighed in at 4,100 to 4,300 pounds shipping weight. The Century was the preferred model for performance, similar to the Oldsmobile Super 88 which had the smaller and lighter body of the 88, but the more powerful engine of the larger and heavier 98 models.
The four-door sedan Century shown herein had a base manufacturer's suggested list price of $2,548 before options – $25,005.96 in 2021 dollars. Popular options included Buick's super smooth Dynaflow automatic transmission at $193.00; power steering $108 (standard on Series 50 and 70 models); windshield washer; whitewall tubeless tires; Easy-Eye glass; outside rear view mirrors; Sonomatic radio; Selectronic radio; electric antenna; full wheel covers; genuine 40-spoke wire wheels; spotlight; tissue dispenser; gas door guard; visor vanity mirror; air conditioner; light group; electric clock and trunk lamp.
Unfortunately, Sabrina didn't have the opportunity to talk to the owner of this car so details of the car's history are not available. One thing noticeable is that the car is a left-hand drive model and cars manufactured in Australia are right-hand drive, indicating that this car was originally purchased in the U.S. and later shipped to Australia.
FIN MAN FACTOID: Performance was a part of Buick's history. Think Mopar was the first to come up with the name Hellcat? Think again. The M18 Hellcat was an American tank destroyer built by Buick, used in World War II, and later the Korean War. It was the fastest U.S. armored fighting vehicle on the road. The speed was attained by keeping armor to a minimum, using the innovative Torqmatic automatic transmission (a specific version of the GM Hydra-Matic), and by equipping the relatively light vehicle with the same main gun used on the much larger Sherman tank. The Hellcat was the most effective U.S. tank destroyer of World War II having a higher kill-to-loss ratio than any other tank or tank destroyer fielded by U.S. forces.
It's no secret that vintage Detroit iron is extremely popular in other countries around the globe. In 1967, a group of Buick owners in Australia, mostly owners of immediately post-war Buicks, got together and placed an advertisement in Melbourne, Australia's The Age newspaper  to attract likeminded owners. Shortly thereafter the Buick Car Club of Australia was formed. Their first Concours D' Elegance, was held at Willsmere Park, Kew on the April 12, 1970.
UPCOMING EVENTS: It's official. The Model T Ford Club's St. Louis Swap Meet & Garage Sale at Worldwide Technologies Raceway IS ON! The date is Sunday, May 2 from 6 a.m. to 4 p.m. For more information call 314-830-0873 and be sure to tell them you heard about it from The Fin Man.
A special Breakfast with The FIN MAN is planned for a Saturday in mid- to late-April. The event will include a visit to John Cook's 15-car automobile collection in Carlyle, Illinois. Pick up s/b around 9 a.m. and drop off sometime in late afternoon. I have already received numerous letters and emails from interested parties and they will be confirmed after information is final. Ticket prices are expected to be approximately $30 to $50 per-person, all inclusive. Bus pickup location will be somewhere centrally located and secure. Email me at the_fin_man@msn.com or write to Bruce Kunz, c/o St. Louis Post-Dispatch, 901 N. 10th Street, St. Louis, MO, 63101 to be put on the mailing list.
But for now, Keep on Cruisin', staying safe and healthy!
---
This content was produced by Brand Ave. Studios. The news and editorial departments of the St. Louis Post-Dispatch had no role in its creation or display. Brand Ave. Studios connects advertisers with a targeted audience through compelling content programs, from concept to production and distribution. For more information contact sales@brandavestudios.com.