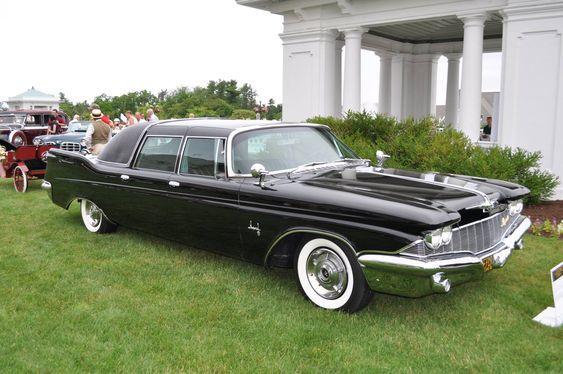 When I first set eyes on this Imperial Crown limo, I just thought to myself, "wow!"! I mean just look at that long body, that extended formal roof and last but not least those fabulous, graceful fins sporting the iconic, chrome-ringed bullet taillights— an Imperial styling cue since 1955. Car spotters of the 50s could easily identify the Imperials because the taillights were a sure giveaway. The 1955 and '56 models had separate, pod-shaped taillights perched atop the rear fenders, but in 1957, when fins were coming into fashion, the taillights were incorporated into the soaring fins as seen in this Imperial Crown Limousine.
If like me, you are of the vintage that made you highly 'car conscious' in the 60s, you may have occasionally, but rarely, spotted a 1960 Imperial gracing the streets of our town. A total of 17,703 standard Custom, Crown and Lebaron series Imperials were built for the 1960 model year with an average, factory base price of $5,516, equal to $48,269 in today's dollars. The very special and limited production, bespoke Crown Imperial Limousine, however, was very different story. Priced at a nice, round figure of $16,000 (a cool $140,010.38 in 2020 buckaroos), and offered for a privileged few, only 25 were planned for production, and in fact only 16 copies were actually produced.
So just what was so special about this car? Well, for starters the bodies were fashioned in Italy by Corrozzeria of Ghia, the legendary coach-making house of Torino, Italy. And, as the magazine advertisement stated, "Ghia's craftsmen hand-fashioned each subtle detail of the Crown Imperial Limousine's custom body and interior, and they will not be hurried."
This from Ronnie Schreiber, posted on The Truth About Cars Blog on June 24, 2014: "There was so much body work done that to get a smooth finish the entire shell was coated in about 165 lbs. of solder. All body joints, including those that can't be seen, were filled. Over two days were devoted to adjusting panel gaps to no more than a sixth of an inch, not far off from the 4 millimeters that many manufacturers use today as a standard almost 60 years later, though the adjustments then were done by eye, not with the aid of lasers. A bath in dilute acid removed any surface rust and flux from the solder in preparation for a rigorous painting process."
This very special car for a very special few, was stretched before 'stretched limos' became commonplace at weddings and other social events. This behemoth rode on a wheelbase stretched a full 20 inches from its lesser siblings and weighed in at a lofty 5,960 pounds, a full half ton heavier than the lower series Imperials.
Power was supplied by a 413 cubic inch V-8 fed by a Carter AFB-2927S 4-barrel carb. Acceleration, as one might expect, was less than exhilarating– but then who cares when you're being comfortably and smoothly chauffeured around town. You and I will never know, but it must have felt like being on 'cloud nine'!
FIN MAN FACTOID: Reportedly, the first "stretched limousine" was created in Fort Smith, Arkansas, in 1928 by a coach company named Armbruster. Armbruster's cars were primarily used to transport famous "big band" leaders, such as Glenn Miller and Benny Goodman, along with their bands and equipment. These early stretched limos were often called "big band buses." Armbruster called their lengthened cars "extended-wheelbase multi-door auto-coaches." Their 12-passenger people movers were used by hotels, taxis, airlines, corporations and tour companies. I can't say for sure, but I'm betting they didn't have LED mood lighting, flat panel screens, CD/DVD players or fur-covered floors.
The 16 lucky people who purchased the then-and-now very rare Imperial Crown Limousine for 1960 included, among others, the monarchs of Saudi Arabia, Kuwait and Qatar. Queen Elizabeth ordered a special one-off model with a removable acrylic roof panel that replaced the landau cap for her 1959 visit to Canada, and First Lady Jacqueline Kennedy rode in her personal Crown Imperial limousine in her husband's funeral procession.  
Of the total Imperial sales for the 1960 model year (not including the Imperial Crown Limousine), 84.6 percent had tinted glass, 44.7 percent had air conditioning and 92.9 percent had power windows.
UPCOMING EVENTS: Although there is still some optimism and hope for a number of car shows and cruises from now through the end of October, the cancellations keep coming as the COVID-19 pandemic shows little sign of improvement in the near future. I'm taking a conservative approach and letting my three TKCS-StL volunteers' parents and families have the final say so as to whether their kids may attend any upcoming events. I'll give you updates as they become available. You can also check by searching Google at "St. Louis area car shows". The third listing down is headed "ST LOUIS AREA SOUTHERN ILLINOIS CAR SHOW LISTINGS". That's the one to click on to get the latest info.
---
This content was produced by Brand Ave. Studios. The news and editorial departments of the St. Louis Post-Dispatch had no role in its creation or display. For more information about Brand Ave. Studios, contact tgriffin@brandavestudios.com.