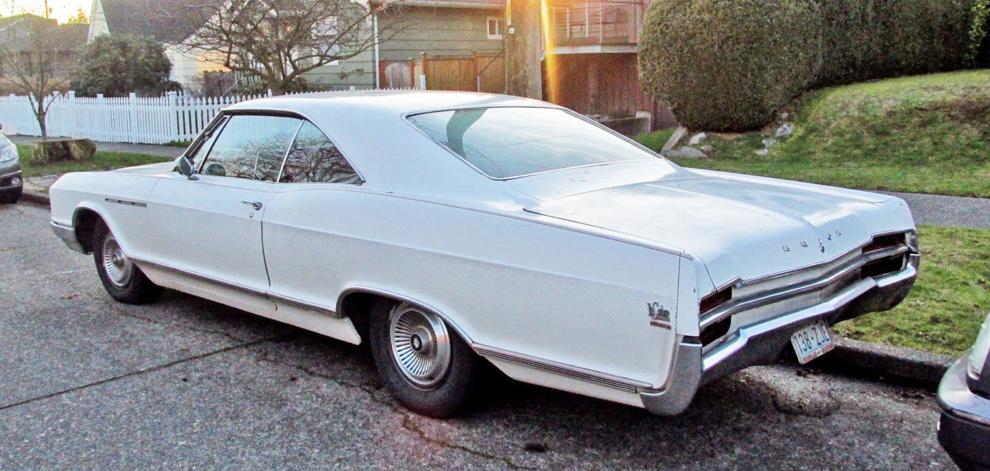 The year was 1970, and I was in the market for a car. My father was selling Oldsmobiles at the time for McKelvey-Kessler Oldsmobile on West Florissant in Ferguson. He was the most logical 'go to' person because he knew my needs – a father of one with a second on the way with a limited budget. He happened to take a 1965 Buick Le Sabre coupe in trade on a new Oldsmobile and called me shortly after. The Buick was clean and in good mechanical condition, so I picked it up for a song.
The Le Sabre was stylish with its new-for-sixty-five, sloping, semi-fastback roofline. The previous edition of the Le Sabre and Wildcat coupes were built with the formerly popular mock convertible hardtops used on all GM lines save Cadillac which had its own unique roof style.
The Buick held its rank in the General Motors stable just below Cadillac. Full-sized Buicks, Le Sabre, Wildcat and Electra 225s had base factory suggested list prices ranging from $3,345 up to $4,530 for the Electra 225 convertible. According to the Old Cars Report Price Guide, a No. 2 condition Le Sabre coupe is valued at just under 20k in today's market. 
My Le Sabre coupe was done up in Shell Beige, a pleasing, non-metallic beige color, one of 15 on the Buick palette for 1965. The previous, original owner of the car did not choose to equip the car with whitewalls, however, I would later add them.
Entertainment was basic: a non-stereo (monaural) AM only radio with a front seat speaker and a single rear deck speaker. Power steering and brakes were standard on all full-size Buicks for 1965. Power was provided by a standard 300 cubic-inch V-8, with optional powerplants of 340, 350 and 455 cubic-inch displacements. Automatic transmissions were standard including the 2-speed ST-300, 3-speed ST-400 and TH-350 through the five year span of the third generation Le Sabres.
The 1965 Le Sabre was the first year of the third generation for the model, which ran through 1970. The Le Sabre was available in four door sedan, four-door hardtop, two-door hardtop and convertible body styles.
UPCOMING EVENTS: The Horseless Carriage Club of Missouri's annual Easter Concours d'Elegance car show returns for 2022 on the upper Muny parking lot on Easter Sunday. Good news/bad news... you'll have to decide if your interest lies in stock, cars 25 years or older, orin customs, modifies, hot rods, bikes, trucks, etc. Since 1970, the Easter event was a two-for-one deal. The HCCM held their show on the upper Muny lot, while the St. Louis Street Rodders Association did theirs on the lower Muny lot, calling it "the Real Easter Show." It seemed like a sweet deal to those of us who like any and all cars, of any age and modified or not. The street rodders canceled their 2020 show due to the pandemic. They did not cancel their 2021 show, however, as it was held at the St. Louis Family Arena in St. Charles. It turned out to be the biggest and best show since their beginning back in 1970! More cars, more parking, what's not to like?
Both of these shows are major events, with a large number of participants and spectators. The good news for the HCCM event is that the lower lot will now be open for parking, freeing up traffic and spaces along the roads leading to the Muny Opera location.
So, pick your poison and pack your picnic basket. Plan on spending the day at either one of these great events.
The St. Louis European Auto Show, formerly held at Plaza Frontenac, returns again this year on June 5, 2022, from 11 a.m. - 2 p.m., at MINI of St. Louis, 40 Sunnen Dr, Maplewood, MO 63143. They tell me the show includes aircraft, cars and boats, so it's a trifecta of eye candy transportation! For more info contact them at @StLouisEuropeanAutoShow, and tell them you heard about it right here from The Fin Man!
Tri-Power Trivia will return next week. 
---
This content was produced by Brand Ave. Studios. The news and editorial departments had no role in its creation or display. Brand Ave. Studios connects advertisers with a targeted audience through compelling content programs, from concept to production and distribution. For more information contact sales@brandavestudios.com.