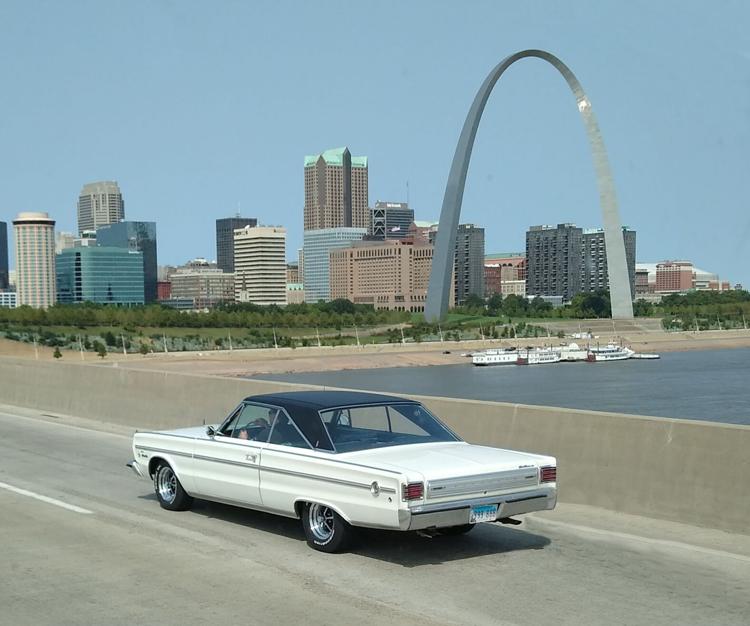 First things first. Can you spot two anomalies on the Satellite pictured here? Answers at end of story.
Plymouth had been sadly lacking a full-sized car since the full-size Plymouths (including Belvederes and Furys) were reduced to mid-size for the 1962-1964 model years. That was resolved for 1965 when the Belvedere series remained a mid-size car, riding on a 116-inch wheelbase, and the Fury was 'enlarged' somewhat to take on the full-size role in the lineup with a wheelbase stretched to 119-inches.
While early sixties Plymouth styling was, well some might say a bit 'odd'... moving into the middle of the decade, they took on a more reserved and conventional, and quite pleasing appearance. Although there was something to like about the previous models, I for one, felt the newer look was rather refreshing. And the styling fit them well. The low, sleek lines made them appear to be a bit larger than the mid-sized car they actually were. Mopar marketing mavens stated that the Satellite was "the newest, sleekest Plymouth for '66, a big, bold approach to everyday driving that comes jauntily packaged on a 116-inch wheelbase".
Tipping the scales at 3,255 pounds, the 1966 Plymouth Satellite hardtop coupe had about a 125-pound advantage over a '66 Chevelle SS-396. Chevelle's top-of-the-line engine was a 396 cubic-inch model producing 375 horsepower. Plymouth Satellite's bad boy was the new-for-sixty-six, 'Street Hemi'... a 426 cid, 425 horse monster fed by a pair of 4-barrel carbs. You're not likely to find one of those on the pre-owned lot at your local Chrysler dealer however, as the optional engine had a price tag of $1,100– nearly half as much as the $2,695 base price of the car itself! Standard engines for Belvedere I and II models was the 225-cube, 145-hp 'Slant-6', however the entry level 273 cubic inch V-8 was standard fare on Satellites.
Gear shifting on all Belvedere models, including Satellites, was accomplished by a column-mounted, three-speed manual transmission. Chrysler's venerable TorqueFlite automatic was optionally available, but if, as Plymouth put it in their 1966 sales brochure, "You like to wheel along on the 'sporty side' of the street", a 4-speed manual was also offered.
Popular appearance, convenience and performance options included air conditioning; deluxe, spinner wheel covers; power steering with 3-spoke wheel; power brakes; AM radio; vinyl roof coverings; sure grip differential; tinted window glass; bumper guards; light packages; and trailer-towing packages.
Repairs were covered by Chrysler Corporation's 5-Year/50,00-Mile Engine and Drive Train Warranty.
FIN MAN FACTOID: Richard Petty won the Daytona 500 stock car race driving a 1966 Plymouth Belvedere II 2-door hardtop. Equipped with a de-stroked, 404-cid (originally 426-cid), 'Race Hemi' producing over 550 horsepower, he attained an average speed of 160.627 mph.
ANSWER TO THE ANOMALIES QUESTION: Unfortunately, since this Plymouth was a F.O.R.D., I didn't have the advantage of being able to speak to the owner of this Satellite. But two things stood out to me in this photo. First, the heavy bright-metal spear along the sides of this car with the circular medallion at the rear, only appeared on the Belvedere II models. The thin bright-metal trim running front-to-rear along the upper fender line appeared only on the Satellite models. No '66 Plymouth Belvedere models were adorned with both as this car presents. Second, this car sports small, round, side marker lights. These appeared universally on 1968 models. If there are any mid-sixties Plymouth aficionados out there, please email me if I'm missing something.
UPCOMING EVENTS: Although there are still quite a few car shows and cruises on this year's calendar, I have canceled my participation in car shows as well as Breakfasts With The FIN MAN, until further notice. Only when the threat of CV-19 improves significantly, will I start making plans for TKCS-STL participation in local events, and they will be announced right here in the OCC.
Meanwhile, I urge my readers, friends and family, to stay safe and healthy,  and follow the rules set forth by health care professionals.
Keep on Cruisin'!
---
This content was produced by Brand Ave. Studios. The news and editorial departments of the St. Louis Post-Dispatch had no role in its creation or display. For more information about Brand Ave. Studios, contact tgriffin@brandavestudios.com.
Auto reviews, driving trends and up-to-date news about life on the road.