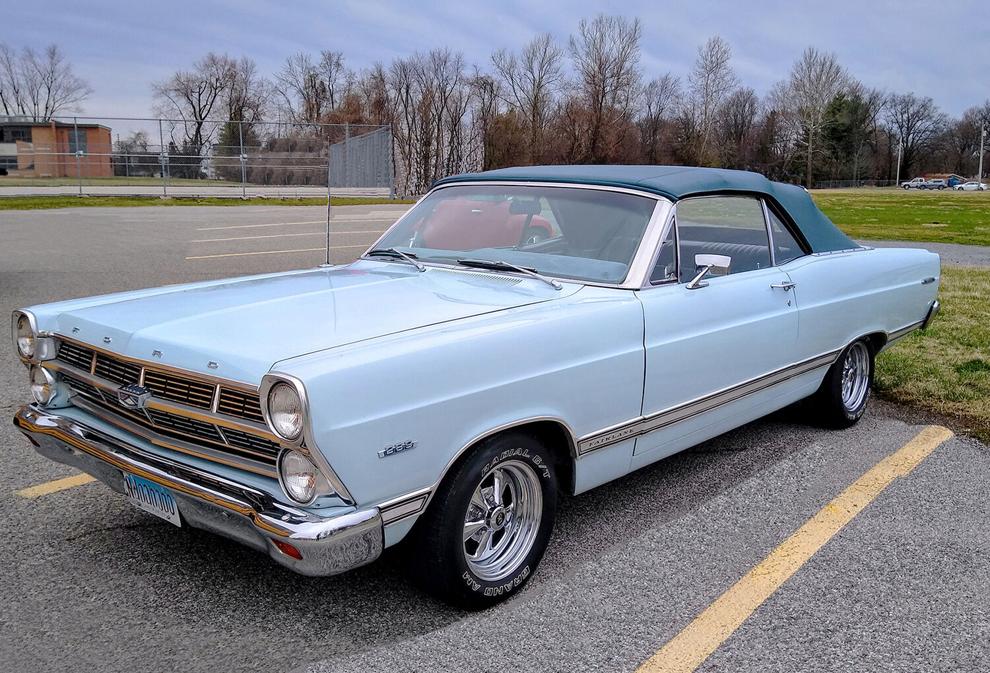 Okay, it wasn't actually "F.O.R.D." (found on road 'driving'), but it was close. I spotted this handsome Ford Fairlane 500 convertible in the parking lot at Dorris Intermediate School in the Collinsville, Illinois Unit 10 School District, when I was picking up the kids after school for their end of day bus rides home. I'm not certain what is at work here, but these local area cars just seem to jump out at me as if to say "write a story about me for the Old Car Column!" So, here it is.
This snazzy rag top is dressed in Arcadian Blue, a non-metallic solid powder blue hue, one of eighteen colors offered on the Ford palette for nineteen sixty-seven. Note the top is a contrasting shade of blue, listed as L-2287, 32 oz. Sierra grain vinyl. Multiple convertible top color choices were common in the fifties and sixties but would become pretty much non-existent in later decades leaving customers with a choice of either white or black.
It was difficult to find fault with the clean, lines of the Fairlanes for 1967... a refreshing change from the elaborate fins and gaudy bright work that characterized the cars from just a few years earlier. (Not that I didn't love those fins!) The Fairlanes were just slightly restyled from the 1966 models using the same body panels, but with a slightly different front grill and rear fascia. Car spotters will notice the new model's one-piece, stamped aluminum grill which replaced the two-piece grills used in 1966, and the rear taillamp housings which had horizontal backup lights dividing the vertical, taillight housings in half.
The Fairlane lineup consisted of three distinct trim levels... the entry level Fairlane, the mid-level Fairlane 500 (like the one featured in this story), and the top-of-the-line Fairlane 500 XL. 'Pillar-less' two-door hardtops and convertibles were limited to Fairlane 500 and Fairlane 500 GT models.
Fairlanes came in six-cylinder and V-8 powered models. Six-Cylinder models were powered by a standard, 200 cubic inch, in-line six cylinder engine which produced 120 horsepower. The V-8 series was powered by a 289 cubic inch mill which  produced 200 horsepower... a $106 option on base Fairlanes and Fairlane 500s– standard on Fairlane 500 GTs. Speed Racer, the Japanese anime cartoon character (also introduced for TV in 1967), would have certainly ordered the big block V-8 with 390 cubic inches, available for $184 with a 2-bbl Holley carb, or $264 with a 4-barrel Holley. A three-speed manual transmission with column-mounted shifter came standard, however, the Cruise-O-Matic transmission was available for $188 to $220 depending on engine choice. Those preferring a sportier driving experience could opt for a four-speed manual with floor-mounted shifter, a $184 offering.
The short list of Fairlane options for 1967 included an AM radio ($57); power steering ($84); two-tone paint ($22); white sidewall tires ($34); full wheel covers ($41) and vinyl roofs on two-door hardtops ($74).
The Fairlane 500 convertible, with the 289 V-8 as shown here, had a manufacturer's suggested retail price of $2,770 before piling on options, delivery and retail prep. Figure roughly three grand. That equals $24,000 in 2021 dollars. The latest issue of the Old Cars Report Price Guide lists a 1967 Fairlane 500 V-8 convertible in number 1 ('trailer queen') condition as being worth $32,500 in today's collector car market. A number 2 is listed at $22,750 and a number 3 is listed at $15,890.
FIN MAN FACTOID: A trio of Ford GT-40s took 1st, 2nd and 3rd place in the European Grand Prix racing circuit at Le Mans. It was the first time American cars had ever garnered championships at this prestigious event.
Total production output of all Fairlane models for 1967 was 238,688 units, 5,248 of which were Fairline 500 convertibles, and 1,943 were Fairlane 500 GT convertibles.
UPCOMING EVENTS: It's official. The Model T Ford Club's St. Louis Swap Meet & Garage Sale at Worldwide Technologies Raceway IS ON! The date is Sunday, May 2 from 6 a.m. to 4 p.m. For more information call 314-830-0873 and be sure to tell them you heard about it from The FIN MAN!
The 34th Annual Fords Unlimited, All Fords Car Show is scheduled for Sunday, July 25. For more information on the show or joining the club, call Rich Sutorius at 636-634-0379 and be sure to mention you heard about it here in the OCC.
A special Breakfast With The FIN MAN is planned for mid to late April. The event will include a visit to John Cook's 15-car automobile collection in Carlyle, Illinois. Included in the package will be transportation via a big, yellow school bus (you can pretend you're a kid again!), and breakfast at a local Illinois restaurant TBD. Pickup location, restaurant and ticket prices are yet to be determined. The tour will take place on a Saturday, in mid to late April. Pick up s/b around 9:00 a.m. and drop off sometime in late afternoon. I have already received numerous letters and emails from interested parties and they will be confirmed after information is final. This event is planned to be a small gathering, limited to probably twenty or thirty people at most. Ticket prices are expected to be approximately $30 to $50 per person, all inclusive. Bus pickup location will be somewhere centrally located and secure. Email me at the_fin_man@msn.com or write to Bruce Kunz, c/o St. Louis Post-Dispatch, 901 N. 10th Street, St. Louis, MO, 63101 to be put on the mailing list.
But for now, Keep on Cruisin' and stay safe and healthy!  
---
This content was produced by Brand Ave. Studios. The news and editorial departments of the St. Louis Post-Dispatch had no role in its creation or display. Brand Ave. Studios connects advertisers with a targeted audience through compelling content programs, from concept to production and distribution. For more information contact sales@brandavestudios.com.