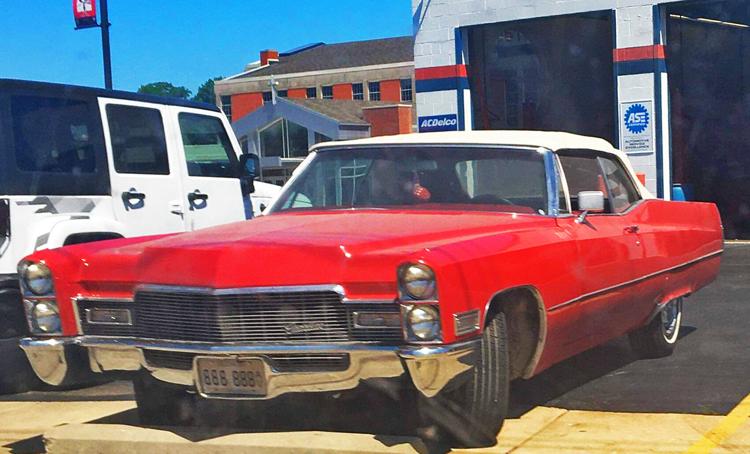 While running a few errands with his father last Friday, TKCS-STL participating volunteer, Edgar, spotted this bright red, 1968 Cadillac deVille convertible parked at Master Auto Repair in Collinsville, Illinois. Having been prepared to join The FIN MAN Posse at car shows this season, Eddie has already picked up the Old Car Radar syndrome! He grabbed his cell phone, snapped three photos and immediately forwarded them to me, probably all before his dad got the green signal light at the corner! Good job Eddie!
As it turned out, I had not yet chosen a feature car for today's issue of the OCC, so that pretty much made the decision for me.
The 1968 Cadillacs were very slightly changed in appearance from the 1967 models and it takes a sharp car spotter to tell the difference. Nineteen sixty-eight was the year that front- and rear-side marker lights showed up on all cars, so the rear red lamps incorporated into the chrome lamp bezels are one clue. If you can't see the back of the car, the front view has a styling cue in the revised front grille. The 1967 models had an upper grill line that ran straight across from left to right. The 1968 grill had a raised center portion which dropped down above the right and left parking/turn signal lamps.
According to John Gunnell, in the Standard Catalog of American Cars, 1946-1975, the coupe roofs were restyled for the 1967-1968 models, used large 'sail panels' rather than thin 'c-pillars' as in previous years. The style, borrowed from the Cadillac Florentine show car, with its reduced-size rear window, afforded more privacy for back seat passengers – it also looked quite handsome on the long-bodied Caddys.
Headline clarification: The 'big' is rather obvious. Cadillacs were always larger than their lower GM cousins. The overall length of the standard Cadillacs was 225 inches – a full 10 inches longer than a Chevy Impala. When it came to mass, the deVille convertible tipped the scales at 4,600 pounds – a full ½-ton more than the Chevrolet Impala at a trim 3,677 pounds!
Here's where the 'brawn' part comes in. Yes, while the Chevy Impala was available with 10 engine choices up to 454 cubic-inches, the standard engine was a 250 cubic-inch, 155 horsepower Turbo Thrift inline-six. Cadillac, on the other hand, had but one engine (no options), a gynormous, 472 cubic-inch V-8 cranking out 375 horses, and producing more torque than any other American V-8. Yes, it needed it just to stay ahead of the Lincolns and Chryslers.
The 472 cube Caddy engine was a thirsty beast indeed, but then what's a little more Ethyl between friends, when the average price-per-gallon of fuel was running 34 cents?
'Beauty'? Well, as the old saying goes, that's in the eyes of the beholders. And, behold they did! Total Chrysler Imperial sales for 1968 totaled 15,361 units, Lincoln's total was 69,992, while Cadillac sales for the same model year totaled 227,590, garnering the marque a fourth, successive, yearly, sales record, despite a 21-day United Auto Workers shutdown at the Fisher Body Fleetwood plant in Detroit (November, 1967)!
The average price of a new car in 1968 was $2,822. Factory-suggested prices for the 'normal' 1968 Cadillacs ranged from $5,315 to $6,899 before options. Factory-produced limo models bumped the ante up to just over $10,000.
All Cadillac models, even the entry level models, came standard with Turbo-Hydramatic transmission; power steering; power brakes; power windows; heater and defroster; center arm rests; electric clock; dual back-up lamps; cornering lights; front and rear side marker lights; light group; mirror group; padded instrument panel; seat belts; trip odometer; ignition key warning buzzer and recessed three-speed wipers and washers.
Twenty exterior color options graced the Caddy palette for 1968 including 14 brand new hues. Enriched interior appointments included a selection of 147 upholstery combinations, 76 in cloth, 67 in leather and four in vinyl. The car seen on this page has been repainted for Cadillac did not offer a bright red color in 1968.
FIN MAN FACTOID: What goes around, comes around! Nineteen Sixty-Eight was a year fraught with worldwide protests with escalation of social conflicts, predominantly characterized by popular rebellions against the military and the bureaucracy. There was also a pandemic, and oh yes – it was a presidential election year in the United States!
If you would like to be added to the FIN MAN FRONT PAGE newsletter mailing list (emails only), please mail your request to me at the_fin_man@msn.com. If you have already done so, but not received your first issue, please be patient as we are still assembling our email requests list.
UPCOMING EVENTS: The Lakers Club calendar shows a number of shows and cruises left for the remainder of the 2020 season which runs through Halloween. However, be sure to check with each venue to make sure the event is still a go, because many events have been canceled or postponed. Google "St. Louis Area Car Shows" to find the calendar.
As for TKCS-STL participation, we are still on hold at the present time due to the recent worsening of COVID-19 numbers, although I am not ruling out the possibility of a reduced schedule depending on the ever-changing statistics. The safety and health of my volunteers is foremost in consideration and for now, I am leaving the decision as to whether volunteers will be going with me to events up to their parents. Let's all hope for a speed up in research and a slowdown in cases in the near future.
---
This content was produced by Brand Ave. Studios. The news and editorial departments of the St. Louis Post-Dispatch had no role in its creation or display. For more information about Brand Ave. Studios, contact tgriffin@brandavestudios.com.
Auto reviews, driving trends and up-to-date news about life on the road.