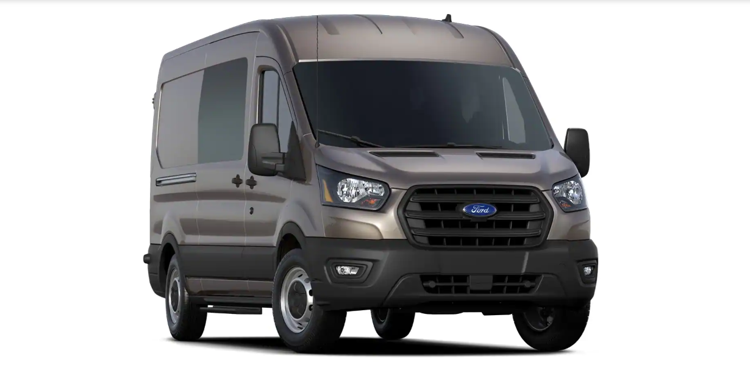 No one would accuse the humongous Ford Transit Crew of being an economy car. It did, however, save us some gas -- ironically, thanks to its gargantuan size.
We'd finally gotten around to cleaning out the attic in our 115-year-old house -- how many Stooges episodes had run through that old pop-top VCR? -- when we realized we had enough stuff in St. Vincent de Paul donations to stock a midsize store.
Figuring the act of hauling the treasure trove of still-usable goods to the donation center would require four or five trips in a typical crossover SUV, we were glad to have the 2020 Ford Transit Crew in the driveway. We made the entire haul in one trip with passenger and cargo room to spare.
Now in its eighth season, the big ol' Transit van has added another configuration to its list of models. New for 2020 is the 5-passenger Crew Van, a middle-ground between the 2-seat Cargo Van and the multi-row Passenger Van, which -- at the owner's discretion -- can carry 2 to 15 people. Those three basic configurations can be tailored to specific needs via three chassis choices (150, 250 or 350); body options that include Regular, Long and Extended lengths; heights of Low-, Medium- or High-Roof; wheelbases of 130 or 148 inches; traction talent of rear- or all-wheel drive; and engine options of a 3.5-liter, 275-hp V-6 or a twin-turbo 3.5-liter, 310-hp V-6, both managed by a 10-speed automatic.
In other words, the Transit Crew, whether pressed into service by a work crew or the family crew, provides more choices than a neighborhood food festival.
We drove a Crew 150 Medium Roof AWD riding a 130-inch wheelbase and powered by the twin-blown six-pack.
In addition to the aforementioned trip to the thrift store, we also drove our Transit on a 120-mile round-trip to Ste. Genevieve, Mo., during which we toted four adults, our 9-year-old granddaughter, and various accoutrement. (Comically, the kiddo, sitting between mom and grandma on the three-person rear bench, got a kick out of the Transit. "If I can't ride the school bus," she sagely observed in this Covid-19 era, "at least this is kinda like it!") 
On the road, the Medium Roof Transit Crew is more civilized than you might expect, although the steel-walled, steel-roofed and steel-floored cargo bay behind the rear seat acts as sort of an echo chamber for road noise. 
For the record, we also briefly sampled a four-row, 12-passenger High Roof, which was slightly more quiet with its carpeted aft section, and -- surprise!-- in which your 6-4 correspondent could stand up straight! On the other hand, we got turned away from a fast-food joint because the van couldn't quite limbo under the drive-through window's 9-foot clearance!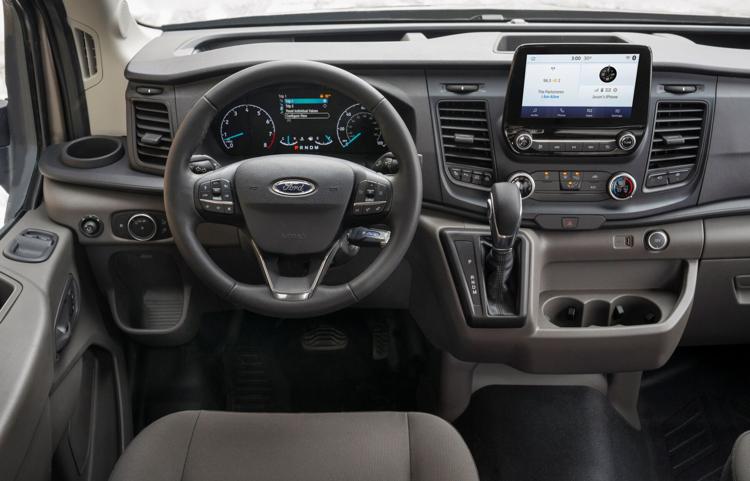 Acceleration from Transit's twin-turbo six is enthusiastic and its driver-selectable chassis modes -- Normal, Eco, Slippery, Mud/Ruts and Tow/Haul -- constitute a modern motivational perk. Although the EPA does not rate this big van, we realized 18 mpg during our 120-mile highway trip. Whether laboring as a work van or family bus, this full-size van, in its Crew configuration, boasts "trucky" -- and handy -- interior stuff like huge map pockets several interior storage shelves, holsters for water bottles and myriad cup holders.
Also, properly optioned -- as was ours -- Transit Crew provides technology and creature comforts. Among the perks we had were automatic headlights; Adaptive Cruise; 10-way power seats; an infotainment system with an 8-inch touch screen, satellite radio, USB inputs and navigation; and -- this one astonished us -- an auto-park function that enables the big guy to spot a parking place and then pretty much steer itself in. We tried it on a city street and it worked great.
There are, however, compromises beyond shear bulk: our van had a sliding door only on the passenger side, and its hefty three-place rear bench required two people to remove it should that be required.
Designed specifically to carry a work crew and that crew's tools and materials, this van, obviously, is not for everybody. Parked in your driveway, it'll appear you're getting a UPS delivery. 
But we found the Ford Transit Crew, behemoth that it is, also doubles nicely as a jack-of-all-trades transportation pod for active families, too.
---
This content was produced by Brand Ave. Studios. The news and editorial departments of the St. Louis Post-Dispatch had no role in its creation or display. For more information about Brand Ave. Studios, contact tgriffin@brandavestudios.com.
Auto reviews, driving trends and up-to-date news about life on the road.