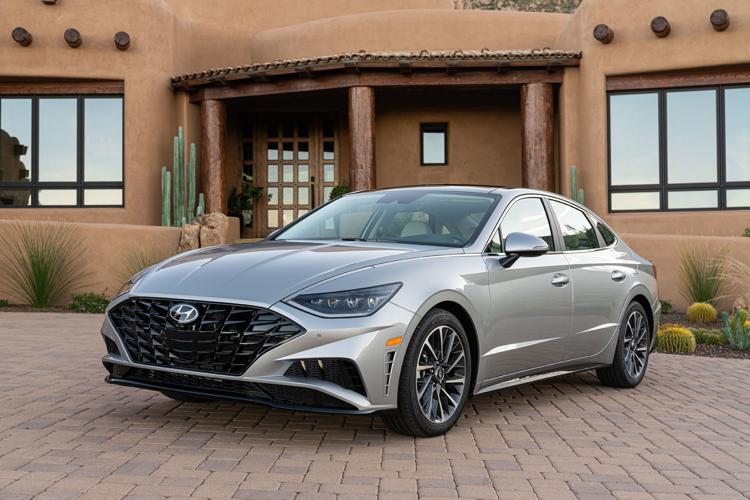 For the first time in my life I'm wrong again.
I mean, I admit it, I missed my guess when I predicted Tiny Tim would be bigger than Elvis. And, yeah, I was way off when I declared that cell phones were a passing fad. But I figured I was on solid ground when I declared the retina-searing styling of the all-new 2020 Hyundai Sonata would be met with universal consternation.
Wrong again. To my endless astonishment, most observers turned out to be fans.
I mean, fer cryin' out loud, look at this thing. It's got a nose-dive hood dropping to a massively frowning, asphalt-snuffling maw-of-a-grille, resulting -- I thought -- in a grimacing mug only a mother could love. And don't even get me started on the car's concave flanks and mini-finned taillights!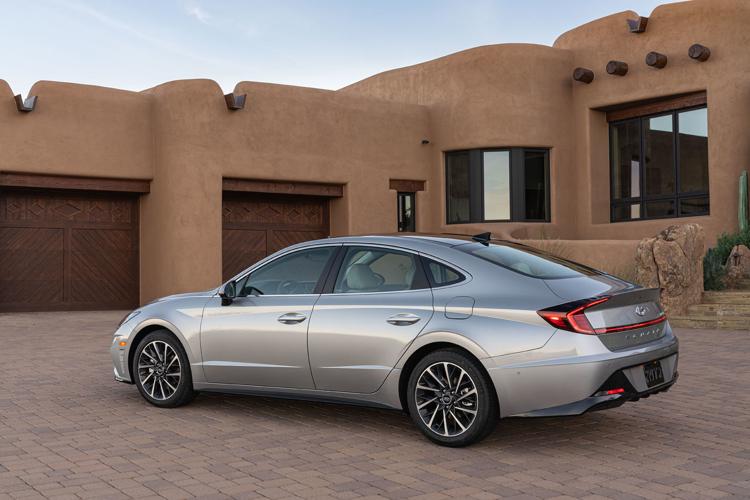 Have mercy! Cover the eyes of impressionable children!
So imagine my surprise on discovering virtually everyone else loved it. Never mind other media pundits, who declared Sonata's styling "sharp," "smart" and "sporty." Heck, "Car and Driver" even called it "as universally attractive as a Grand Canyon sunset." (!) And, as if that weren't enough, friends derided my thoughtful judgment, labeling the new Sonata "elegant," "impressive," "original" and "not boring."
Well, as journalist and culture-commentator David Brinkley once observed: "Everyone is entitled to my opinion." And you've got it.
However, we all can agree that this eighth-generation Sonata midsize sedan is a marvel of technology, a delightful daily-life companion and a bargain at its mid-20s to mid-30s price.
Available in SE, SEL, SEL Plus and Limited trims, the front-drive Sonata, under its hey-look-at-me wardrobe, can be fitted with one of two engines, both managed by an eight-speed automatic. SE and SEL are motivated by a 2.5-liter, 191-hp I-4, which is good for 181 lb.-ft. of torque. SEL Plus and Limited are powered by a 1.6-liter, turbo four that, at 180 ponies, corrals fewer horses but, thanks to the blower's artificial aspiration, ups the torque count to 195 lb.-ft., grunt fully on board at a low 1,500 rpm.
We drove a Limited, which over 130 miles of mixed city/hwy motoring returned to us 32 mpg, one better than the EPA predicted.
On the road, Sonata turbo is a pleasant companion. No hot rod, to be sure -- it takes nearly eight seconds to greet 60 mph -- but quite competent, appropriately quiet and always civil.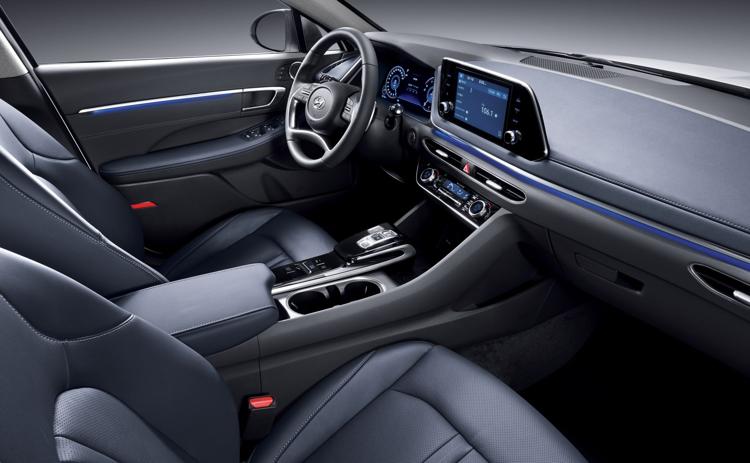 Room is marvelous throughout the cabin, including a back seat that will accommodate a six-foot passenger behind a six-foot driver. There's even adequate rear head room under the panoramic sunroof that was standard issue on our Limited.
Speaking of perks, the all-important infotainment and connectivity technologies include a bevy of cutting edge talents, not least of which is "Digital Key," which allows the vehicle to be unlocked, started and driven without a key via a smartphone app. Hyundai says not only is the app secure, but it allows Sonata owners to easily share keys with family and friends -- keys that can be tailored with limited access to various vehicle functions, assigned a restricted time period of operation and revoked all together by remote control.
Our Limited had that perk, along with a customizable, 12.3-inch digital instrument cluster and a 10.3-inch center-mounted touch screen that controlled a boffo 12-speaker Bose Premium audio system.
Meanwhile, three radar sensors, five cameras and 12 ultrasonic sensors enabled, among other things, Forward Collision Avoidance Assist, Smart Cruise Control with Stop/Go capability and Highway Driving (steering) Assist. There's also Remote Smart Parking Assist, which allows the driver -- from outside the car! -- to slip Sonata in and out of tight parking-lot spaces.
We tried it and, yep, it works.
With all this heretofore sci-fi tech, our Limited -- including its $135 floor mats -- rang the register at just $34,590. Which leads us to conclude that it's the value proposition that will sell this guy.
OK, maybe some will buy it for its looks.
---
This content was produced by Brand Ave. Studios. The news and editorial departments of the St. Louis Post-Dispatch had no role in its creation or display. For more information about Brand Ave. Studios, contact tgriffin@stltoday.com.
Auto reviews, driving trends and up-to-date news about life on the road.