The recent movie "Ford v Ferrari" may be in line for a sequel: "Ford v Jeep."
That Ferrari movie, released last year, depicts the racing rivalry between Ford and Ferrari at the 1966 running of the 24 Hours of Le Mans. The sequel would depict the contemporary off-road rivalry between Ford and Jeep in the 4x4 truck segment.
As everyone who cares about cars knows, Ford is directly and audaciously challenging the Jeep Wrangler -- the heart and soul of the Jeep brand -- with its upcoming 2021 Bronco, a roughneck off-roader boasting trail-tough talent, a removable hardtop and doors, two- and four-door versions, and all kinds of other features that unabashedly target Wrangler.
Jeep, on the other hand, could be accused of starting this fracas in the first place when it got into Ford's chili for the 2020 model year with its desert-running Jeep Gladiator Mojave, a direct challenger to Ford's sultan of sand, the F-150 Raptor.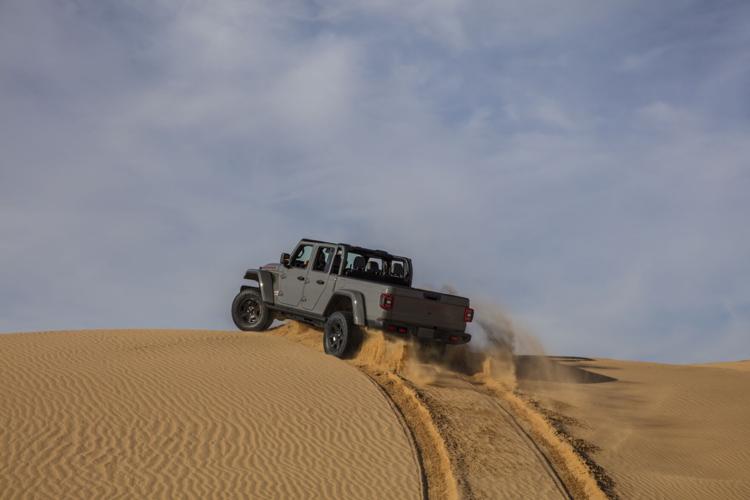 To ensure high-speed, sand-surface savvy in this new Gladiator iteration, Jeep has imbued Mojave -- notably dubbed by Jeep "Desert Rated" rather than "Trail Rated" -- with a host of features that differentiate it from its dirt-dedicated, boulder-crawling Gladiator Rubicon brother.
For instance, Mojave boasts specially-tuned Fox 2.5-inch internal bypass shocks with external reservoirs to help keep them cool in the desert and industry-exclusive Fox front hydraulic jounce bumpers for additional suspension damping during high-speed off-pavement driving.
In addition, Mojave has a reinforced frame, a 1-inch front suspension lift, stronger axles with cast-iron steering knuckles, standard 33-inch Falken Wildpeak All-terrain tires and, inside, aggressive front bucket seats that anchor occupants with integrated upper bolsters.
Here's another eye-opener for desert-running fans who know that high-range gearing is usually the transfer-case choice in sand: Gladiator Mojave is equipped with a 4-hi rear-differential locker, something not found even on the 2020 Gladiator Rubicon, which must be in 4-lo to lock up the diffs.
All of these standard features make Gladiator Mojave the Jeep brand's first "Desert Rated" vehicle. (There are more to come.)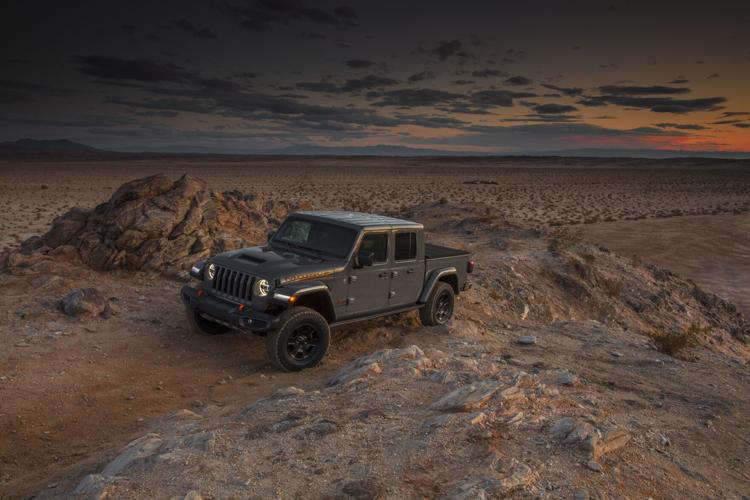 Beyond that, the 2020 Gladiator Mojave is a Gladiator Rubicon, sharing its 3.6-liter V-6 (285 hp, 260 lb.-ft. of torque), choice of six-speed manual or eight-speed automatic transmissions, push-button front-sway-bar-disconnect for added front-suspension flex, its 4:1 crawl ratio, and its under-body skid plating that's extensive enough to make an Abrams M1 battle tank envious.
As we drove an eight-speed automatic Gladiator Mojave in civilization, we were constantly reminded that there's a lot of rough-and-tumble "Jeep-iness" in this Gladiator. That, in our view, makes this truck not the first choice of someone who wants a modern pickup, but a great choice for buyers who want a Jeep in pickup form.
For example, Gladiator can wear a soft top or a three-piece removable hardtop -- either way great fun, but also producing notably higher interior noise levels than you'll find in a typical modern pickup.
Gladiator also has solid axles at both ends, which enhance off-pavement capability, to be sure, but inevitably contribute to a ride that's stiff as a short 2x4.
Finally, while 21st-century half-ton pickups generally boast modern rack-and-pinion steering, Gladiator retains Wrangler's recirculating-ball setup -- again, off-road tough, but vague at highway speeds, requiring constant vigilance to keep the vehicle lane-centered.
Jeep fans are cool with all that, of course, because -- and they'll brook no argument -- Jeeps are cool. But folks who just want a comfortable pickup may not be.
Inside are modern appointments, which include a roomy back seat and an available 8.4-inch infotainment touch screen.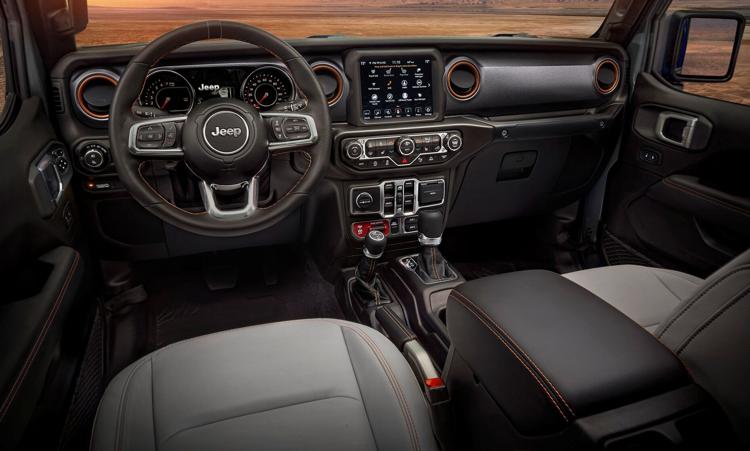 In 150 miles, roughly 100 around town and 50 on the highway, we realized 17 mpg.
So this is going to be fun: Wrangler vs. Bronco, Gladiator Mojave vs. F-150 Raptor, and Jeep vs. Ford. Are you ready to rumble?
---
This content was produced by Brand Ave. Studios. The news and editorial departments of the St. Louis Post-Dispatch had no role in its creation or display. For more information about Brand Ave. Studios, contact tgriffin@brandavestudios.com.
Auto reviews, driving trends and up-to-date news about life on the road.