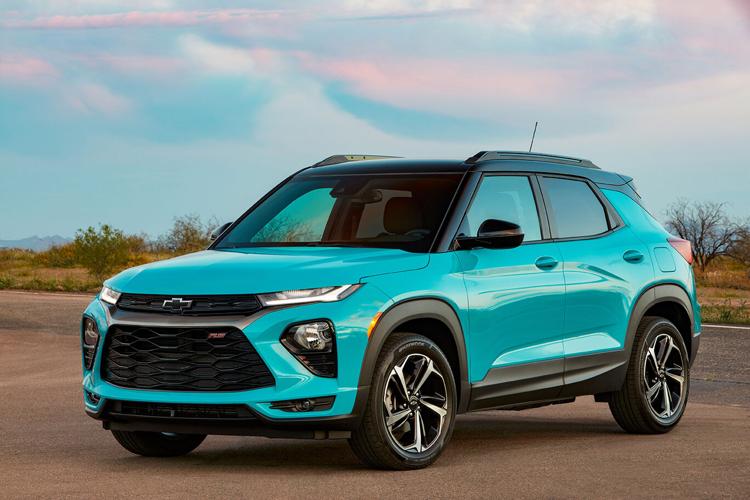 The wife was in the grocery store picking up staples for the pantry, so I'm out in the store's parking lot crawling around the 2021 Chevrolet Trailblazer RS AWD, taking notes for the dispatch you're now reading.
Suddenly I hear: "Is it fast enough?"
I just about jumped out of my skin. Startled, I look up and grunted: "Huh?"
There's a guy standing there, and he says, "I've been researching 'em, but I'm worried about power. Is the three-cylinder engine fast enough? If it is, I'm going to run out and buy one tomorrow."
Gee, that guy put me in an awkward position. I mean, this guy, whose bubble I didn't want to burst, clearly wanted a new Trailblazer bad. And, doggoneit, there's so much to like about this little crossover, I found myself wishing he'd asked about anything but power.
I finally said, "Well, if you RUN out to buy one tomorrow, it's the only time you'll be in a hurry with a Trailblazer... but, hey, ain't it cool lookin'?!!"
All-new for 2021, the compact Trailblazer -- which is no relation whatsoever to the body-on-frame, rear- or 4WD, truck-based Trailblazer of yore -- shares its basic platform with the unibody, front- or all-wheel drive, car-based Buick Encore GX of now. This Chevy is available in five trims -- L, LS, LT Activ and RS, each better looking than the last.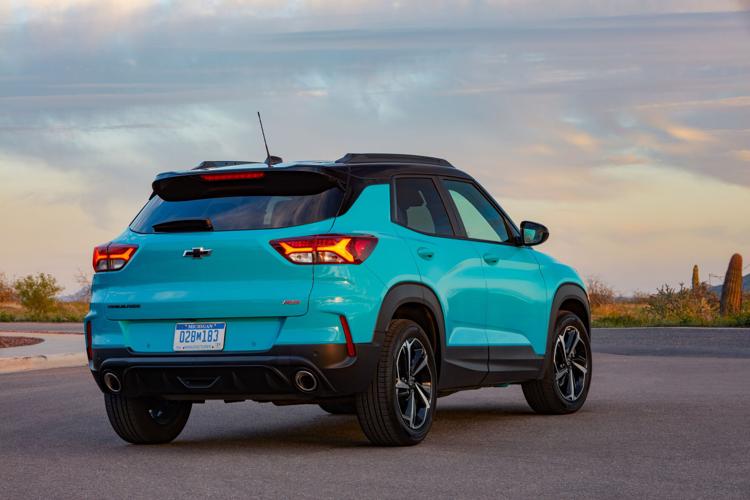 We drove the eye-popping RS, and got more complements than chef-Grandma at Christmas dinner. Painted in Trailblazer's head-turning Oasis Blue and capped by a black roof, our RS showed a shark-face grille, strong character lines, 18-inch wheels and a black aft air diffuser between coffee-can-size tailpipes. Add RS's ebony exterior accents -- black-capped exterior mirrors, A- and B-pillars, bowtie logo and lettering -- and this guy turns heads as few compact crossovers could ever hope to do.
Inside, the RS decor is hip and contemporary -- nicely incorporated infotainment touch screen, black sport buckets with contrasting gray piping and red stitching -- while room is fine up front and surprisingly good in back. Rear head room accommodates a six-footer, and that NBA hopeful won't do bad on leg room, either.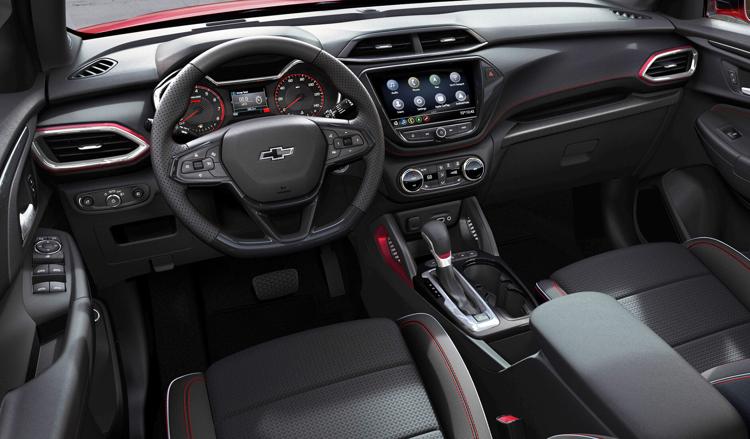 Regarding the all-important connectivity features, Trailblazer features Chevy's latest infotainment system, which has the talent to use two Bluetooth-paired phones concurrently. The audio system, which boasts a satellite-radio receiver, is Apple CarPlay and Android Auto friendly when the Tech Pkg. our copy had is ordered. We found the system easy to navigate -- there's a volume knob for audio -- and logical to engage, although we did miss a tuning knob for the radio.
Only under the hood does Trailblazer betray its econo-ute mission. Its base engine, available only with front-wheel drive, is a 1.2-liter, 137-hp three-cylinder turbo that buttons exclusively to a continuously variable (CVT) automatic.
The "upgrade," such as it is, is also a three-cylinder -- one that grows a mere one-tenth of a liter. (You can understand the parking-lot guy's concern about forward thrust.) Generating 155 hp, the 1.3-liter turbo is compatible with front- or all-wheel drive. In front-drivers it buttons to a CVT; with AWD, a nine-speed automatic.
On the road, we found the ride somewhat harsh over ragged pavement -- our RS's 18-inch wheels may shoulder some of the blame -- but the nine-speed was a joy. It helped provide off-the-line pep around town that made our Trailblazer RS feel livelier than it actually was.
Highway acceleration, on the other hand, was glacial. It took nearly 10 seconds to hit 60 mph under full throttle. Still, RS AWD does boast Normal and Sport drive modes, and you can tell the difference.
In 140 miles, the vast majority in town with just 20 miles or so on the interstate, we realized 27 mpg from our AWD RS.
In the final analysis, it may be a plus that Trailblazer is so slow. That'll give gawkers more time to admire its runway-model good looks as it passes by.
---
This content was produced by Brand Ave. Studios. The news and editorial departments of the St. Louis Post-Dispatch had no role in its creation or display. For more information about Brand Ave. Studios, contact sales@brandavestudios.com.