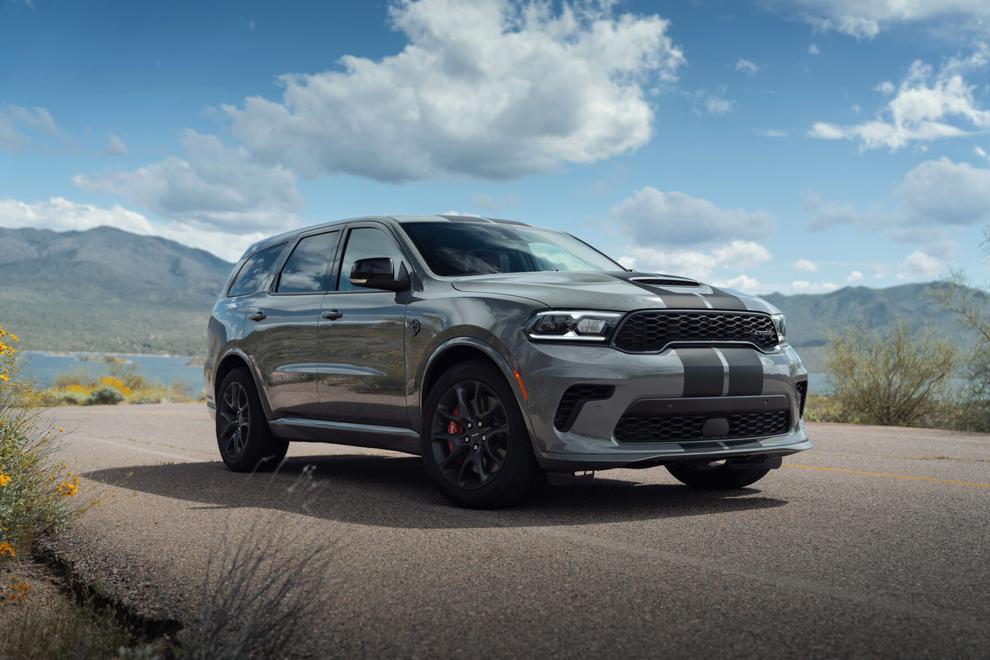 In a fanciful moment, one might imagine the 2021 Dodge Durango SRT Hellcat being the happy result of Dodge engineers looking for something to do.
After all, Dodge no longer has a minivan to worry about. In the wake of Grand Caravan's euthanasia, minivans produced by the new Stellantis corporation (nee, Fiat Chrysler Automobiles; nee, DaimlerChrysler; nee, Chrysler Corp.) are now the exclusive purview of the company's Chrysler brand. Also, Dodge no longer makes a pickup. With Ram becoming its own brand more than a decade ago, the "Dodge" Ram is just a memory.
So, one could imagine two Dodge engineers pondering ways to keep idle hands busy when, over lunch in the corporate cafe, one turns to her colleague and says: "Hey, I've got an idea: let's drop a supercharged, 710-hp V-8 into our three-row family SUV." To which he replies: "Hey, that'll make it the most powerful SUV in history! I like it. Oh, and let's have this family hauler hit 60 mph in three-and-a-half seconds. That'll ensure the kids are never late for soccer practice!" To which she replies. "Let's!"
And so they did. And so it does.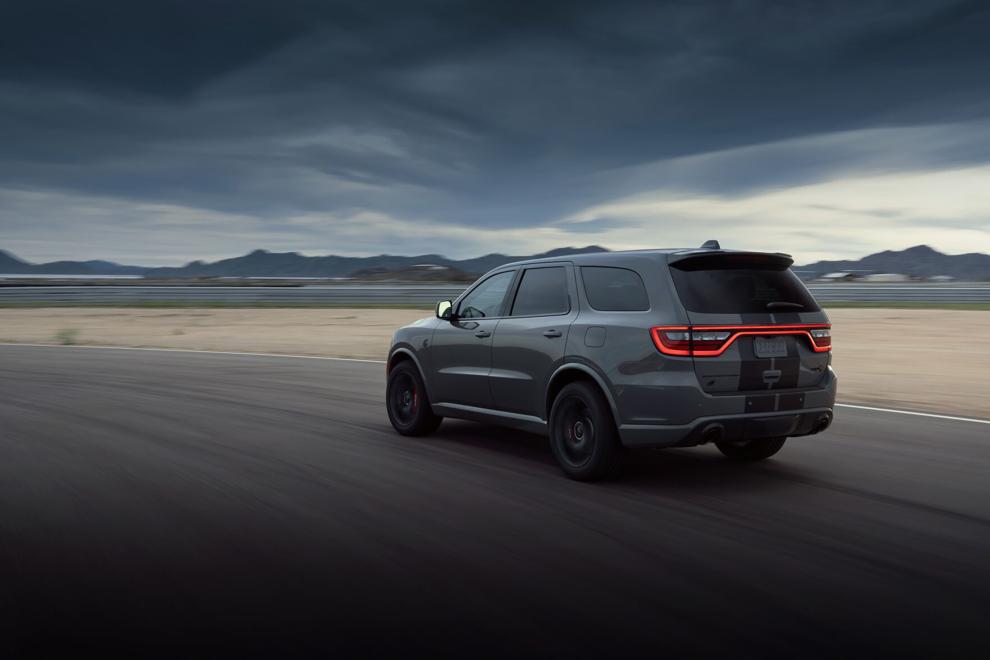 Loosely based on the regular Durango, Hellcat retains most of its source material's available family-friendly attributes: loads of room, three rows of seats, hefty towing talent, 85 cu. ft. of seats-folded cargo space.
But Hellcat figures the family may be in a real hurry. So it skips other available Durango powerplants -- 3.6-liter V-6, 5.7-liter V-8, 6.4-liter V-8 -- in favor of a 6.2-liter supercharged V-8 that makes 710 hp and a pavement liquefying 645 lb.-ft. of torque. With standard all-wheel drive, Hellcat sends its netherworld fury to all four wheels via an eight-speed automatic.
We greeted 60 mph in a scary 3.5 seconds. If we'd kept the skinny pedal buried, we'd have passed the quarter-mile marker in under 12 seconds on the way to a top speed of 180 mph. All this from a vehicle that tips the scales at nearly 3 tons.
And how it gets to 60 is a hoot. Two words: "Launch Control."
As any racer will tell you, lit-up tires and smoking rubber make for great YouTube videos. But, if the tires are spinning, the vehicle is not moving forward. "Launch Control" allows the driver to brake-torque to a pre-selected rpm between 1,500 and 3,500 turns; when that spin cycle is reached, the driver releases the brake, and . . . uh . . .but, Officer, I can explain.
Hellcat's on-road demeanor is civil, although, understandably, the ride is firm in any of its driving modes, among them Snow, Sport and Track. Meanwhile, its cabin is quiet until the driver buries the skinny pedal in the carpet, in which case that hellacious blown eight's roar will fill your world.
Of course, this is no economy car, even though an "Eco" mode does prove Hellcat has a sense of humor. In 130 miles, more highway than city, we realized 14 mpg.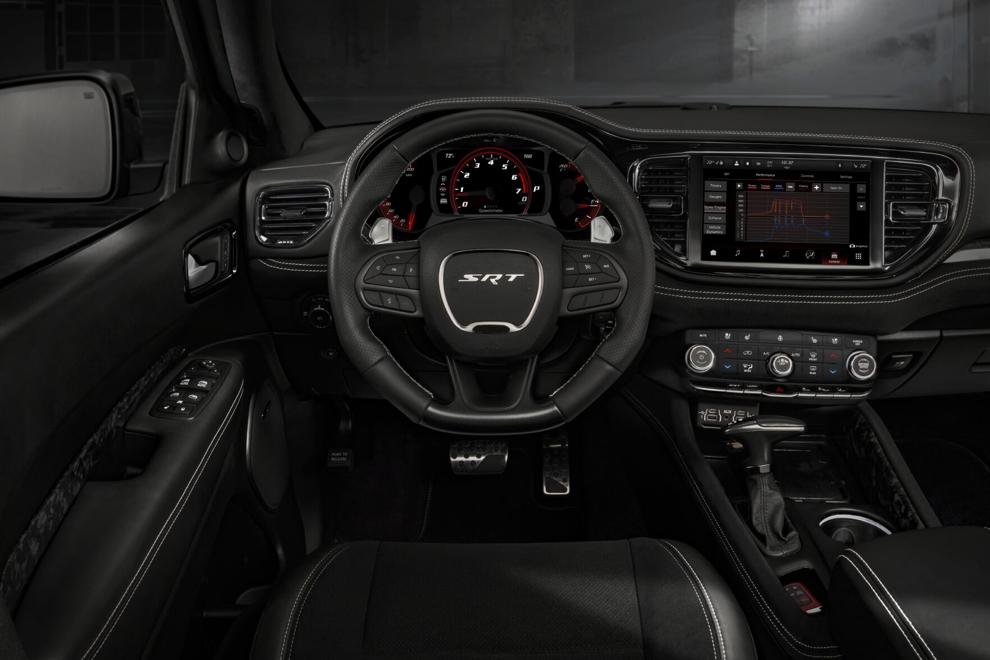 Inside, room is fabulous in front and comfortable in Hellcat's middle-row captain's chairs. Third-row passengers will find accommodations adequate.
Loaded with tech toys, our tester boasted SRT's take on Stellantis's latest Uconnect infotainment system, complete with a 10.1-inch screen with "Performance Pages" that can track 0-60 times, quarter-mile times, g-forces and more.
Finally, there is good news, bad news, more bad news and even more bad news.
The good news for Dodge fans: in 2020, J.D. Power declared Dodge (in a tie with Kia) the No. 1 brand in initial quality.
The bad news: Durango SRT Hellcat has a starting price of more than $80,000.
More bad news: Durango Hellcat will be offered only one model year: 2021.
Even more bad news: Dodge says the 2021 Durango SRT Hellcat already is sold out. (Maybe fans can find an unclaimed one on a dealer's lot. Or, perhaps, Durango enthusiasts might find the formidable, 475-hp SRT 392 -- 0-60: 4.4 seconds -- an acceptable alternative.)
---
This content was produced by Brand Ave. Studios. The news and editorial departments of the St. Louis Post-Dispatch had no role in its creation or display. Brand Ave. Studios connects advertisers with a targeted audience through compelling content programs, from concept to production and distribution. For more information contact sales@brandavestudios.com.