In the 1935 movie "The Bride of Frankenstein," with Boris Karloff as the monster, the final scene finds Boris -- definitely an unhappy monster -- pulling a lever in the laboratory of Castle Frankenstein. The pull of that lever results in the place blowing up. In fact, blowing up the place seemed to be the sole purpose of the lever.
I remember, even as a kid, watching that movie on TV and wondering, "Why would you install that lever in your house?"
Flash forward a few years and, initially, I had the same reaction to a little silver button on the floor console of the 2021 Ford F-150. A push of that button, I discovered, results in the transmission's floor-shifter laying down in a shifter-shaped hole in the console, thus making use of the shifter impossible. Mmmmm, I wondered. Why would you install that button in your truck?
But unlike Dr. Victor Frankenstein, whose reasoning still eludes me, Ford had a purpose in mind.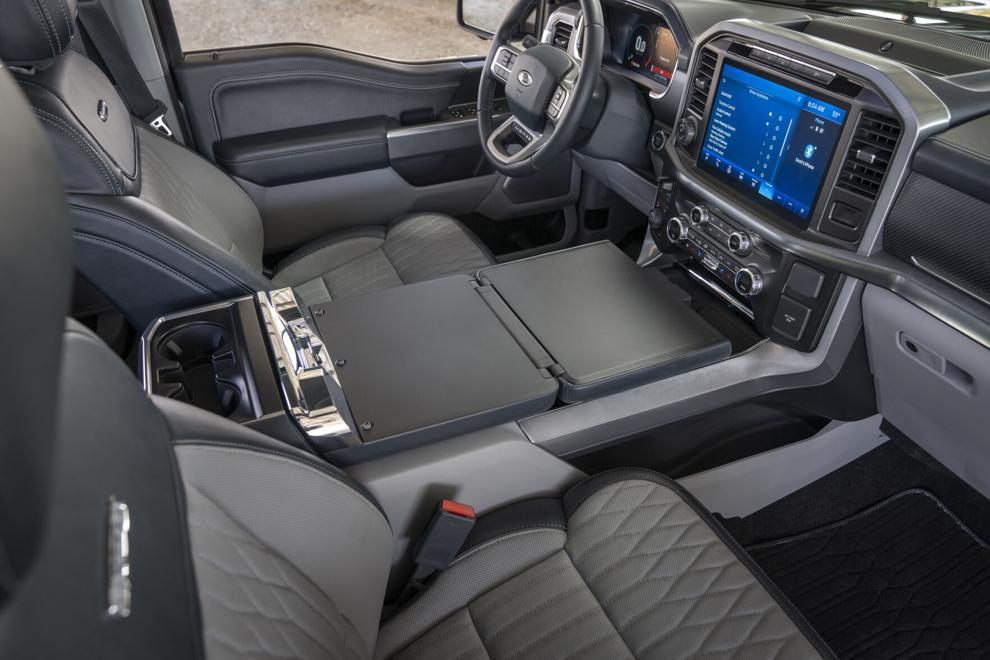 Closer examination of this new truck's interior reveals a wide center-console armrest hinged both front and rear. Employing the rear hinge enables the armrest, as expected, to open to reveal a large storage bin. Employing the front hinge, however -- here's the clever part -- splits the big armrest horizontally, with just the upper half pivoting over rear-to-front. The result is a big flat surface twice the rest's original size. And now you have a sort-of work desk in the truck's cab -- a feature made possible by the flat-lying floor shifter. Now I get it.
That bit of legerdemain is just one nifty attribute of this new F-150, of whose many iterations we drove the gas/electric PowerBoost hybrid in Lariat trim.
Retaining all the capability expected of a pickup -- towing, payload, hauling -- it also gets a combined EPA-rated 25 mpg with rear-wheel drive, 24 with 4WD.
We drove a 4x4, with its handy four-mode transfer case -- a T-case that boasts not only the expected 2Hi, 4Hi and  4Lo, but also an all-wheel drive "4A" selection. In 220 miles -- 50 in town, 170 on a round-trip interstate run to Steelville, Mo. -- we realized 23 mpg. Not quite the EPA's 24, but not bad for a big ol' SuperCrew pickup with a spacious cabin and a wonderfully civilized highway demeanor.
In town, though, the truck changes personalities. To be sure, transitions from gasoline power to short bursts of low-speed, pure-electric motivation are seamless. However, the truck can seem touchy when the driver is on and off the throttle in urban traffic: the hybrid's 10-speed automatic -- a conscientious son-of-a-gun -- shifts at the drop of a hat in its determined effort to find just the right gear at just the right time for just the right combination of power and efficiency. Add gobs of torque at the touch of the throttle from the electric motor and the twin-turbo V-6, and this guy is anxious to go -- right now!
Smooth launches are an acquired skill.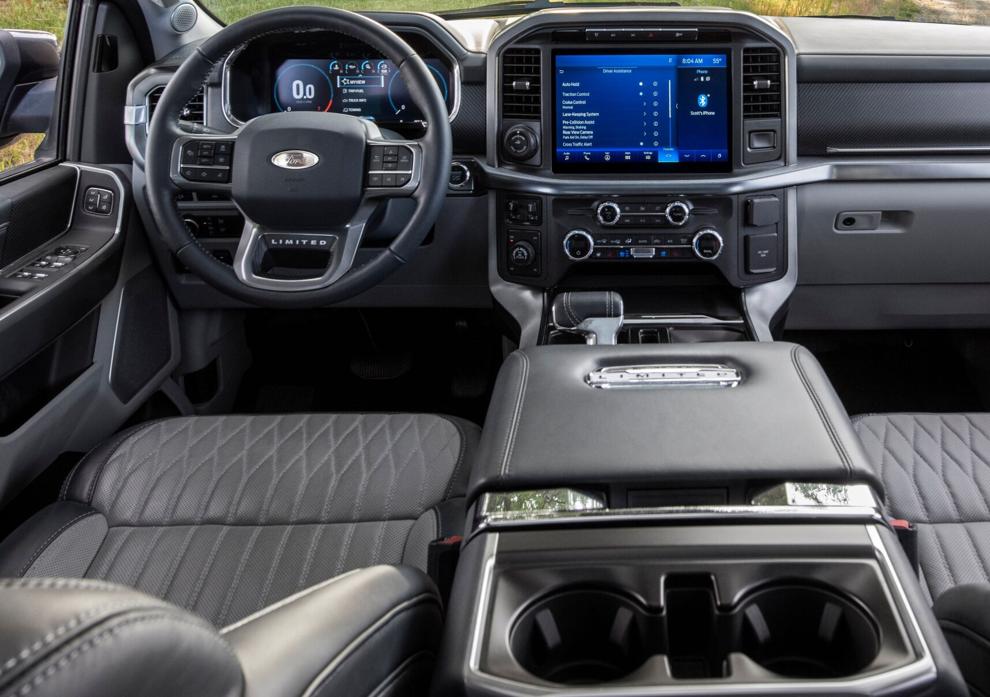 On the up side, acceleration is very impressive, both at-speed and off the line. We greeted 60 mph in five-and-a-half seconds -- in a pickup truck!
The truck's 430 total-system hp is courtesy of a twice-blown six aided by an electric motor and a 1.5-kWh lithium-ion battery pack, all managed by the 10-speed.
To its power, torque and capability, this truck adds such perks as loads of SuperCrew interior room, a flip-up back seat with under-seat storage, manually deployable tailgate step, handy grab handles at all doors, a big, logical infotainment touch screen, knobs for radio volume and tuning, plush appointments and, in our Lariat, a boffo B&O stereo system.
We also had some unexpected treats -- the magically appearing desk, power open-and-close tailgate, good (by truck standards) mpg, loads of power on regular gas, and, of course, all the latest safety nannies.
F-Series has been the pickup-segment's sales monster for more than 40 years. In 2021, Ford is hitting all the buttons to ensure it stays that way.
Just don't pull any levers.
---
This content was produced by Brand Ave. Studios. The news and editorial departments had no role in its creation or display. Brand Ave. Studios connects advertisers with a targeted audience through compelling content programs, from concept to production and distribution. For more information contact sales@brandavestudios.com.