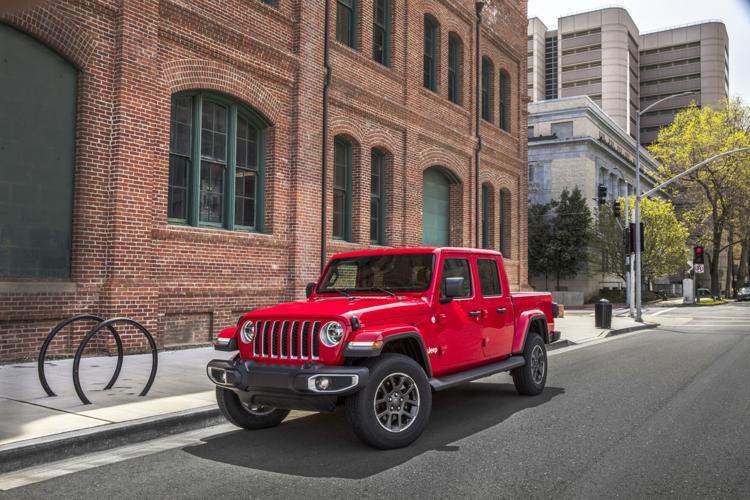 Diesel pickups have always had their virtues but, historically speaking, civility was not among them.
Towing grunt? Check.
Good fuel economy? Check.
Long-term reliability? Check.
Civility? Nah. With their old-school reputation for vibration, harshness, clatter, smoky exhaust and sluggish acceleration, diesel engines were pretty much relegated to work trucks.
But that was then. This is now. The new-for-2021 diesel version of the Jeep Gladiator we drove proved to be the most civilized Gladiator we've sampled -- although the engine can't claim all the credit.
In addition to its modern, 3.0-liter, turbo diesel reining in historic faults like harshness and clatter, our truck wore Gladiator's Overland trim, which proved to be more pavement-friendly than the gasoline-powered Rubicon and Mojave Gladiators we'd previously sampled. Those latter two, trail-dedicated roughnecks boast specially tuned suspensions, purpose-built off-road-rugged shocks, knobby tires, lifted suspensions and whole lot more to ensure impeccable off-road performance. The trade-off, of course, is a buckboard-firm ride and notable road noise on the interstate.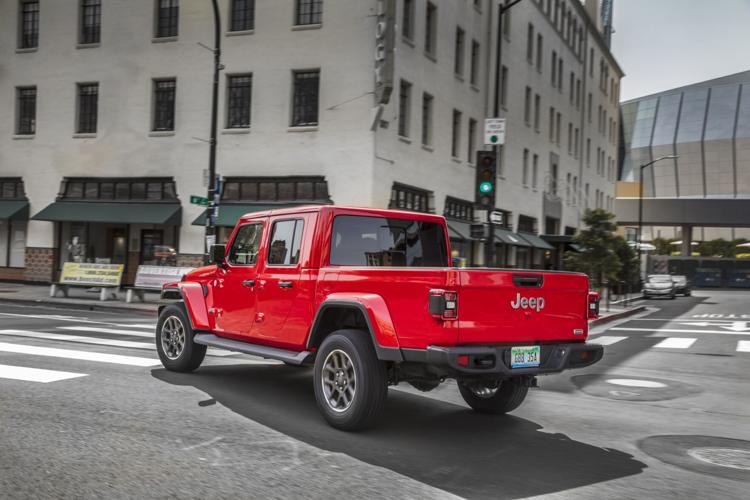 Overland, on the other hand -- despite slightly increased spring rates due to the weight of the diesel -- opts for a comfier (by open-top Jeep standards) suspension and quieter, street-friendly tires. Add to that the extra sound insulation of our truck's optional "Hard Top Headliner," which tacks an additional $555 onto the already pricey $2,395 body-color three-piece hard top, and you've got a cab that's reasonably civil in a truck that still boasts a removable top and doors and impressive off-pavement talent.
In the past, we've said Gladiator was a pickup for people who really want a Jeep but could use a pickup. This Overland diesel proved to be a Jeep that fans of modern pickups can live with, too.
The only real downside is a surprising one: the diesel Gladiator is actually rated to tow less than a properly equipped gas-engine Gladiator(!): 6,500 pounds tops for the diesel, but as much as 7,650 pounds for the gas-engine model. Jeep ascribes that to diesel-cooling requirements that get pinched by the must-have seven-slot Jeep grille.
Gladiator's turbocharged, 3.0-liter V-6 diesel can be had in Sport, Rubicon and Overland trims. It makes 260 hp and a muscular 442 lb.-ft. of torque, that grunt fully onboard at a low 1,400 rpm. It's all managed exclusively by an eight-speed automatic. (Yep, if you order the $4,000 diesel option, Gladiator's $2,000 eight-speed automatic is a "required" additional option.)
Otherwise, this is a Gladiator, meaning it boasts a removable top, removable doors, notable off-pavement capability and loads of driving fun. The turbo-diesel is peppy, thanks to gobs of torque. The recirculating-ball steering, however, which is in lieu of a modern rack-and-pinion system for its in-the-rough ruggedness, is vague at highway speeds, requiring constant vigilance to keep the vehicle lane-centered.
In 180 miles, more highway than city, we got 27 mpg. Compare that to the 17 we recently realized with a gas-V6 Mojave.
Inside, room is fine up front and good in back by midsize pickup standards. And, in addition to Overland's standard nods to civility -- things like power windows and locks, dual-zone climate, satellite radio -- our Overland expanded its cushy cred via loads of extra-cost options: 8.4-inch infotainment touch screen, heated seats, heated steering wheel, rear-park assist (a back-up camera is standard), navigation, Alpine premium audio, adaptive cruise and LED exterior lighting.
It all pushed the price of our Gladiator to more than 60 grand. But it also added up to a pickup with the fun of an open Jeep and the tech and (most of the) comfort of a modern pickup.
---
This content was produced by Brand Ave. Studios. The news and editorial departments of the St. Louis Post-Dispatch had no role in its creation or display. For more information about Brand Ave. Studios, contact tgriffin@brandavestudios.com.