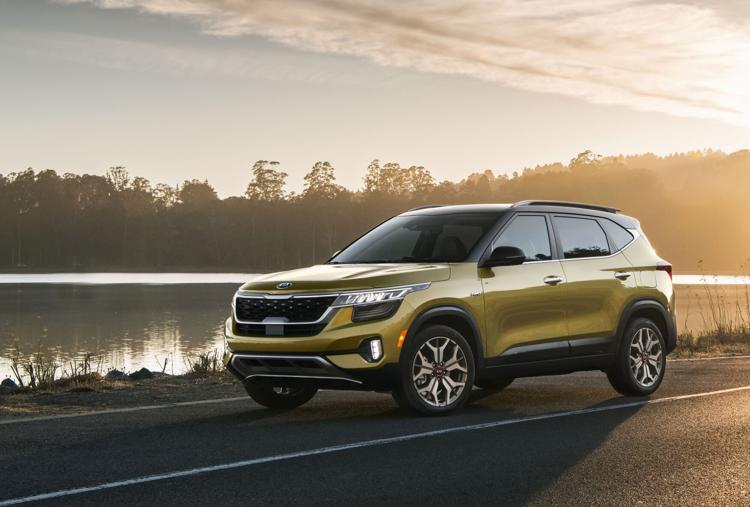 Modern automotive names can sometimes be esoteric. A case in point is the moniker applied to Kia's all-new crossover.
"Seltos," we understand, derives from the appellation "Celtos," the guy who is the son of Hercules, according to mythology.
It's Greek to me. But when it comes to the features prized by modern crossover shoppers, Seltos is speaking their language.
Although sharing its basic platform and engines with platform-mate Hyundai Kona, Seltos is notably larger, roomier and, in a strictly subjective observation, better looking.
Regarding the size, Seltos, compared to Kona, is 8 inches longer and 2.6 inches taller while riding a 1.1-inch longer wheelbase and showing 6.1 inches of additional rear overhang. It all translates to 3.4 inches more rear leg room, 7.4 cubic feet of additional seats-up cargo space and, at 62.8 total cubic feet, a whopping 17 cubes of additional seats-folded luggage room.
When it comes to styling, Seltos's wide robotic grin shows a tough-guy look appropriate to a crossover. Add its techy cubist lighting elements, muscular profile cladding, faux-skid-plated rump and satin-chrome D-pillar accent, and Seltos is handsome, indeed. The top-of-the-line SX Turbo AWD we drove doubled down on the matinee-idol image with a $345 two-tone exterior paint upgrade that showed a black roof over a green body, all riding 18-inch wheels.
Available in five trims -- LX, S, S 1.6T, EX and SX – all but S get all-wheel drive standard, although S can be optioned up to four-corner grip at the buyer's discretion.
Under the hood, LX, S and EX are powered by a modest 2.0-liter, 146-hp four-banger that generates 132 lb.-ft. of torque through a CVT automatic. S 1.6T and SX, on the other hand, trade up to a 1.6-liter turbo four that makes 175 hp and a lively 195 lb.-ft. of grunt, twist that's fully available at a very accessible 1,500 rpm.
That blown four, which powered our SX AWD, mates exclusively to a seven-speed dual-clutch automatic.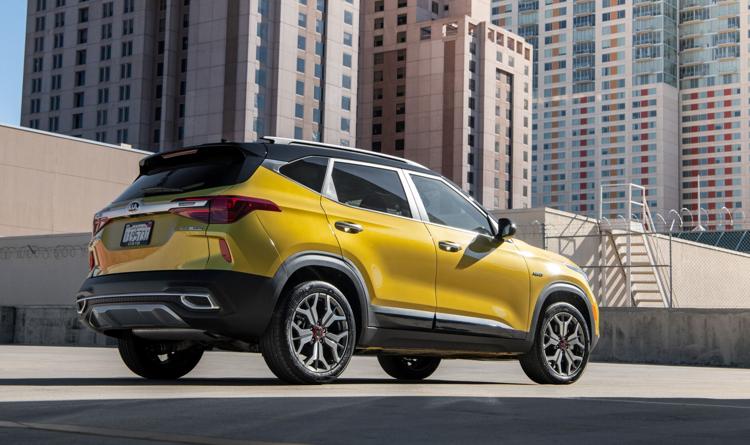 On the road, the ride is firm and, at highway speed, wind and road noise are detectable if the radio is muted. However, handling is crisp and acceleration is admirable, characteristics complemented by driver-selectable chassis modes of Normal, Smart and Sport. 
We greeted 60 mph in 6.5 seconds.
During a drive earlier this year in a lower-trim S Turbo, we realized 28 mpg in 185 miles, more highway than city. In SX, behind the same force-fed four, our top-of-the-line Seltos returned 31 mpg during a 50-mile highway trip.
Thanks to the aforementioned size, Seltos is roomy up front and more spacious than you have a right to expect in back. Meanwhile, the front buckets are comfortable, with long cushions and robust side bolsters, while the rear perches are seatback-rake adjustable, providing room for a six-footer behind a six-foot driver.
Regarding infotainment, the big touch screen proved intuitive and easy to use. Adding to the pleasant vibes, good old knobs for radio volume and tuning were much appreciated, as were handy thumb-toggles on the steering wheel for radio volume and mode, cruise-control speed and manipulation of the gauge package's reconfigurable screen.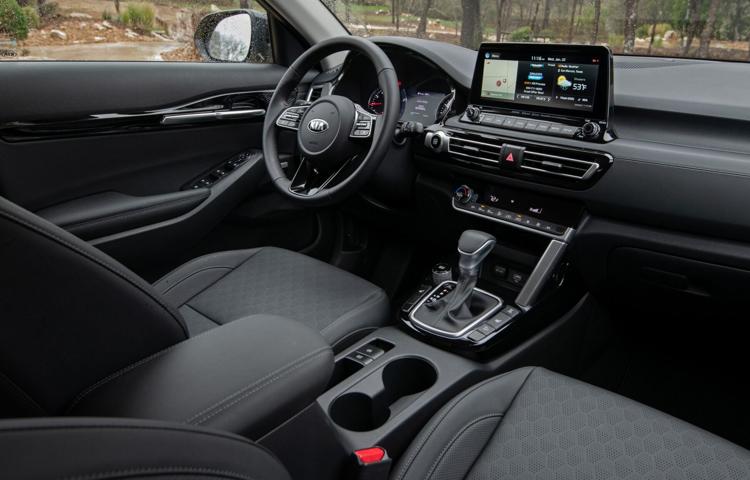 Interior trim in our SX turbo was hip, with piano-black and satin-metal-look accents.
While the S we drove previously included such safety monitors as Lane Follow Assist, Lane Departure Warning and Lane Keep Assist, our SX Turbo AWD added Blind Spot Warning, Blind Spot Collision Avoidance, Rear Cross Traffic Warning and Rear Collision Avoidance.
Starting at just $23,110 for a base S – and ringing the register under 30 grand for our loaded SX Turbo AWD – Seltos, appropriately for the son of Hercules, is a muscular new entry in the crowded compact crossover segment.
---
This content was produced by Brand Ave. Studios. The news and editorial departments of the St. Louis Post-Dispatch had no role in its creation or display. For more information about Brand Ave. Studios, contact tgriffin@brandavestudios.com.
Auto reviews, driving trends and up-to-date news about life on the road.