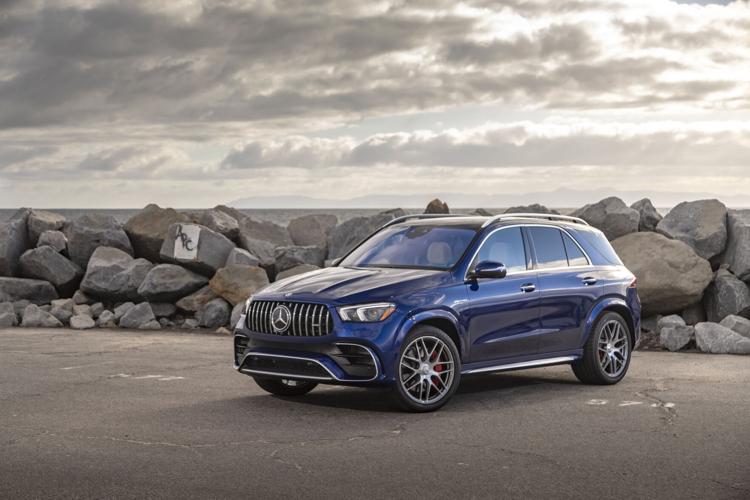 The 2021 Mercedes-AMG GLE 63 S is an eclectic problem-solver. In one vehicle, it provides new-car shoppers with solutions to three disparate quandaries:
1.) You need an SUV to carry people and tote stuff. Check. GLE 63 seats five and, with the rear seat folded, can tote nearly 75 cubic-feet worth of gear and goods.
2.) You need an SUV, but what you really want is an ultra high-performance rocket. Check. Behind its 603-hp, twin-turbo V-8, GLE 63 S will greet 60 mph in less than 4 seconds.
3.) You need relief from a heavy burden of excess disposable income. Mega-check. This speedster will drain from your bank account a minimum of $114,945; a highly motivated buyer, as was the individual who optioned the sample we drove, can ring the register north of 130 grand.
Problems solved. (But, gee, I wish I had Problem 3.)
Fully redesigned for 2021, the GLE 63 S is rolling proof that Mercedes' AMG performance division -- fully aware that more than half its sales these days are SUVs(!) -- is unwilling to forego ultra high-performance to get utility. GLE 63 S is a seamless combination of both.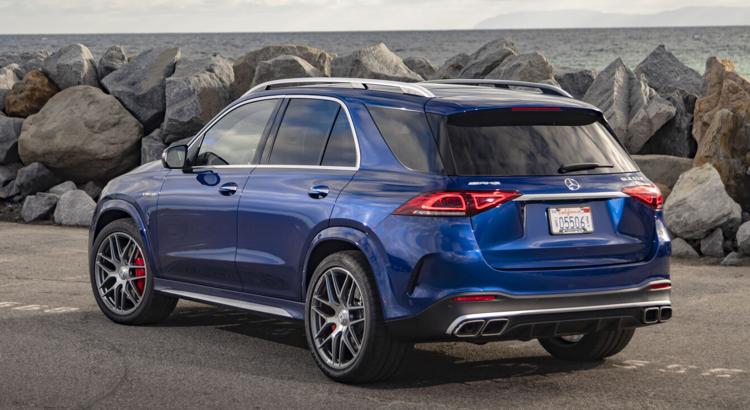 The utility is evident in a generous cargo hold and a marvelously roomy back seat that easily folds for toting duty. But it's the performance that sells this guy.
Boasting a pair of blowers, GLE 63 S's twin-turbo V-8 generates 603 hp and a pavement-liquefying 627 lb.-ft. of torque, the latter fully onboard at 2,500 rpm. With a paddle-shift nine-speed automatic sending hair-raising power to all four wheels -- rear-biased "Performance 4Matic" AWD is standard -- this guy will greet 60 mph in 3.7 seconds on the way to a top speed of 174 mph. And all the while it sings a lusty exhaust note, a vocal talent that's typical of AMG's hand-assembled V-8s.
Driver-selectable chassis modes include Sand, Trail, Slippery, Individual, Comfort, Sport, Sport Plus and Race, with the last three notably stiffening the response of this ute's active-dampers suspension.
Oh, there's more. The engine also claims the distinction of being the first AMG eight-pack to benefit from Mercedes' 48-volt EQ Boost hybrid system -- a system charged primarily with enhancing performance, not improving fuel economy.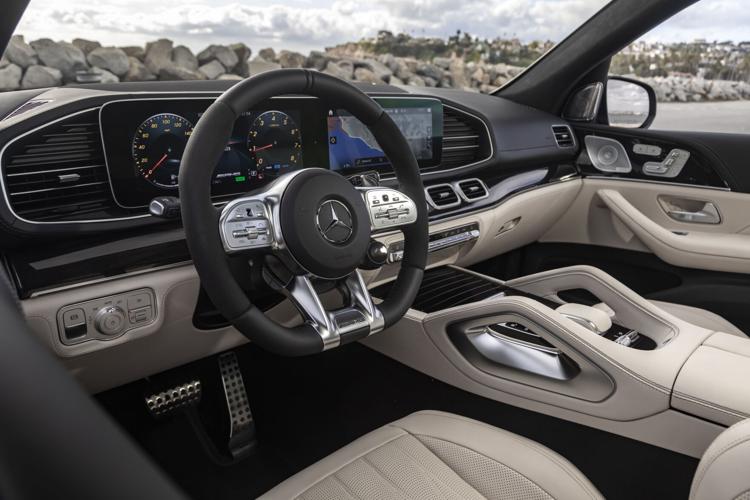 Speaking of which, in 135 miles of mixed city/hwy motoring -- and more than once feeling the visceral thrill of this guy's accelerative talent -- we realized 16 mpg.
Regarding steering response, cornering, braking and high-speed stability -- hey, it's a Mercedes AMG, they're all aces.
Inside is a state-of-the-art infotainment system -- enhanced in our tester with an MBUX Tech Package with upgraded navigation and head-up display -- that's more complicated than quantum physics.
The gauge package, complete with myriad configurations, and the center-stack screen, complete with myriad menus, are both housed in a single, widely horizontal display. The former can be controlled via a tiny thumb pad on the left side of the steering wheel, the latter with a tiny thumb pad on the right side of the steering wheel.
Other infotainment manipulations are doable via the touch screen, voice commands, toggle switches and a finger-slide touch pad on the center console.
Plan some fireside reading time with your owner's manual.
Starting at about 115 grand, we managed to push our sample's bottom line -- thanks to such additions as a $1,600 "Black Dinamica Roof Liner" and a $1,650 "Energizing Comfort Package (massaging seats, fer cryin' out loud) -- to within shouting distance of 132 large. Yowza!
The 2021 Mercedes-AMG GLE 63 S is fast, snarly, complex, comfy and handsome. Just plan to write a big check to get one. And then plan to rent some weekend track time to get anywhere near the performance your six-figure check just bought.
Then, no problem.
---
This content was produced by Brand Ave. Studios. The news and editorial departments of the St. Louis Post-Dispatch had no role in its creation or display. For more information about Brand Ave. Studios, contact tgriffin@brandavestudios.com.
Auto reviews, driving trends and up-to-date news about life on the road.