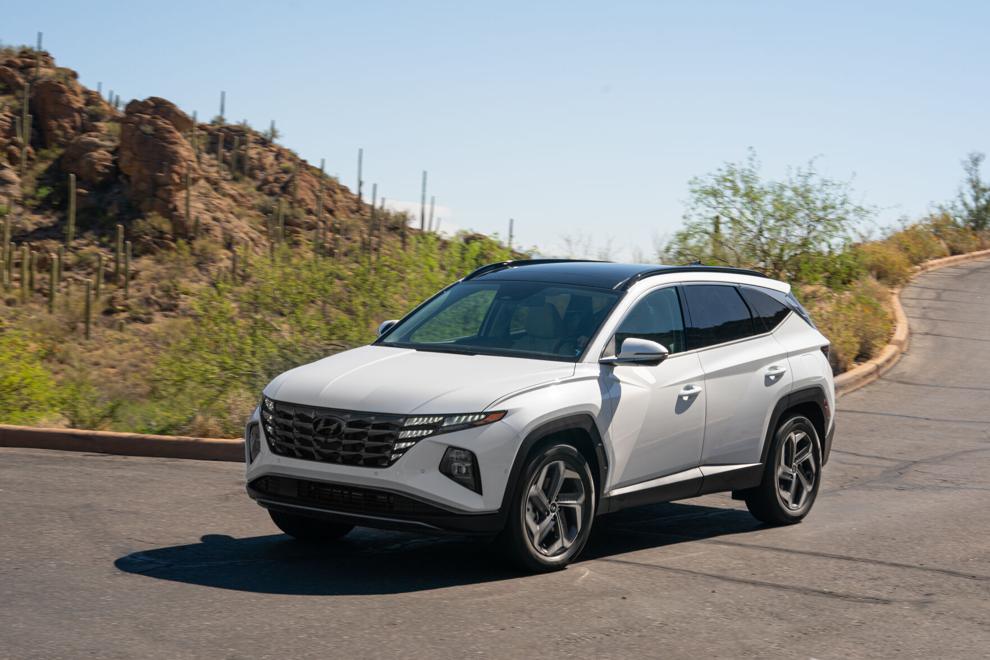 There's an old country song by Conway Twitty and Loretta Lynn with the hilarious title, "You're The Reason Our Kids Are Ugly." Happily, the song goes on to make the case that "Looks ain't everything . . . I love you just the same."
That used to be your humble correspondent's take  on Hyundai styling. The vehicles themselves generally had such great personalities that the old gape-mouth corporate grille, still evident to some degree on current Palisade, could be overlooked.
Now, however, Hyundai is showing signs of a newfound dedication to cosmetics. The brand's dashing new face, worn to one extent or another by such disparate offerings as the Santa Cruz "Sport Adventure Vehicle," the Elantra compact sedan and the Venue and Santa Fe crossovers, is displayed in full fine flower on the all-new Tucson crossover.
Slotting between Kona and Santa Fe in Hyundai's SUV lineup, this fourth-generation Tucson shows an appealing smile in the form of a rectangular grille -- a grille given wings thanks to stylishly triangular lighting elements on either side. Tucson's flank, meanwhile, improbably succeeds in making attractive a look that's lumpier than a 20-dollar mattress. Creases, indentations, bulges and character lines all somehow blend together to provide a Barrymore profile. Bringing up the rear is a sculpted rump with downward-stabbing taillights.
It all works. And this guy is a knockout.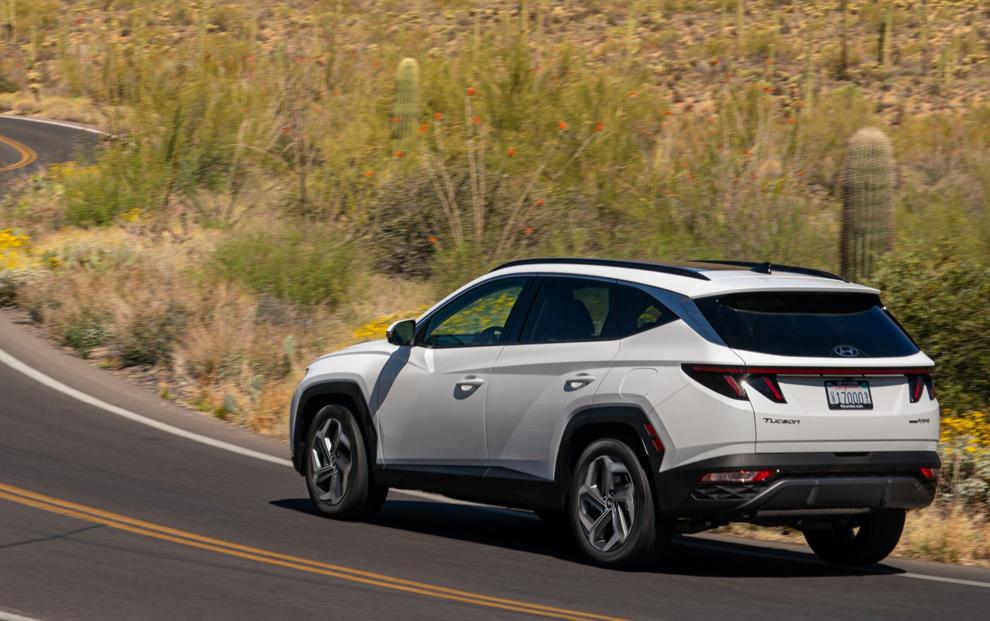 The 2022 Tucson is available in three basic variations: the standard model, powered by a 2.5-liter I-4 and managed by an eight-speed automatic; the H-Trac Hybrid, whose 1.6-liter turbocharged I-4 mates to a six-speed automatic while being assisted by an electric motor and a lithium-ion battery pack; and a plug-in version of the H-Trac  hybrid.
The 2.5L Tucson can be had with front- or all-wheel drive; the hybrid and plug-in hybrid get four-corner traction standard.
We drove a hybrid in its toniest Limited trim. Other raiments include the base Blue and mid-level SEL Convenience trims.
On the road, this gas-sipper, which offers drive modes of Eco, Sport and Smart, feels like the modern crossover it is -- quiet, comfy, cushy. Its blown four and electric motor combine for an impressive 226 total-system horsepower.
Still, in Eco mode, to which the car defaults with each ignition cycle, acceleration is leisurely, handling indefinite, ride soft and steering slow. Hit the Sport mode and things perk up considerably -- throttle response quickens, acceleration improves, steering is more communicative and ride and handling feel more assured.
We used the Sport mode a lot, which may in part explain why we realized 34 mpg in just over 100 miles of motoring -- less than the EPA's expected 37.
Room is great up front in Limited's comfortably bolstered buckets -- mildly beefed up on the seat cushions, more aggressively bolstered on backs. Well done.
The back seat is surprisingly spacious, with good head room and adequate leg room behind a six-foot driver. Our Limited had heated outboard seats back there, too. Meanwhile, the 60/40-split rear seatback folds to create nearly 75 cubes of cargo area.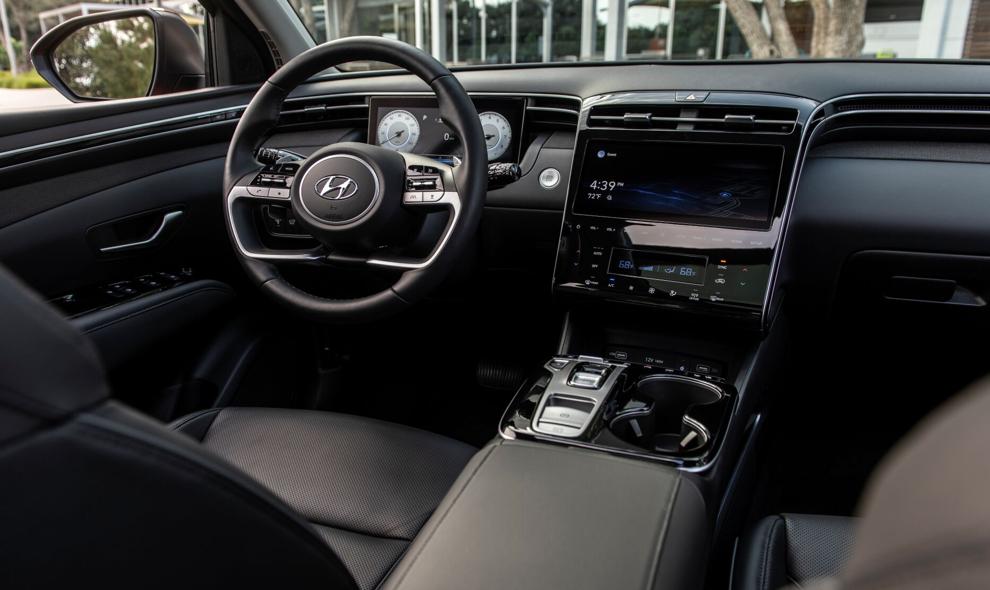 Infotainment is a mixed bag.
The gauge pack is easily reconfigurable with all the usual suspects -- mpg, trip counter, navigation, etc. -- but the buttonless, knobless centerstack is maddening. Everything, both screen and non-screen controls, are touch pads. No knobs. No buttons. It's enough to torque off your anger-management counselor. Happily, a toggle switch on the steering wheel eliminates the need to manage volume with the vexing touch-screen control.
But gimme a knob, fer cryin' out loud!
That aside, this all-new Tucson is pretty cool -- up-to-the-minute tech, enjoyable driving demeanor (in Sport mode), handy to use with its crossover versatility and gorgeous to behold.
---
This content was produced by Brand Ave. Studios. The news and editorial departments had no role in its creation or display. Brand Ave. Studios connects advertisers with a targeted audience through compelling content programs, from concept to production and distribution. For more information contact sales@brandavestudios.com.