Infiniti's compact QX50 crossover has spawned a fashion maven: the 2022 QX55, which shares 50's platform and mechanicals.
Although, from a styling standpoint, it's pretty much identical to its source material from the B-pillar forward, QX55 from its B-pillar aft goes its own way, showing a fastback roof and seductive profile.
Of course, you gotta make some sacrifices in the name of fashion. Compared to QX50, the dashing 55 surrenders an inch-and-a-half of rear head room, 10 cubic feet of seats-folded cargo space and roughly 6 cubes of total interior volume.
On the other hand, when you're behind the wheel -- well, as Billy Crystal's "Fernando" used to say, "Dahling, you look mahvelous. Absolutely mahvelous!"
Like QX50, which itself debuted in 2019, this new QX55's styling starts with a mug that blends a catfish maw with raptor-eye headlights and slashing front-fascia vents. That remarkable face is capped by a hood that shows raised character creases sharp enough to cut steak, along with edges that overlap the fender crowns! Finally, the draped hood edge melds into a flank-long character line that, unlike 50, runs along 55's flank through the door handles to a virtually deckless rump. Oh, and out back are wide hips and a racy backlight.
Have mercy! Cover the eyes of impressionable children!
Along with that hey-look-at-me haberdashery, QX55 shows a roofline that's 2.2-inches lower while casting an overall shadow that's 1.6-inches longer, despite sharing QX50's 110.2-inch wheelbase.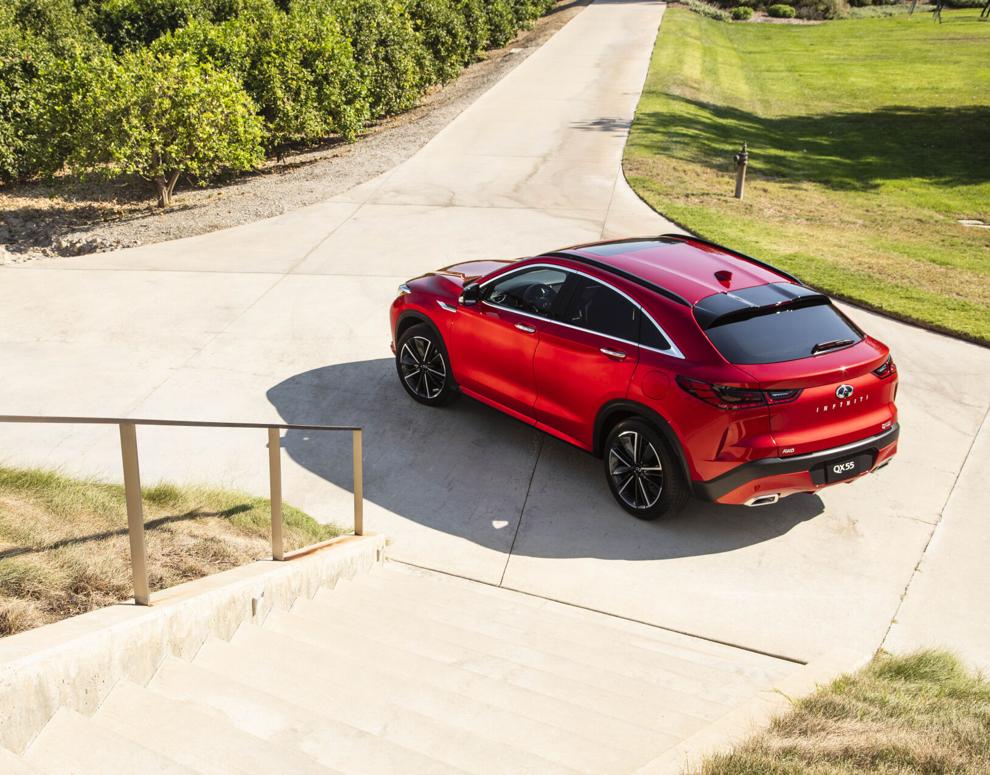 Another departure is the number of available trims: 55 drops 50's base trim and its ultra-tony "Autograph" top trim, leaving QX55 available in Luxe, Essential and Sensory raiment. We drove a Sensory.
Inside, room is fine up front and surprisingly accommodating in back. Tall guys might squawk in the rear seat, but average stature adults will be OK. And everyone loved the decor in our Sensory -- gray boat-like wood, red and black leather and satin metal throughout. Very snappy.
Regarding infotainment, 55 has more screens than the local Cineplex. There's a reconfigurable display in the gauge pod with 14 info choices -- navigation, trip, mpg, audio, digital speedometer and more. Meanwhile, an upper center-stack screen, though mainly for navi in our Sensory, can. at the twist of a console knob, show other info. And a lower center-stack touch screen, though mainly for audio, can, again, display other information. Mix and match. And, happily, there's a knob for audio volume.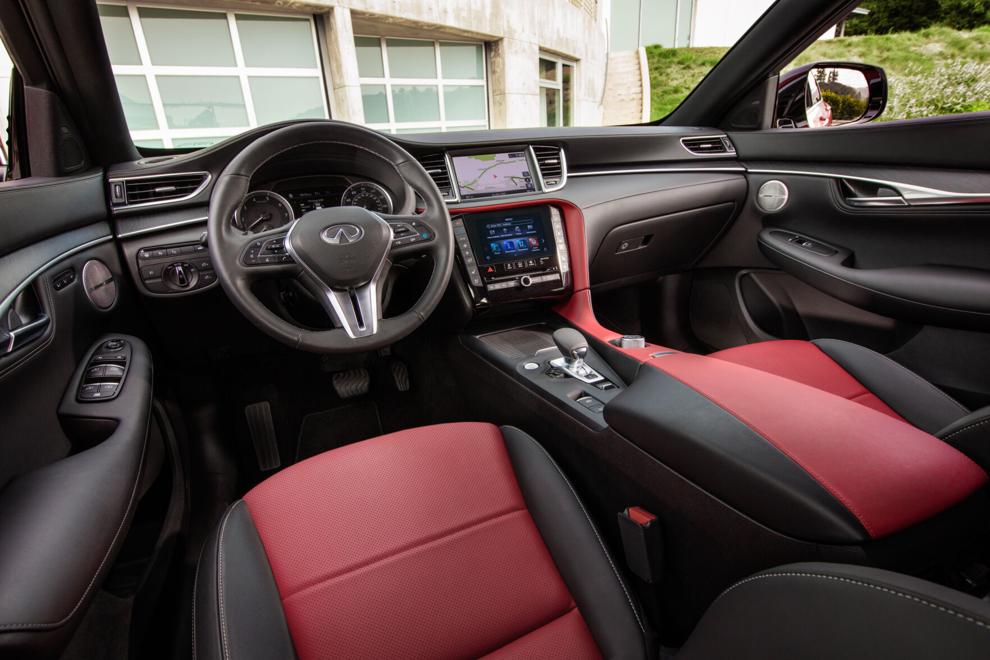 Of course, Android Auto and Apple CarPlay compatibility is included.
Regardless of trim, the greasy stuff is identical to QX50 with one exception: all-wheel drive, optional on 50, is standard under 55.
Power comes from Infiniti's four-cylinder "VC-Turbo" -- "VC" being shorthand for "variable compression." It's a 2.0-liter blown four that, depending on engine load, alters how high the pistons rise in the cylinder cans. In so doing, it alters engine compression for -- in theory -- the "best combination of power and efficiency."
We found the engine surprisingly willing, given that it's lashed to a standard CVT. It proves gutsy as it unloads its full complement of 280 lb.-ft. of torque at a low 1,600 rpm. Bury the skinny pedal and even the CVT works hard to get into the spirit of the proceedings, mimicking step-gear ratio-trades and, in so doing, pretty much eliminating the dreaded CVT drone.
Throw in paddle shifters and selectable chassis modes -- Personal, Sport, Standard, Eco -- and drivers greet 60 mph in the 6's.
In 125 miles, about 50 highway, 75 around town, we realized 23 mpg while enjoying fine ride quality and a civil cabin.
So the choice is the buyer's: a similar driving experience accompanied by square-back utility in QX50 or a racy styling statement in the new QX55.
---
This content was produced by Brand Ave. Studios. The news and editorial departments of the St. Louis Post-Dispatch had no role in its creation or display. Brand Ave. Studios connects advertisers with a targeted audience through compelling content programs, from concept to production and distribution. For more information contact sales@brandavestudios.com.