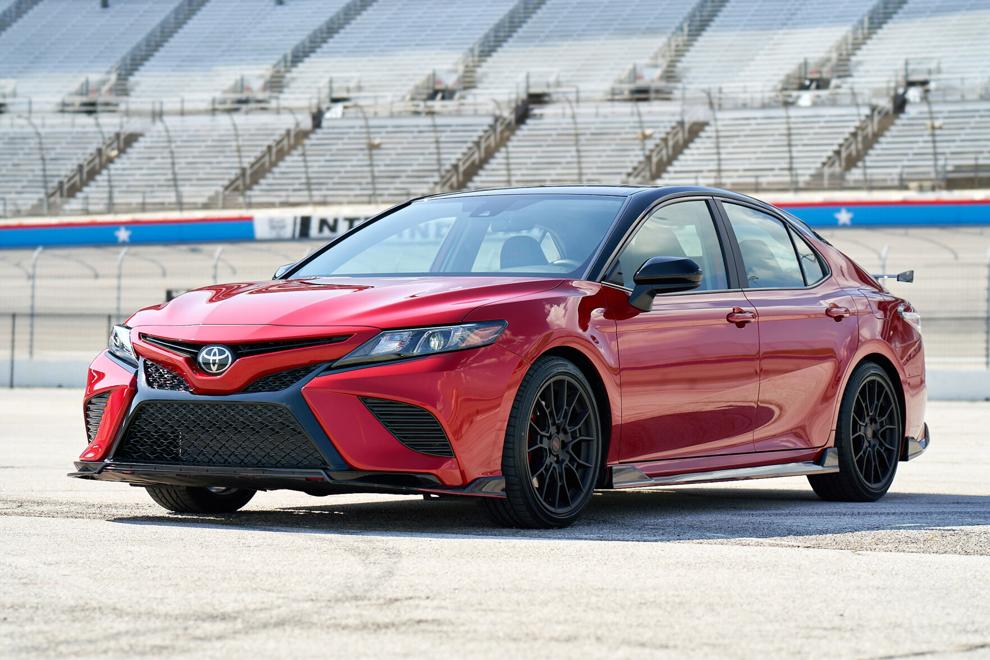 "Camry" is a 38-year-old nameplate now in its eighth generation -- a solid, sensible family sedan. So its racy TRD edition had us puzzling: Is Camry suffering a midlife crisis?
After all, this is the best-selling sedan in America, and has been for as long as anyone can remember. Heck, through the first three quarters of calendar-year 2021, Camry outsold its closest competitor, the Honda Accord, by nearly 100,000 units. So why, one might ask, would it feel the need for a hot-rod version?
A young guy we encountered on the grocery-store parking lot answered that question: "Cool car, mister," he called.
Hey, you won't hear that while loading a 40-pound bag of dog food into the trunk of a Camry LE.
In addition to TRD, Camry for 2022 is offered in trims of LE, SE, Nightshade, XLE and XSE. In all trims, Camry enjoys -- or, depending on your point of view, is saddled with -- a reputation as a prim and proper kid shuttle that's high on practicality, dependability and value but low on excitement, passion and driving fun.
TRD -- "Toyota Racing Development," that is -- addresses those shortcomings.
Starting life as a V-6 Camry XSE, TRD earns street cred with a host of handling upgrades, including a half-inch lower ride height, larger front brake rotors, stiffer coil springs, stouter front and rear sway bars, TRD performance shocks, and 19-inch alloy wheels that, compared to the 19-inchers on XSE, are wider and lighter. Hugged by low-profile Michelin performance rubber, those wheels result in reduced unsprung mass for less outboard dead-weight. And that, in turn, increases lateral grip for enhanced cornering stability and quicker turn-in response for snappier steering.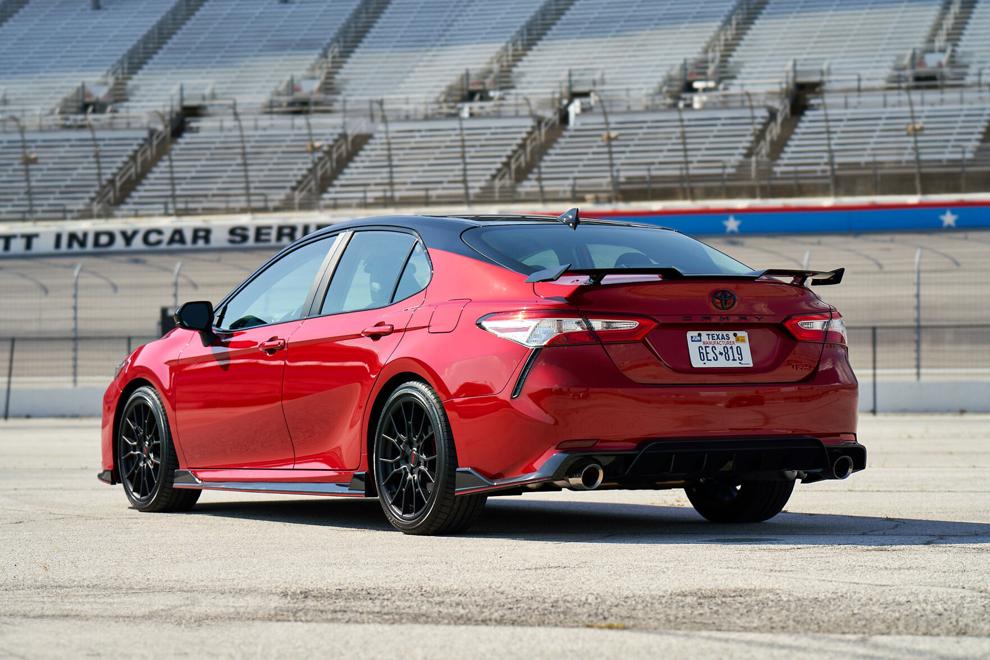 During our week with a 2022 Camry TRD, we, alas, never got a chance to sample all its charms on a track. But the feeling we sensed on twisty two-lanes was exhilarating. The tuned suspension exhibits notably controlled body roll.
True, under the hood TRD simply retains XSE's 301-hp V-6 and its eight-speed automatic, but the racer gets a freer-flowing exhaust for snappier throttle response and a gratifyingly more growly exhaust note.
On the road, we greeted 60 mph in the high 5's while feeling enthusiastic shift points from the eight-speed and noting, from the body kit and performance tires, in-cabin wind and road noise. In 165 miles -- a mix of city driving and two-lane highway running -- we realized 22 mpg; not as good as the 25 the EPA expected, but, admittedly, we were having some fun with this guy, not nursing it for efficiency.
Regarding appearance, TRD's body kit, which the grocery-store kid so admired, may frighten your more sedate neighbors with such aero tweaks as a proprietary front splitter, side aero skirts, a big-wing trunk-lid spoiler and an aggressively finned rear diffuser, not to mention twin tailpipes as big as bazooka barrels. Whether you think it all looks dashingly purposeful or -- cover grandma's eyes! -- audaciously overwrought, it does, indeed, lessen the car's coefficient of drag. Adding a final exclamation point to the eye-popping haberdashery are TRD's gloss-black grille, with its sport mesh insert, and black exterior badging.
In the cabin, where the decor is predominantly black, the driver often sees red -- in the form of red gauges, red accents, red stitching and even red seatbelts!
The only appearance fault we noted was the faux vent that drips from the taillight on each side of the rear flank. It looks to our eyes like an errantly fallen insulation strip!
Finally, we should note that TRD does demand that drivers give up some typical Camry convenience for all this pizzazz -- the rear seat in TRD, for example, does not fold in order to enhance chassis rigidity -- but, even so, TRD remains a Camry: family friendly and confidently reliable.
It just adds an element of boy-racer fun.
---
This content was produced by Brand Ave. Studios. The news and editorial departments had no role in its creation or display. Brand Ave. Studios connects advertisers with a targeted audience through compelling content programs, from concept to production and distribution. For more information contact sales@brandavestudios.com.