There was a time when the notion of a high-performance SUV was a joke. Today, nobody's laughing.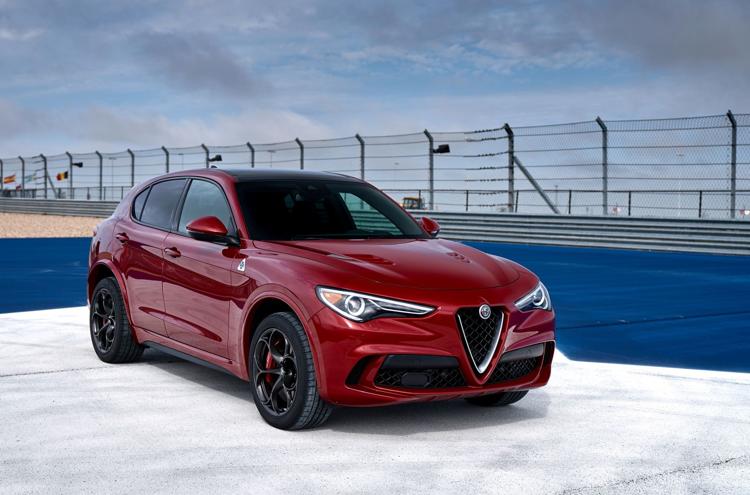 Instead of a low-slung coupe, it seems in 2019 almost every ultra-high performance vehicle is a crossover SUV! That's an exaggeration, of course. There remain plenty of blurry two-door cars, from the attainable likes of the 60-grand Chevy Camaro ZL1 to mortgage-the-house exotics like the 400-grand Lamborghini Aventador.
But these days, in a turn of events that -- to put it mildly -- seemed unlikely not many years ago, the list of ultra-high-performance SUVs is long. It's an elite fraternity that includes such go-fast machines as the BMW X5 M, Mercedes-AMG GLE63, Mercedes-AMG G63, Porsche Cayenne Turbo, Range Rover Sport SVR, Jaguar F-Pace SVR, Jeep Grand Cherokee Trackhawk . . . there are more, but you get the idea.
However, only one claims to be "the world's fastest production SUV" -- at least, when it comes to lapping Germany's legendary Nürburgring circuit -- and that's the Alfa Romeo Stelvio Quadrifoglio.
Named for the highest mountain pass in Italy, Stelvio is available in three versions: Base and Ti, both powered by a 2.0-liter, 280-hp turbo four, and the Quadrifoglio we drove, whose 2.9-liter, twin-turbo V-6 snarls, burbles, blats and roars as it makes a breathtaking 505 hp and a pavement-powdering 443 lb.-ft. of torque -- twist fully onboard at a very accessible 2,500 rpm. With Quad's standard all-wheel drive, that Ferrari-derived six-pack's controlled fury is delivered to all four Pirelli P Zero high-speed tires via an eight-speed automatic.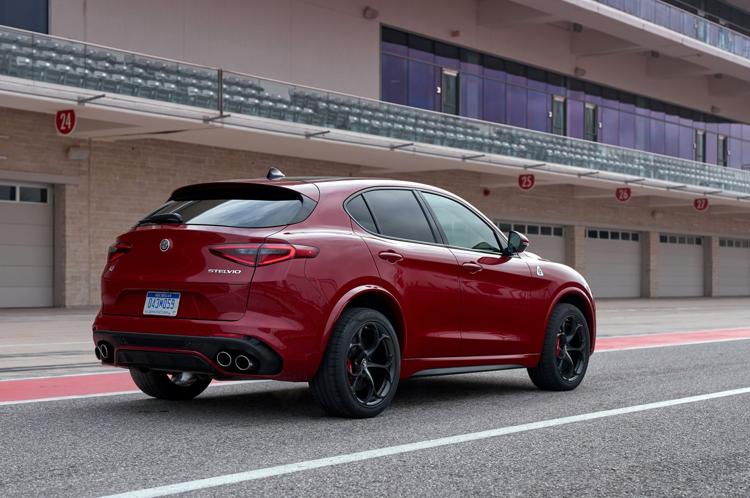 Hammer the skinny pedal, and your spine is pressed into the perforated suede back of Quad's bolstered-out-to-there leather sport buckets. You'll greet 60 mph in about 3-and-a-half seconds.
Even having some fun with this lively guy, we still realized 19 mpg in 120 miles of city/hwy motoring, just as the EPA figured.
But there's more here than speed. The Stelvio Quadrifoglio rides, handles, steers and brakes like a high-end sport sedan, despite its SUV reality. That sorcery is enable via an impossibly athletic (for an SUV) suspension whose driver-selectable modes allow the driver to pick a preferred performance level. Those modes in every Stelvio are Dynamic, Normal and Advanced Efficiency (Sport, Normal and Eco in American terms). Quad, however, adds a Race setting.
Our only driving complaint was the brake feel. With our Quadrifoglio's optional Ultra High Performance Brembos (an $8,000 option!), the always urgent brakes felt needlessly grabby, even in routine driving. But, hey, they sure stopped this guy.
Inside, Quadrifolgio room is good up front in fabulously supportive sport buckets while back-seat room is doable if front passengers cut a leg-room break to the folks in the cheap seats. On the other hand, the cabin exhibits several characteristics that will baffle the uninitiated.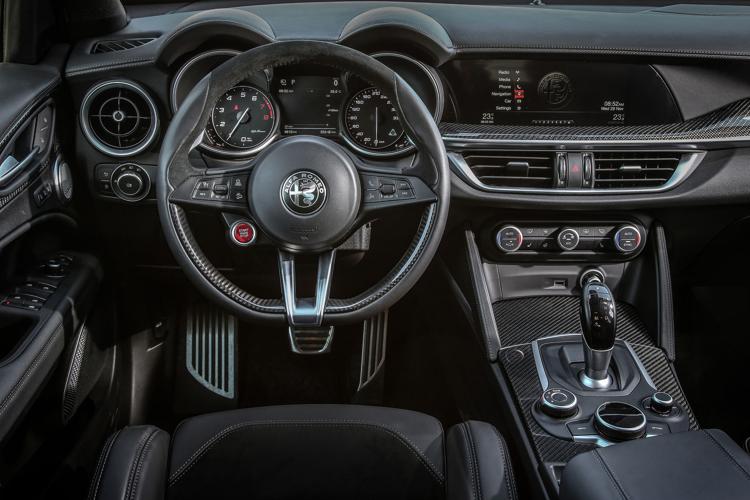 For example, the engine-start button isn't on the dashboard or center console, as it is in virtually every other push-button-start vehicle. Nope, here it's on the steering wheel, just below that flat-bottom sport wheel's western spoke. Of course, if you park with the front wheels canted right, that button moves north; cant the wheels left and it goes south. Yep, seeking the "start" button can provide endless hours of amusement.
Also, there's a drive-mode selector creepily labeled "dna" (Dynamic, Normal, Advanced Efficiency), wheel-mounted paddle-shifters big enough to be the stunt double for a scythe, and a menu-intense infotainment system more complicated than radar.
But, boy, does this guy look great -- V-grille, long-hood profile, 20-inch wheels, and sculpted lift gate over quad, coffee-can-size tailpipes. Our Quadrifoglio turned heads like Elvis standing in line at the 7-Eleven.
Well-heeled crossover buyers who want the convenience of an SUV but retain a longing for the thrill of a driving machine will find no compromise necessary with the 2019 Alfa Romeo Stelvio Quadrifoglio.
---
This content was produced by Brand Ave. Studios. The news and editorial departments of the St. Louis Post-Dispatch had no role in its creation or display. For more information about Brand Ave. Studios, contact tgriffin@stltoday.com.