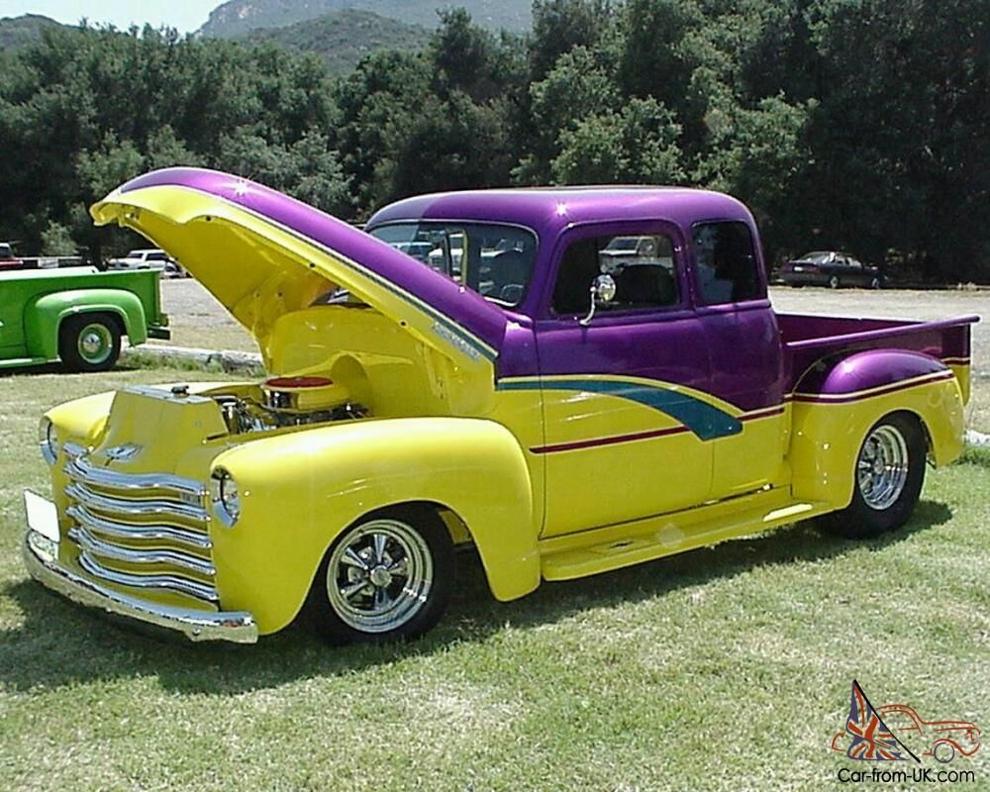 People involved in the old car hobby long ago coined the now oft-used term '20-footer', meaning a car that looks 'pretty good' from a distance of about twenty feet away. Twenty-footers are pretty common at most local cruises and shows... anything less than a concours d'élégance event. When I first set eyes on this 1952 Chevrolet pickup truck, it looked 'pretty good', perhaps even  a fifteen-footer or slightly better.
It was a sunny Saturday afternoon and the red Chevy pickup was parked outside Double D Exhaust, a Walker muffler dealer in Maryville, Illinois. The shop was closed so I took down the phone number and left a message requesting a return call. That call came a few days later from Tony Picchiold, great grandson of the man who started the site as a hardware store in the early twenties. A grocery store was added next door in the early fifties and the hardware store became a gas station and auto repair business, eventually run by Tony's father Norman who I had the pleasure of meeting, along with Tony, last Friday. The building you see here has gone through many remodels over the last century, but was the first building in what would later become the town of Maryville.
Taking the Classic Trucks' website info into consideration, the Maryville Garage truck's serial number 3KRK- 4414 plate reveals that it is a 3/4 ton model. Chevy pickups were available in 1/2, 3/4 and 1 ton models, typical for light-duty pickups up until present day.
The 1952 models were powered by Chevrolet's Thriftmaster in-line six, followed by a three-speed synchromesh manual transmission. The Loadmaster six was an optional upgrade and the Maryville Garage truck shown here is equipped with the optional four-speed manual transmission with 'granny low' and a floor-mounted shifter.
Other popular options for 1952 Chevrolet models included left-hand pushbutton door lock; oil bath air cleaner; 10-3/4 inch, heavy duty clutch; 9-leaf rear springs; 6-ply rated 15" tires; rear corner windows; speed governor; AM radio and rear shock absorber shields. This list was pretty sparse, to say the least, when compared to present day pickups! 
FIN MAN FACTOID: This from the classictrucks.net web site: 1952 Chevy Trucks– The twist style handles were changed to the push button style. Speedometers now read up to 90 mph. Dashboard trim is painted as opposed to previous chrome. Halfway through the year, Chevrolet stopped using the 3100, 3600, 3800 etc. designation on the hood. They also started installing maroon window and wiper knobs rather than chrome. New serial number codes as follows: KP 1/2 ton, KR 3/4 ton, & KS 1 ton.
Marketed as bigger, stronger and more sleek than the previous Chevy trucks, the 1948-1953 totally restyled and new 'Advance-Design' models, were very popular back in 'the day' and Chevrolet easily led in truck sales during this time period and remain popular today.
Looking over the collector car and truck magazines and searching the web sites, many are listed for sale, including some wild customs. Prices, according to the Old Cars Report Price Guide range anywhere from number 6 (unrestorable, usable for parts only) at $2,800 to a whopping $70,000 for a number 1, concours condition example. Many factors can affect these prices. The Maryville Garage truck is a 'five window' style which is more rare and therefore more desirable. Extreme customs can even run close to six figure numbers. 
UPCOMING EVENTS: It's official. The largest single day swap meet in the Midwest, the Model T Ford Club's St. Louis Swap Meet & Garage Sale at Worldwide Technologies Raceway IS ON! The date is Sunday, May 2nd from 6 am to 4 pm. For more information call 314-830-0873 and be sure to tell them you heard about it from The FIN MAN!
A special event Breakfast With The FIN MAN which will include a visit to the private automobile collection of John Cook in Carlyle, Illinois is still in the planning stages. Details are being worked out and will include transportation (via school bus– you can pretend you're a kid again!), and breakfast or lunch at a local Illinois restaurant. Bus pickup location, restaurant and ticket prices are yet to be determined. All I can tell you for sure at this point is that it will take place on a Saturday, probably in mid to late April. Plan of a full day. Pick up s/b around 9:00 a.m. and drop off sometime late afternoon. I have received numerous letters and emails from interested parties and they will be confirmed after information is final. This event is planned to be a small gathering, limited to probably twenty or thirty people at most. Ticket prices are expected to be approximately $30 to $50 per person all inclusive. Bus pickup location will be somewhere centrally located and secure. If you are interested in this event, please email me at the_fin_man@msn.com or write me at Bruce Kunz, c/o the St. Louis Post-Dispatch, 901 N. 10th Street, St. Louis, MO 63101.
We look forward to seeing a number of Old Car Column fans at this event. Meanwhile, Keep on Cruisin' and stay safe and healthy!
---
This content was produced by Brand Ave. Studios. The news and editorial departments of the St. Louis Post-Dispatch had no role in its creation or display. Brand Ave. Studios connects advertisers with a targeted audience through compelling content programs, from concept to production and distribution. For more information contact sales@brandavestudios.com.