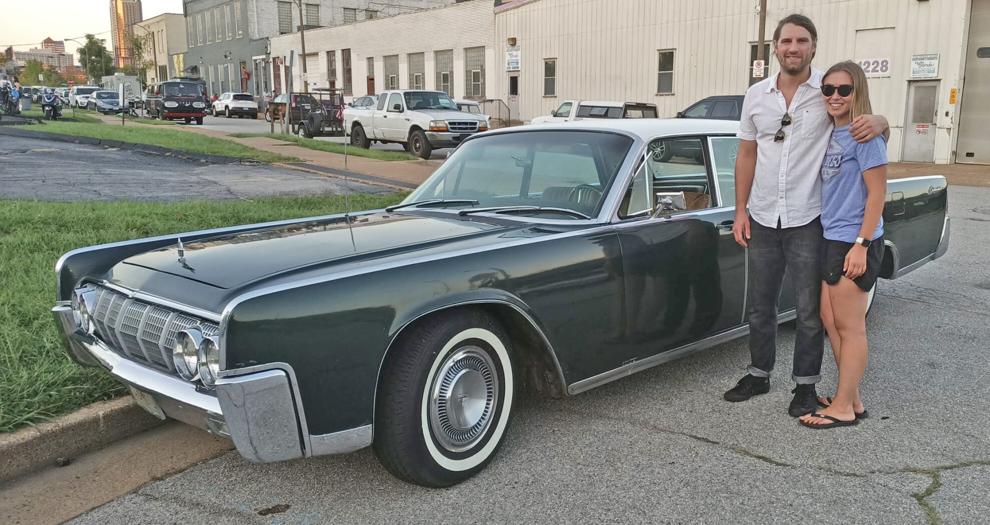 Oh, you thought I was referring to the girl standing next to him. Well, that remains to be seen – but a huge American "land yacht" had been Jeremy Sanders' dream since before he was old enough to get behind the wheel. He finally realized that dream a year ago when he and a buddy went in together and purchased the stately Lincoln Continental seen on this page.
Under that lengthy prow lies a 430 cubic-inch (that's 7.5 liters for the younger folks in the audience), cast iron V-8 with an output of 320 brake horsepower… every bit of which is needed to move this 5,055 pound highway behemoth down the road.
The fourth-generation Lincoln Continentals spanned model years 1961-1970. When introduced in 1961, the totally restyled luxury car was a refreshingly updated look after the earlier 1958-1960 models with their excessive chrome, angular body features and of course, prominent fins. The early fourth-gen models became known as the "Kennedy Lincolns" as the style was favored by then president JFK, and The Fin Man.
All Lincoln Continentals for 1964 were equipped with automatic transmission, AM radio, power steering, brakes, windows and seats as standard equipment. Air conditioning was available for an extra $505 – $4,461.70 in 2021 dollars!
The original owner of Jerry's Lincoln paid a base price of $6,292.00 plus options, taxes, delivery and dealer prep. That number equals $55,599 in 2021 dollars, which seems right in line with a modern luxury cruiser in today's market.
What's Jeremy's Lincoln Continental worth today in its present condition? Jeremy didn't disclose what he paid for it, so I'm sticking my neck out here. According to the description listed in The Old Cars Report Price Guide, Jeremy's car is in no. 4 condition. "Good": A drivable vehicle needing no or only minor work to be functional. Also, a deteriorated restoration or a poor amateur restoration. All components may need restoration to be "excellent" but the vehicle is mostly usable as-is.
This is a driver. It may be in the process of restoration or its owner may have big plans, but even from 20 feet way, there is no doubt that it needs a lot of help. All said, the OCRPG value for a 1964 Lincoln Continental sedan in number 4 condition is $6,740.00. Value guides aside, the true value of any given car is what the seller thinks it's worth and what the buyer thinks it's worth.
Upcoming events: Are we lucky or what? Next weekend there are a total of 18 car shows and cruises in the St. Louis and Metro East area! The number is far more than can be listed here, but you can go on-line to my Facebook page and see the entire list.
Update: Jeremy just emailed me some details after I sent the story in earlier today. Here is what he said: "I had always wanted an old Lincoln Continental – I saw one in a sea of Mustangs, Camero's etc at a Good Guy's show when I was younger; it was as long as the eyes could see and shined with chrome… everywhere.
About three years ago, the opportunity arose to purchase this car, needless to say… my buddy Ralph and I were more than happy to grab it. It's a whole lot of car, and needs more than one young man to handle. Thankfully we have only needed to do minor maintenance on the vehicle.
I consult for companies across the country as an Industrial designer – and vintage cars and motorcycles are a pinnacle of physical design.
Ralph owns an incredible auto detailing company here in St. Louis called Glossy Garage. The Lincoln is a prize piece for both of us and our careers. We are totally stoked about the car!"
---
This content was produced by Brand Ave. Studios. The news and editorial departments had no role in its creation or display. Brand Ave. Studios connects advertisers with a targeted audience through compelling content programs, from concept to production and distribution. For more information contact sales@brandavestudios.com.