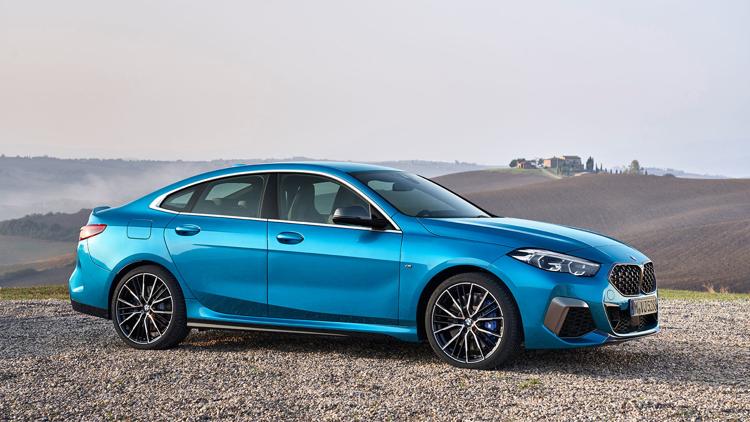 The all-new 2020 BMW 2 Series Gran Coupe boasts more surprises than a Dashiell Hammett detective novel.
For starters, this "Gran Coupe," in actuality, is neither grand in size nor a coupe in configuration. It is, in fact, a diminutive sedan.
Second, it's a BMW that -- gasp! -- is based on a front-wheel-drive platform. That said, both its iterations -- 228i and M235i -- avoid complete submission to that nose-heavy fate by offering as standard equipment all-wheel drive, albeit an AWD system that's front-drive biased.
Third, it shares its "Series" moniker with the 2 Series convertible and 2 Series coupe, although it, otherwise, bears no relationship whatsoever to those two rear-drive, two-door models. The four-door 2 Series Gran Coupe, in fact, is more closely related to BMW's X1 and X2 crossover SUVs, with which it shares its basic front-drive platform.
This new compact sedan, which when it arrives next year will don the cloak of BMW's entry-level offering, is Bimmer's long-awaited answer to both the Mercedes-Benz CLA and the Audi A3. At its debut, the 2 Series Gran Coupe will be available in two basic trims distinguishable primarily by their engines.
The 228i will be powered by a 2.0-liter, turbocharged I-4 that makes 228 hp and 258 lb.-ft. of torque.
The M235i, on the other hand, gooses that same 2.0-liter blown four to 301 hp and 332 lb.-ft. of twist while also adding such standard go-fast perks as a limited-slip front differential, M Sport brakes (optional on 228), M suspension tuning and unique 18-inch wheels and tires.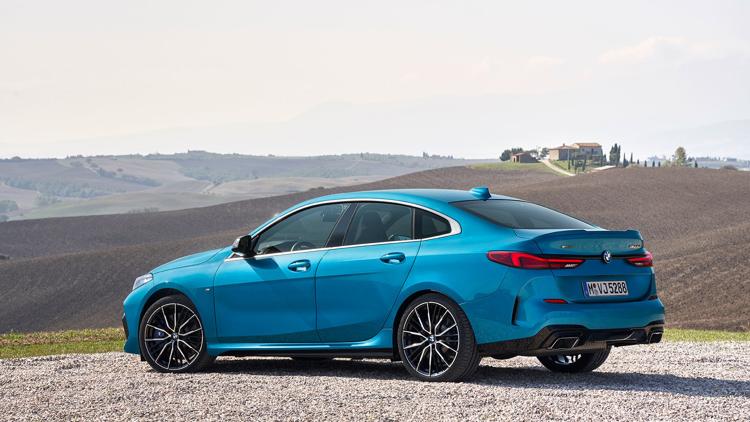 Regardless, an eight-speed automatic manages power in both models and, as noted, xDrive all-wheel drive is standard issue on each.
BMW says the 228 will greet 60 mph in 6.0 seconds while the M235 makes the same trip in 4.7 ticks.
A gripe we've long had with German luxury brands -- not just BMW -- is that, despite a particular model's base price being seemingly within reach, the options list often appears endless, resulting in a bottom line that's stratospheric once the vehicle is equipped as desired. BMW seems to address that issue with this new 2 Series Gran Coupe.
Among the standard features on the 228i are the eight-speed automatic, AWD, rear-view camera, Park Distance Control, LED lighting, power seats, navigation, an infotainment system with Apple CarPlay compatibility and a suite of safety nannies that includes Lane Departure Warning, Pedestrian Warning with Braking, Frontal Collision Warning with City Collision Mitigation, Blind Spot Detection, Rear Cross Traffic Alert, Rear Collision Preparation and Speed Limit Information.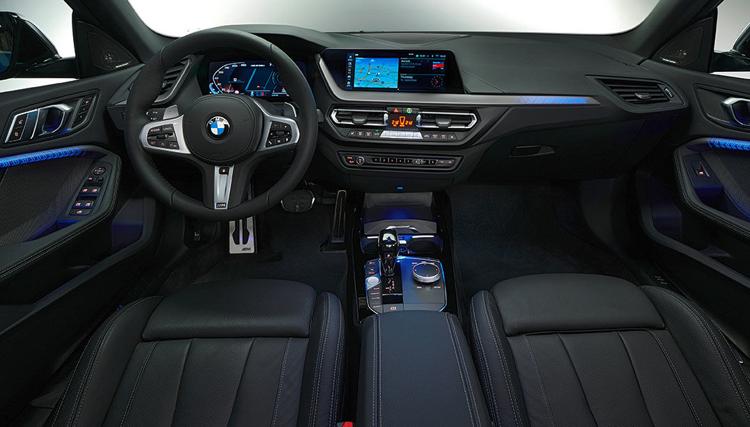 Among the perks added to that list by the M235 are the aforementioned performance enhancements, plus "Comfort Access" keyless entry and driver's seat lumbar support.
Still, the 2 Series Gran Coupe is a BMW and, as such, boasts a long list of stand-alone and package options -- everything from Harman-Kardon Surround Sound audio to heated seats to Active Cruise Control and loads more.
Officially set to be unveiled later this month at the Los Angeles Auto Show, the 2020 BMW 2 Series Gran Coupe will be in showrooms by March, BMW says.
At press time, pricing had yet to be announced, but we're guessing the 228i xDrive will start in the mid-$30,000s while the M235i xDrive will have a base price in the mid-$40,000s.
Then again, BMW may surprise us.
Again.
---
This content was produced by Brand Ave. Studios. The news and editorial departments of the St. Louis Post-Dispatch had no role in its creation or display. For more information about Brand Ave. Studios, contact tgriffin@stltoday.com.