When it comes to automotive alchemy, the Germans can be a creative lot.
It could be argued, for example, that Mercedes-Benz invented the "four-door coupe" with its 2004 CLS; that Audi created the first modern aluminum-body luxury sedan with its 1997 A8; and that BMW birthed the sport sedan segment way back in 1966 with the compact 2002 -- the patriarchal ancestor of the current 3 Series.
But BMW's innovative drive didn't stop by the time Sgt. Pepper taught the band to play the following year. It was, in fact, as recently as 2008 that BMW, in an unlikely marriage, wed a "four-door coupe" to a crossover SUV, creating -- wait for it -- a "crossover SUV coupe." (!)
Or, to use BMW's phrase, that new 2008 X6 was a "Sports Activity Coupe."
Uh, OK.
Now entering its third generation, X6 for 2020 gets bigger, faster and shapelier.
Regarding size, the 2020 X6, compared to its predecessor, is an inch longer and more than half an inch wider while riding a wheelbase that stretches 1.6 inches farther. Its roofline, however, resides half an inch closer to the tarmac. Which brings us to its more shapely styling.
Up front, of course, is the latest take on the BMW kidney grille, but new for 2020 is an optionally available illumination feature for that grille -- a glow that can serve as part of the daytime running lights package.
In X6's flank, 20-inch wheels are standard, but those can be upgraded to 21s or even 22s. Meanwhile, that lowered roofline flows into a double-bubble design out back, ending in twin spoilers above the rear hatch glass. Add wide rear fender arches that blend into the upswept rear hatch and -- Holy Toledo! -- introverts need not apply.
At launch, this third-generation X6 will be available in three versions -- sDrive 40i, xDrive 40i and M50i.
The first two, which are rear- and all-wheel drive versions, respectively, of the same model, are powered by a 335-hp straight-six that mails a credible 330 lb.-ft. of torque to the drive wheels via an eight-speed, manually shiftable automatic. BMW figures the rear-driver will greet 60 mph in 5.2 seconds while the all-wheel drive version will take a tenth-of-a-second longer to make the same trip.
The M50 also uses an eight-speed auto shifter, but gets all-wheel drive standard and upgrades the resident of the engine bay to a 4.4-liter twin-turbo V-8. The result is 523 hp, 553 lb.-ft. of twist and, BMW says, a zero-to-60 sprint of 4.1 seconds.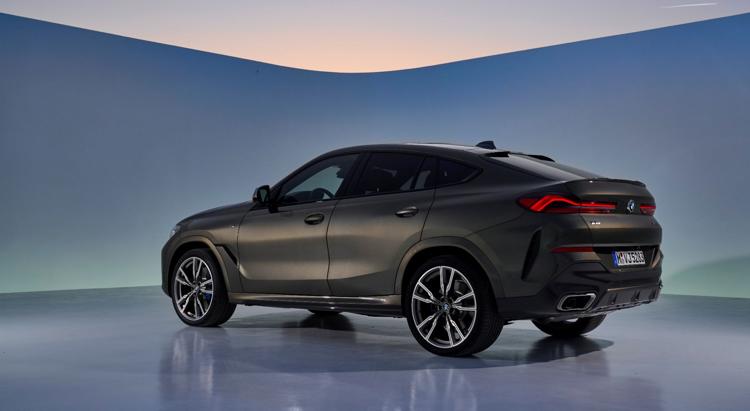 Inside, fans of the BMW X5, with which X6 shares its new platform, will be in familiar surroundings. Pretty much aping the X5 cabin, X6 displays as standard equipment a 12.3-inch infotainment screen and a 12.3-inch digital gauge cluster. Overhead is a sky-filling panoramic roof -- again, standard issue, although it can be swapped out for an optional Sky Lounge illuminated glass roof.
Regarding such mundane working-stiff matters as cargo capacity and towing talent, the former is increased from 27.4 cubic feet to 59.6 cubes by folding the versatile 40/20/40-split rear seat back while the latter checks in at an impressive 7,200 pounds when the X6 is properly equipped.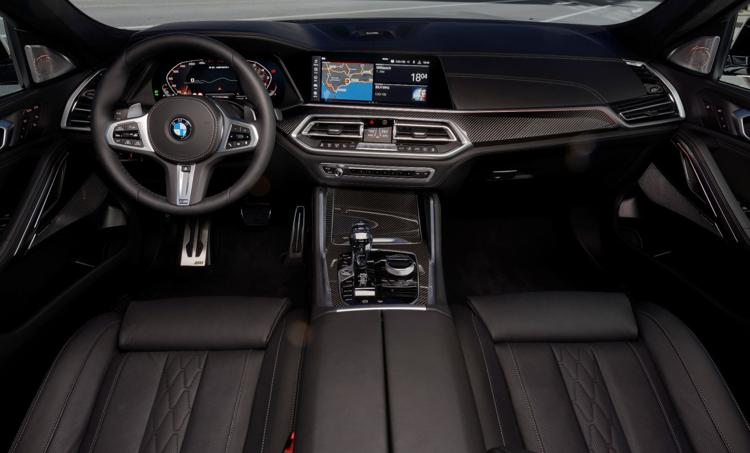 Needless to say, all the modern driver-assist safety nannies are standard or available, including standard Blind Spot Detection, Lane Departure Warning, Rear Collision Warning, Frontal Collision Warning with Pedestrian Warning and City Collision Mitigation, Rear Cross Traffic Alert and Speed Limit Information. Optional is Active Cruise Control with Stop & Go.
Look for the new X6 to arrive in November with prices starting at $65,295 for the straight-six, $86,645 for the twice-blown V-8. 
---
This content was produced by Brand Ave. Studios. The news and editorial departments of the St. Louis Post-Dispatch had no role in its creation or display. For more information about Brand Ave. Studios, contact tgriffin@stltoday.com.