Near the top of the list of my top 10 favorite grills is the 1950 Buick. Following a series of model years in which Buick used a similarly-toothed grill design, the 1950 was the only one in which the vertical bars flowed down and over the bumper making for a very dramatic "waterfall look." Consumer Reports commented that "a toothbrush for the dentures comes extra." I think the car shown here needs a trip to the dentist!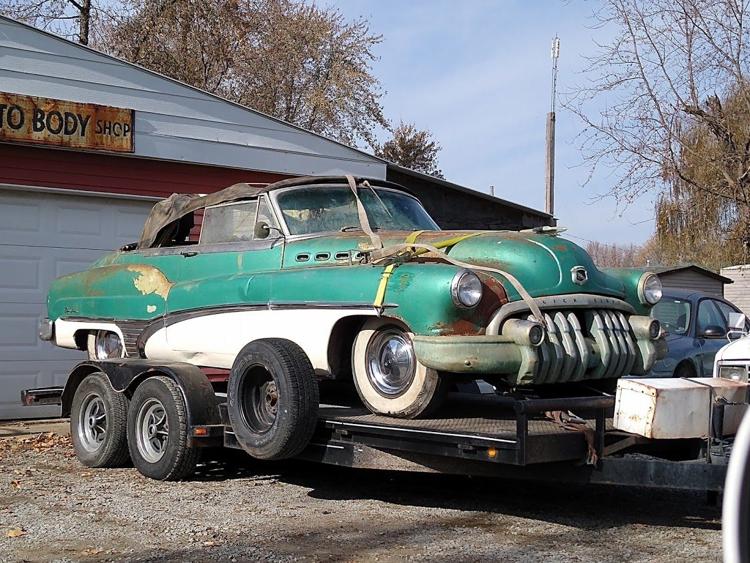 Buicks for 1950 came in three model series – the entry level Special, mid-level Super and the top-of-the-line Roadmaster. All three models were powered by Buick's Fireball straight-eight, cast-iron engines. The Special had 248 cubic-inches of displacement and produced 110 horsepower at 3,600 rpm. Super engines had a displacement of 363.3 and a horsepower rating of 124. Roadmasters were powered by a 320.2 cubic inch engine, producing 152 horsepower. Special and Super engines had solid or "mechanical" lifters while Roadmasters used quieter, hydraulic lifters.
In order to transfer that power to the rear, Specials and Supers came with a standard shift, 3-speed manual transmission with column-mounted shifter. Buick's venerable Dynaflow automatic was offered as an option on the two lower level models, but came standard on Roadmasters.
Some of the options available on lesser models were standard on Roadmasters. The convertible Roadmasters came equipped with hydraulically-operated power windows and seats.
If you are wanting to start off the2020 Cruisin' season at Chuck-A-Burger in style, you can pick up a perfectly restored, number one Roadmaster convertible for somewhere in the neighborhood of $100,000. But prices vary wildly on a car of which few were originally made. You might think the "beater" you see here is worthless due to its deteriorated condition. But if it has the right mechanical and body parts that are restorable, it may be worth a few thousand dollars to the right buyer. And then there's the custom, 'rat rod' example I found on the internet, that has an appraised value of $391,480! Underneath its rusty-patina hood lies a 353-horsepower Chevrolet LS7 engine and 4L85E automatic transmission and a completely new chassis.
FIN MAN FACTOID: Michael Nesmith of The Monkees recorded a song called "Dynaflow" for his 2006 solo album Rays.
UPCOMING EVENT: People have been asking me when I will have another Breakfast with the FIN MAN. It's about time, so let's do it this Saturday from 9:00 a.m. until noon at the Hardee's on Illinois Rt. 157 in Caseyville, IL. From St. Louis, take I-64 east to exit 9, the Caseyville exit. Be there or be square!
---
This content was produced by Brand Ave. Studios. The news and editorial departments of the St. Louis Post-Dispatch had no role in its creation or display. For more information about Brand Ave. Studios, contact tgriffin@stltoday.com.