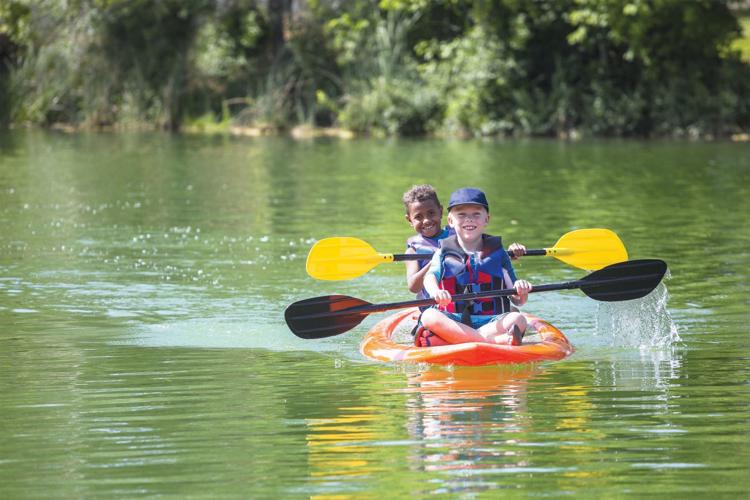 For some people, there's nothing like the thrill of taking on rapids on a kayak that skims the top of the water or powering a canoe through a river. Kayaks and canoes are less expensive to rent, own and maintain, and work in rivers large and small as well as lakes.
All boaters should wear life jackets. Be aware of safety hazards and water depths and pay attention to the weather; big winds can produce waves that can swamp a small watercraft.
Recreational Kayaks
Kayaks are lighter, smaller, and easier to maneuver than other types of boats. They can hold one to two passengers, depending on size.
According to The Active Times, recreational kayaks are great for beginners or for people going boating on fairly calm waters and for short trips. These boats, usually 10 to 12 feet long, provide extra stability and are lighter in weight, making transporting them easier. They're also the most affordable of boats. Recreational kayaks are not good for long trips, as they don't have much room for supplies, nor are they good in fast-moving rivers.
You can also get inflatable kayaks or sit-on-top kayaks, which are stable, wider and good for children.
Sea Kayaks
Sea kayaks have more room than recreational kayaks and are made for more efficient paddling, The Active Times says. They're longer — between 12 and 16 feet — and have lifted hulls, which makes them quicker and better in rapids. Many also have a rudder or skeg; the rudder makes the kayak easier to maneuver, and the skeg helps it stay on course.
Canoes
According to Canoe & Kayak, canoes range from solo whitewater canoes that are less than 10 feet long and a four-person craft that stretches to 23 feet in length, which can carry a lot of gear but isn't going to be as easy to maneuver, either on the water or getting into or out of your vehicle. Canoes are typically 33-40 inches wide; wider canoes are more stable but less efficient. Many recreational waterways offer canoe rentals, which let you test out your canoeing skills. If you want to buy your own, consider how and where you're most likely to use it, keeping in mind that you're more likely to use a boat in waterways that are an hour or two from your home, experts told Canoe & Kayak.