This story is in memory of the late Ben Brown, the so-called "Studebaker man" from Petosi, Missouri.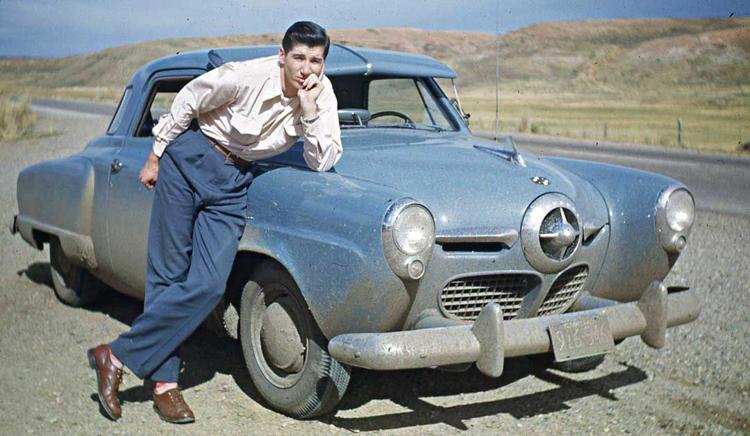 Speculation abounds regarding the meaning of the photo seen on this page as posted on theoldmotor.com. (Photo source Americar the Beautiful.) Obviously a posed photo, but why? One reader's thought, "A young man seeking fame in Hollywood perhaps?" Another quipped, "Brown shoes and belt, socks match shirt, blue pants against a filthy car, maybe thinking "why did I wear blue pants?" I'll throw in that the Study probably broke down, possibly as a result of the sweltering desert heat... and he's thinking, "Damn, I left my cell phone at home!"
The Studebaker shown in this photo was decked out in Maui Blue... one of 18 colors on the palette for 1950.
Although the list of options for 1950 Studebakers was a lengthy one, air conditioning was not to be found on said list. Some of the more interesting accessories were, a Hill Holder (for standard transmission cars, so you didn't roll back); winter plastic transparent grill cover and Pastel Sparkle Spray exterior finish treatment.
Studebakers were offered in two series for 1950 – the entry Champion series and the upscale Commander. The 5-passenger Starlight coupe, featured here, was available in both series and all-trim levels. The Champion was available in Custom Line, Deluxe Line and Regal Deluxe Line trim.  Commanders were available in Deluxe and Regal Deluxe trim.
Powering the 1950 Studebakers was one of two in-line six cylinder engines. The Champion six had a displacement of 170 cubic-inches and produced just 85 horsepower. The larger and roughly 500 pound heavier Commander Series engine had 80 more cubic-inches of displacement and cranked out 102 horsepower. The 1951 model year saw introduction of Commander V-8, an overhead valve, five main bearing engine with solid lifters.
The Starlight coupes of 1950 and 1951 had factory suggested base prices ranging from $1,514 for a Champion Custom Line to $2,018 for the Regal Line Commander.  Those figures calculate to $16,120 to $21,487 in millennial dollars. According to a recent copy of the Old Cars Report Price Guide, a number one condition Starlight coupe should be worth roughly $25,000 either a 1950 or '51 model in any trim level.
If you like nostalgic photos like this one, check out theoldmotor.com and click on "Four Fun Friday Kodachrome Car Photographs".
UPCOMING EVENTS: Join me next Sunday, June 16th, for the 18th Annual Father's Day Concours Car Show hosted by the Horseless Carriage Club of Missouri and held at the National Museum of Transportation in Kirkwood. It's one of my 'don't miss' shows... always a great time!
You can also follow me on Facebook at The FIN MAN where I will soon be publishing my calendar of events for the rest of 2019.
---
This content was produced by Brand Ave. Studios. The news and editorial departments of the St. Louis Post-Dispatch had no role in its creation or display. For more information about Brand Ave. Studios, contact tgriffin@stltoday.com.
---