Now I don't claim to be an expert on pre-war (WWII) cars, because those were well before my time! (Okay, a little before my time.) Fortunately there are a goodly number of folks out there who really appreciate the cars from that era. One of those is Phillip Karrico of Lebanon, IL.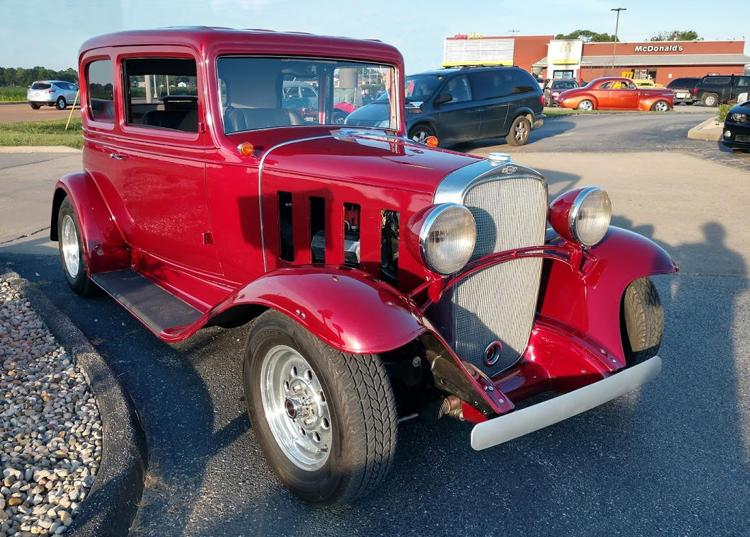 TKCS-STL volunteer, Dillan, and I attended a Piston Pushers Car Club cruise a few weeks ago. The event was very well attended with more than 150 vehicles on hand, many spilling over into the adjacent McDonalds parking lot. As I pulled in off Edwardsville Road, Phillip's 1932 Chevrolet Confederate 5-window, 5-passenger coupe caught my eye. The sharp little Chevy was definitely modified–one could tell at first glance by the Weld aluminum racing wheels for starters, not to mention the fat tires and the car's overall stance.
Upon closer look, it became very apparent that this '32 Chevy had been worked over, in a good way, from top-to-bottom and stem-to-stern.
BEFORE: The 1932 Chevrolet Confederate five passenger, 5-window coupe sold new for $525. It was powered by a straight six-cylinder engine displacing 192 cubic-inches. It pumped out a whopping 60-brake horsepower at 3,000 rpm. They were equipped with a three-speed manual transmission with a floor-mounted shifter.
AFTER: Phillip's car was completely original when he found it stored in the back of a refrigerated semi-trailer where it had been sitting for decades. The car is now powered by a Chevy 350 crate engine. That engine is followed behind by a 700 R4 automatic transmission. Phillip installed a posi-traction rear end; rack and pinion steering; power assisted steering and disc brakes; tilt steering wheel; power leather seats; power windows; cruise control and Vintage Air a/c and heat.
Phillip did all of the aforementioned mechanicals himself. He did, however, call on a couple of local area experts for help with other items.
Phillip's son Clay suggested that Phillip put a roof section from a Chevrolet Tahoe on top because the oversize roof would not be very strong with a straight panel. The Tahoe's roof provides lengthwise channeling making the roof much stronger.
Andrew Depper, who owns Depper's Auto Body in Belleville, did the paint work. The color is called, Deep Cherry Red Crystal Metalic and is from the 2014 Chrysler palette.
What a way to cruise! All the creature comforts and performance of a modern-day car with the classic look of a 30's motorcar! Nice job fellas!
---
This content was produced by Brand Ave. Studios. The news and editorial departments of the St. Louis Post-Dispatch had no role in its creation or display. For more information about Brand Ave. Studios, contact tgriffin@stltoday.com.
---