As an over-pampered member of the automotive media, I freely admit that, initially, I found the new Chevy Silverado 2500 Custom somewhat austere -- and said so.
"Stop whining," my wife said.
I replied: "I'm not whiiiiinnNINNG!"
Well, I guess I was. But this truck seemed an outlier. Test vehicles, I gotta tell ya, typically come extremely well equipped because manufacturers typically want to showcase all the available bells and whistles. But this all-new 2020 Silverado 2500 HD Custom Crew Cab 4x4 appeared unconcerned with cosmetic frivolity. It showed up ready to work, bringing everything you need and nothin' you don't.
New to the Silverado HD line, Custom is one of five Silverado HD trims, which also include Work Truck, LT, LTZ and High Country, each tonier than the last. Custom, with its 20-inch wheels and body-color trim, is a slight step above the base work truck.
But don't let the body-color grille bar fool ya! Custom works for a living, displaying the attitude: "If it don't help get the job done, you don't need it."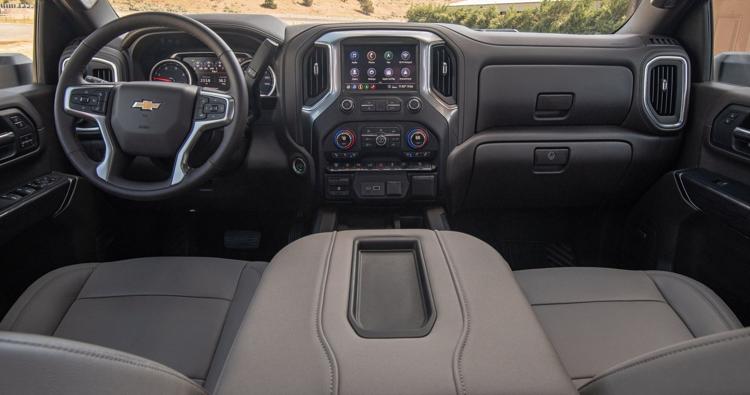 To wit: The requisite infotainment touch screen is here, but it's small, steering-wheel audio controls are AWOL, the climate-control system is a single-zone manual affair rather than a modern set-and-forget dual-zone automatic setup, the non-power driver's seat adjustments are made with levers and a towel bar, and the engine's ignition is engaged with a key, not a button (how last century!).
Sheeesh. (OK, I'm done whining.)
On the other hand, this guy is ready, willing and able to get done whatever needed doing.
To wit: Our Silverado 2500 Crew Cab 4x4 boasted a standard 6.6-liter gas V-8 that generates 401 hp and a muscular 464 lb.-ft. of torque, increases of 11 and 22 percent, respectively, over the 6.0-liter eight it replaces. Buttoned to a standard six-speed automatic, our 2500 Crew Cab 4x4 was capable of towing up to 14,500 lbs. worth of conventional trailer and a hefty 16,650 lbs. worth of fifth-wheel. (HD truck fans who need more can get up to 35,500 lbs. of pulling power in the Duramax diesel-equipped Silverado 3500.)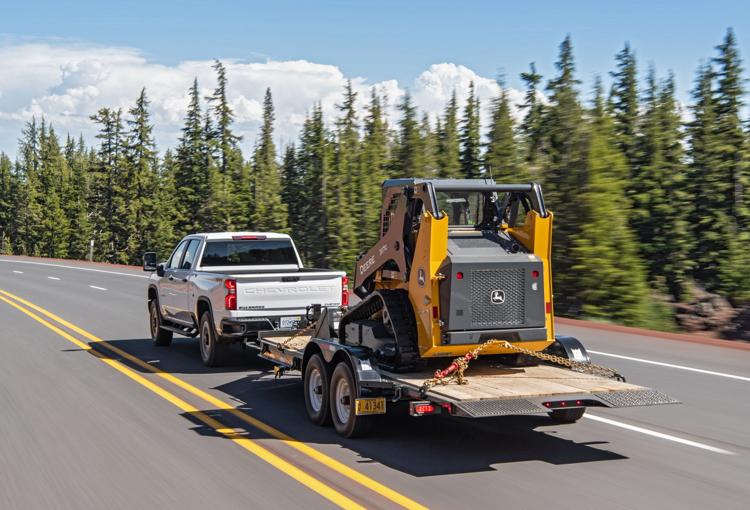 Added to its increased gas-engine power are chassis and drivetrain enhancements designed to improve this guy's work ethic -- everything from a beefed-up ladder frame to more robust front and rear axles to a longer, wider and taller stance compared to its predecessor.
Inside, the get-the-job-done theme of our Custom continued with huge map pockets, two glove boxes and roomy seating for six that included a large fold-down front armrest if no human is occupying the center of the front seat. Other perks for working folks were big, beefy climate knobs and large grab-handles at all doors for easier entry into this high-standing truck.
On the road -- no surprise here -- this guy rides, drives and handles like the big HD truck that it is. On two occasions during our week together I had to pass available parking-lot spaces because the truck simply was too big to squeeze in.
This is not a commuter, that's for sure.
Although the EPA does not rate HD pickups, we realized 12 mpg in 125 miles of motoring, roughly 50 miles on the highway, 75 around town.
From a styling standpoint, this truck looks like the tough guy it is, sharing only its roof with the 1500 model. Its towering, full-faced grille looks like it might pick its teeth with that compact sedan up ahead. And, compared to its predecessor, this 2020 2500 crew cab is 10.4 inches longer and 1.4 inches wider, all riding a wheelbase that covers 5.2 inches of additional real estate. The added girth shows up in cabin room.
Those who want to be pampered while towing their tony travel trailer will want to check out this HD's LTZ and High Country trims, but those who just want to get the job done will find a willing and highly capable partner in the new Custom Crew 2500.
---
This content was produced by Brand Ave. Studios. The news and editorial departments of the St. Louis Post-Dispatch had no role in its creation or display. For more information about Brand Ave. Studios, contact tgriffin@stltoday.com.
Auto reviews, driving trends and up-to-date news about life on the road.