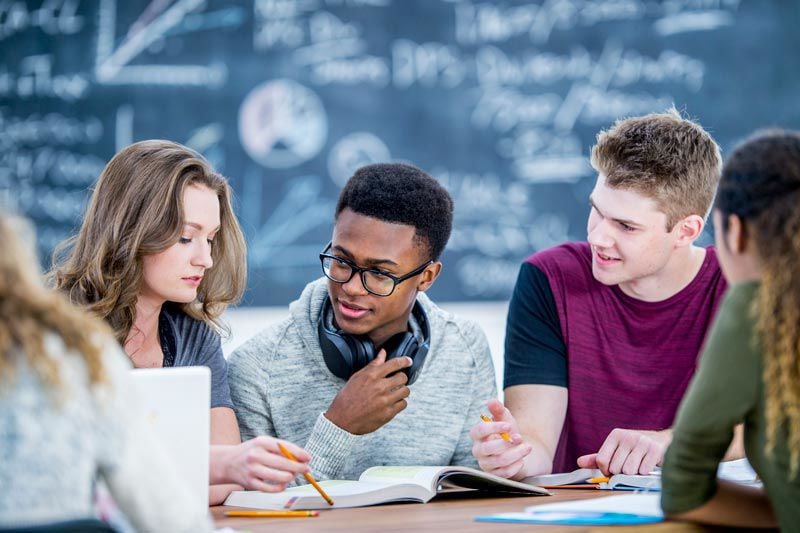 There's always been pressure on high school students to think about the future. Between the college posters lining the school walls or the inquisitive relatives, teenagers may encounter anxiety and apprehension about where they're going in life.
But high school is more than a requirement to complete before you tackle college; it's a springboard for what comes next. Here's a few ways you can use your remaining time in high school to set you up for a successful college career.
SEEK OUT CHALLENGES
While getting the easy A is appealing at first, it won't challenge you or benefit the skills necessary for college courses. When picking classes, it's good to choose the ones that you can keep up in but will push beyond your comfort zone.
"Taking advanced classes really helped me," said Claire Huss, recent graduate of Francis Howell North High School. "Especially the ones I took in my major. The high school AP classes are so much like college courses and so I was familiar with a lot of the material before we started learning anything."
Honors, Advanced Placement (AP) and International Baccalaureate (IB) classes are a great way to challenge yourself and prepare you for college. Alongside earning college credit, these courses teach strategies for essays and study tactics, which are invaluable for higher education. Being able to succeed in these classes can make an impression on colleges and looks great on the transcript.
FOLLOW YOUR INTERESTS
Picking a pathway in life can be stressful. As a high school student, it oftentimes seems too early to be choosing your college major, let alone decide on a future career path. Don't fret—you have time. The key in high school while still in decision-mode is to choose something you like and stick with it. Take electives in whatever major you're looking to go into; join clubs that focus on those skills. You'll get good at it before you even step foot on campus, and even if you end up changing your mind and your major, you'll have some valuable skills under your belt.
GET INVOLVED
High school offers a great chance to join clubs, take initiative and demonstrate leadership. Extracurricular activities show college boards your devotion and they can exhibit your abilities as a well-rounded student. Pursuing higher positions in these programs—like running for Student Council President or team captain—will give you an advantage, as you are showing off both loyalty to your activities and leadership strength.
DEVELOP WORK ETHIC
Consider applying for a job. Work experience shows colleges you can be trusted, and it'll get you a few bucks to put in your college savings account. Maintaining a job alludes good work ethic, self-discipline and time management. While these are important for high school, they are critical for college. Learning them before you graduate can be a big boost to your success rate.
Another important trait that will help you through higher education is self-sufficiency. Jobs give you the ability to identify what needs to be done and act on it, displaying impressive independence that will make you more responsible and more reliable.
"Learn a lot of responsibility," Huss said. "In college, professors don't say what to do every day—sometimes you have to figure it out on your own. You need to be able to go out and learn for yourself."
FUN/LIFE BALANCE
Most importantly, don't forget to live your life. While studying for the ACT, grade point averages and preparation do matter — don't skip out on the pep rallies or football games. Paint your face, show your school spirit and spend quality time with your friends.
This content was produced by Brand Ave. Studios. The news and editorial departments of the St. Louis Post-Dispatch had no role in its creation or display. For more information about Brand Ave. Studios, contact tgriffin@stltoday.com.
Be the first to know
Get local news delivered to your inbox!