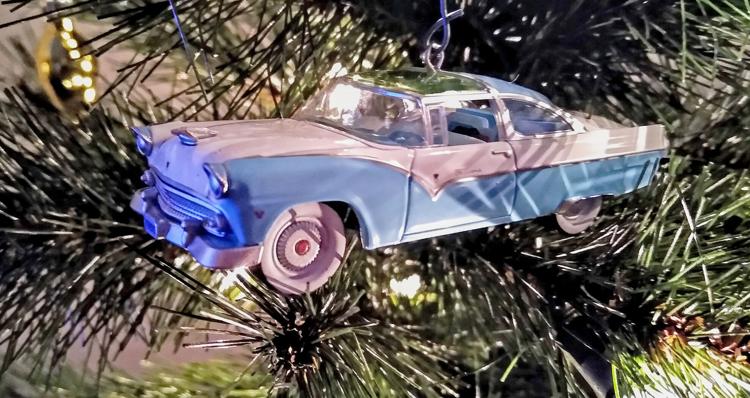 People often ask me how I come up with an idea for a subject car for a new story every week. The ways are many. Often it's a car I've seen on the road or at a car show or cruise. Sometimes it's a car that I've heard about through the grapevine. But this week's feature car came about in a new, first-ever way.
As I was looking through our collection of holiday decorations the other day (with Christmas just around the corner), I came across the handsome Hallmark tree ornament shown here, depicting a 1955 Ford Crown Victoria Skyliner, all decked out in Diamond Blue and Colonial White. It is one of the more handsome models in the Hallmark collection.
The Crown Victoria Skyliners (the real ones) were produced from model years 1954 through 1956. While an interesting concept, which turned more than a few heads back in the day, the car was not received with nearly as much enthusiasm as one would have thought, primarily because of the very feature that made it so fascinating in the first place – that unique, green-tinted Plexiglas roof itself.
Anyone who went for a test drive in one of these fishbowls on an oppressively hot day in mid-July, would think twice before signing an order! The interiors were like ovens in the summer heat, unless perhaps you lived in the far Northern states along the Canadian border. If automobile air conditioning had been more advanced in 1955, it may have been a different story. While Ford's biggest rival, Chevrolet, offered air conditioning on their 1955, V8-equipped models, Ford didn't offer air conditioning until 1958. Debuting at a hefty $395 (equal to $3,852 in 2020 monies), the number of 1958 Fords so equipped, was scant to say the least.
The 1955 Fords offered a generous list of factory installed safety, convenience, power and appearance; options including Ford-O-Matic transmission ($178); power steering ($91); power brakes ($32); AM radio ($99); Heater ($71); power seat ($64); power windows ($102); white sidewall tires ($27 exchange).
The totally redesigned, lower, longer and wider 1955 Fords rode on a 116-inch wheelbase, had an overall length of 199 inches and measured 79.5 inches in overall width.
Nineteen fifty-five was a banner year for Ford, with a total of 1,435,002 units built, making it the second best year in Ford Motor Company's history behind 1923 when the Model T was king-of-the-road. The 1955 Ford Fairlane Crown Victoria Skyliner had a factory suggested base price of $2,272 with a six-cylinder under the hood... $2.372 with the standard, 272 cubic-inch, 162 horsepower V-8. A more spirited driving experience was made possible by the optional 292 cube Thunderbird V-8 with a Holley 4-barrel carb, pumping out an additional 30 ponies.
FIN MAN FACTOID: People are often confused by the Skyliner moniker because, when the glass-roofed two-door Crown Vic had run its course after the 1956 model year, the name was reassigned to the new, 'retractable hardtop' convertible for 1957. The new Skyliner retractable would survive for another two model years, ending its stint in 1959.
The 1954 Skyliner, a member of the Crestline series, was exciting news for the introductory year, and the intriguing glass-roof coupe sold 13,144 units. Subsequent years did not do nearly as well with production of 1,999 for 1955, and a mere 603 for 1956, the third and final year. The current Old Cars Report Price Guide for the collector market lists current values for 1954 Skyliners from $1,480 for a number 6, 'parts car' to $37,000 for a number 1, 95-plus points, show quality car. Values for both the 1955 and 1956 models are shown at $2,320 for a number 6, to $58,000 for a number 1. These higher values are a result of the much lower production numbers for the last two years, making them much more rare and difficult to come by.
UPCOMING EVENTS: We're still watching the COVID-19 numbers in hopes that things will open up a bit after the first of the year. I would like to resume Breakfasts with the FIN MAN and Take a Car Show to the Kids at local children's hospitals, as soon as possible... and, I have three TKCS-STL Participating Volunteers (well, four, including TKCS mascot Roy), that are really looking forward to a better, if not normal, car show and cruise season for 2021! Aren't we all?
Meanwhile, thanks for reading the Old Car Column... drive carefully, stay safe and healthy, and Keep on Cruisin'!
---
This content was produced by Brand Ave. Studios. The news and editorial departments of the St. Louis Post-Dispatch had no role in its creation or display. For more information about Brand Ave. Studios, contact tgriffin@brandavestudios.com.
Auto reviews, driving trends and up-to-date news about life on the road.