What a surprise awaited as I strolled West St. Louis street in Lebanon, Illinois Saturday night at the Lakers Car Club cruise—a rare sports car from Datsun! It was not the first time I've seen one of these "Japanese MGs", but the last time was probably six decades ago, at least.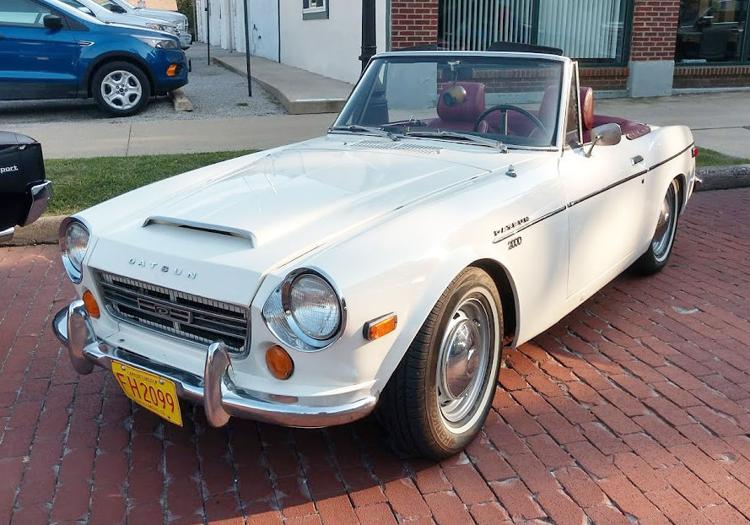 Back in my day (1964 grad from McCluer H.S.), two-seat "sports cars" were few and far between. The Japanese invasion was still a decade or two off, so this type of 2-seater sports car was pretty much limited to MGs, Triumphs and an occasional Fiat or two.
Introduced to the USA in 1959, the Datsun Sports series spanned three generations. The first was the S211 or Datsun 1000 (1959-1960), which saw only 20 units produced. Following that, the 1500 and 1600 series had improved engines with higher horsepower output, a small, removable windshield and a 4-speed manual transmission. The Datsun 1600 had a base price of $2,546 which was less expensive than a similar MGB and delivered nearly the same performance.
As many Japanese manufacturers have done to win American buyers over, they included features not provided on their competitor's cars, such as a radio, heater, seat belts, tonneau cover, clock, locking gas cap and more—all standard equipment.
The 1600 models were followed by the first model year of the Datsun 2000. This car was powered by a 1.9-liter four-cylinder engine which produced 135-horsepower. 
The second model year of the Datsun 2000 (1968), saw significant changes across the entire line which included a new body, padded dashboard, a taller windshield with rear view mirror mounted on the windshield header, built-in headrests and lift-up door handles. They were also engineered to meet the new Federal Motor Vehicle Safety Standards. In the US the engines were also fitted with new emissions controls. The earlier 1600 series continued as a companion model through the end of production.
Total production of the Sports 2000 cars from 1959-1970 was 40,000 units. Datsun Sports models from 1957-1970 can fetch as much as $30,000 in number one, show quality condition, according to the Old Cars Report Price guide.
The succeeding models were the Datsun (and later Nissan) Z-cars. One evidence of the transition may be seen in the chrome headlight bezels on this car, which bare a resemblance to the Z-series cars which followed.
I wish I would have had time to wait for the owner/s of this attractive sports car to show up. If that person is you, or you know who is the owner, please contact me at the_fin_man@msn.com so I can do a follow-up in an upcoming OCC.
So, how did Nissan Motor Co., Ltd. (Est. 1933) come up with the name Datsun?
The burgeoning Japanese car company wanted a really good name so they asked the Germans who are known for naming their car companies really well. The president asked a rep from a German marketing company for help. The German asked when they needed the final product and the president said, "one week." To which the German replied, "Dat Soon."
FIN MAN FACTOID: Paul Newman started his racing career in a Datsun Sports 2000. It was powered by a 1,982cc overhead cam engine with dual SU type side draft carburetors and had a five-speed transmission. In 1991, Nissan introduced a limited number two-door convertible styled in a retro appearance to the Datsun Sports called the Nissan Figaro.
UPCOMING EVENTS: Cruising EVERY FRIDAY is the Outsiders Car Club at the new Freddie's Frozen Custard in St. Charles just off the Cave Springs exit from I-70.
---
This content was produced by Brand Ave. Studios. The news and editorial departments of the St. Louis Post-Dispatch had no role in its creation or display. For more information about Brand Ave. Studios, contact tgriffin@stltoday.com.