The 2019 Ford Expedition Max postulates a simple premise: size matters.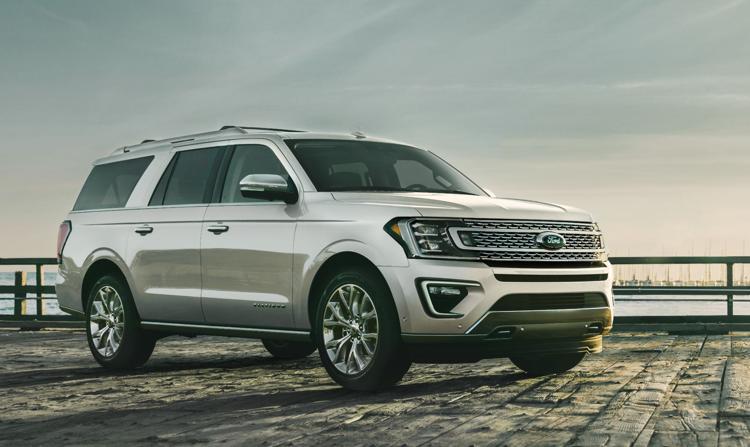 To say this guy is "large" is something of an understatement. Never mind its standard "Perimeter Alarm" security system, Max is big enough to qualify for a Neighborhood Watch program.
Which is to say, the 2019 Ford Expedition is a gargantuan, full-size, three-row, eight-passenger, body-on-frame SUV that's offered in big and bigger versions. The former is the standard-wheelbase model, which can be viewed as a Chevy Tahoe competitor; the latter, which is what we drove, is the long-wheelbase Max, a challenger to the Chevy Suburban.
A relative of the F-150 pickup, Expedition, like that truck, wears aluminum body panels for weight savings, offers rear- and four-wheel drive motivational choices and uses F-150's twin-turbo V-6 and 10-speed automatic transmission -- one of six engine/transmission combos in F-150, but the only one available in Expedition.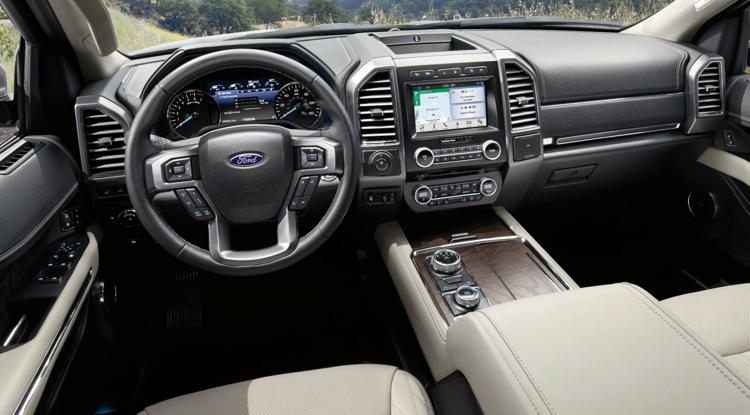 That V-6/10-speed powertrain is a concession to our current, less-consumptive automotive world. But, happily, less is more.
Expedition's twin-turbo, 3.5-liter EcoBoost V-6 makes 375 hp and 470 lb.-ft. of torque -- more, in each case, than the previous V-8 Expedition once housed.
The result is V8-like towing talent -- up to 9,000 pounds in Max -- but notably better fuel economy. The EPA rates the Max 4x4 at 16 city/21 hwy/18 combined. Our Max 4x4 did, indeed, deliver 16 real-world mpg in just over 150 miles of mostly city driving.
Although Expedition's trims include XLT and Limited, we drove a top-of-the-line Platinum and felt like we owned the road. The blown six is talented at hauling this roughly 3-ton (in Platinum trim) behemoth, while Expedition's 10-speed automatic allows the big guy's engine to turn a relaxed 2,000 rpm at 70 mph. That goes a long way to enabling the 21-mpg hwy rating bestowed by the EPA.
Our only driving complaint was a bit of dithering the 10-speed transmission endured once or twice at low speed -- something we also noted in the 10-speed F-150. Happily, it's a rare occurrence. That gear box generally goes about its duties in a most civil manner.
Also civil is Expedition's ride, thanks to a fully independent suspension and our Platinum's road-sensing/auto-adjusting Continuous Control damping system.
From behind the wheel, Max is a real handful in urban areas. It's on the interstate where this guy is really at home -- solid as a bank vault, quiet as the Library of Congress and as confident as if it owned the road. It's a joy as a long-trip travel companion.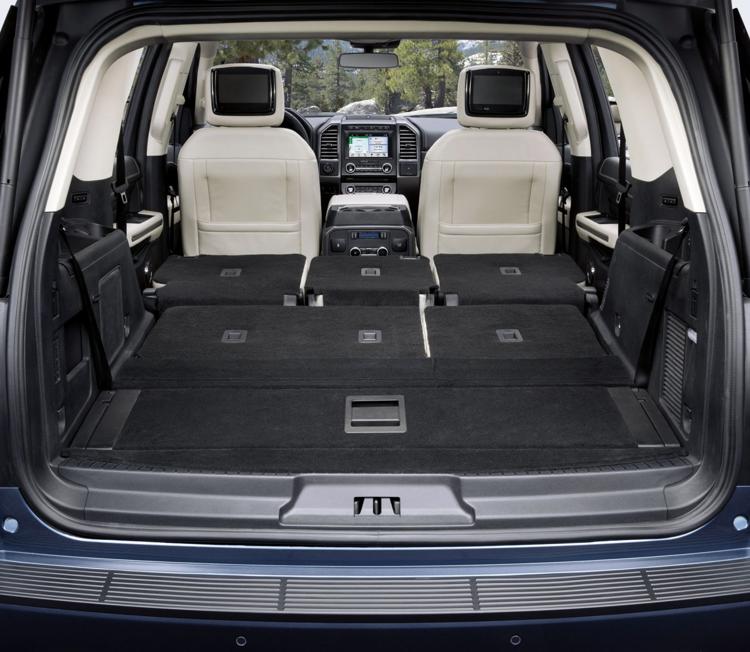 Room is cavernous throughout this three-row ride while our Platinum's wood-and-leather-licious appointments were plush. Meanwhile, utility is enhanced with a versatile, triple-split folding second row and 60/40-split third row. In our Platinum, both rows power folded while the third row also power-raised at the push of a button.
Infotainment controls are easy to use. There are huge knobs for radio volume and tuning (hallelujah!) and for the dual-zone front climate control, not to mention a big rotary selector for the electronic transmission shifter. Meanwhile, the infotainment touch screen is intuitive and the gauge package is reconfigurable. There's even an Off Road Performance gauge-display selection available to the driver of the 4x4, although this behemoth would be a handful on tight outback trails.
Also worth noting: our Platinum's one-button self-parking feature was easy to use, and invaluable in such a gargantuan ride.
As comfortable and accommodating as it is, the big guy feels like a fish out of water in an urban setting. But, with room galore, excellent towing talent and plus-20-mpg highway fuel economy, Expedition Max is a travel companion with few equals.
---
This content was produced by Brand Ave. Studios. The news and editorial departments of the St. Louis Post-Dispatch had no role in its creation or display. For more information about Brand Ave. Studios, contact tgriffin@stltoday.com.