Let's eavesdrop on a conversion.
GUY: "When's your birthday?"
GAL: "November 14th."
GUY: "What year?"
GAL: "Every year."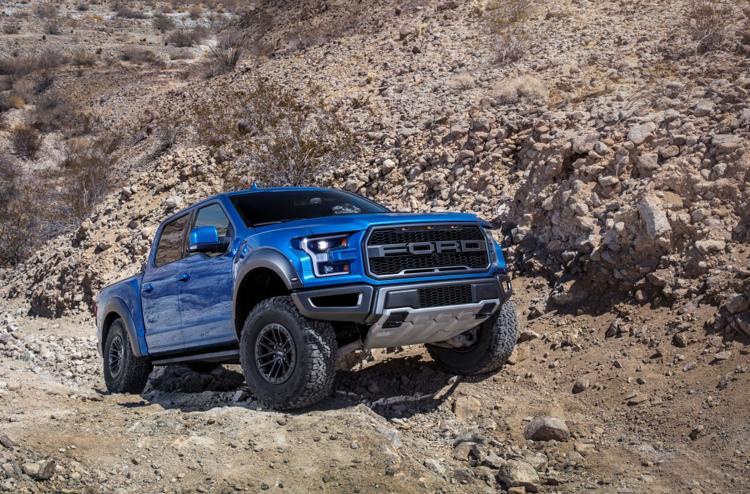 OK, it's an old joke. We mention it only because -- much like the full-size pickup category -- Ford makes it all its own. To wit:
FORD: The Ford F-Series earned the title Best-Selling Truck in America.
GUY: What year?
FORD: Every year.
At least, every year since 1976.
For the past 42 years, F-Series has been America's best-selling truck. Even more impressive, since 1981 -- 37 years -- it's been America's best-selling vehicle. Period.
It's an astonishing record that pretty much qualifies F-Series as an industry within itself inside the Ford Motor Co. And it's a crown FoMoCo zealously guards by offering something for every pickup fan via a dizzying array of F-Series models. Among those are 44 iterations of F-150, including no fewer than seven trims, three cab configurations and six engine choices.
Last year, the regular F-150 line was updated. For 2019, it's the turn of the purpose-built, off-road rapscallion Raptor.
Raptor now offers two performance upgrades as standard issue: a new Trail Control system and a set of dynamic FOX suspension dampers dubbed 3.0 Internal Bypass Shocks with Live Valve technology.
To put a finer point on 'em, the Trail Control system is like off-road cruise control, automatically adjusting itself to send power and braking as needed to each individual wheel, which should allow the driver to fully focus on steering while navigating a scary trail. The dampers are designed to automatically adapt to gnarly terrain in real time, maximizing handling, comfort and bottom-out resistance.
In other words, Raptor's already impressive off-road resume is enhanced.
Raptor is offered in SuperCab and SuperCrew body styles, of which we drove the latter. 'Crew rides a wheelbase that stretches a foot longer than Supe's while adding a pair of full-size rear doors. The result is a far roomier rear seat, whether the occupants be buddies, gear or both.
Beyond that, SuperCrew has all the charms of every Raptor, including F-150's now-familiar "military grade aluminum alloy" body panels, a purpose-built high-strength steel frame, an own-the-road stance that's 6 inches wider than a standard F-150 and industrial strength styling.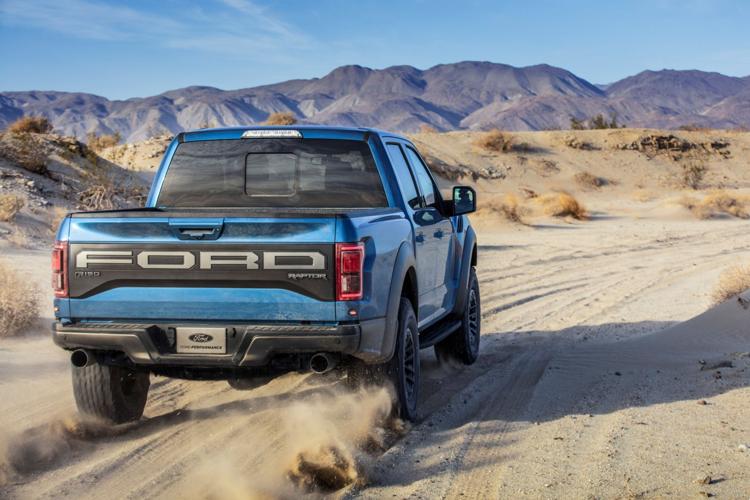 Under every Raptor's hood is a 3.5-liter, High Output, twin-turbo V-6 that lays down an authoritative 450 hp and a trail-taming 510 lb.-ft. of torque. Mated exclusively to a 10-speed automatic, that blown engine's power goes to all four corners via a four-mode 4WD transfer case that includes 2-High, 4-High, 4-Low and a set-and-forget all-wheel drive choice called 4Auto.
In 140 miles of driving in civilization, more city than highway, we got 15 mpg.
In addition to the aforementioned tough-guy stuff, other Raptor off-road goodies include:
Meaty 35-inch BF Goodrich all-terrain tires hugging 17-inch wheels.
Under-nose skid plating that would make an Abrams M1 battle tank envious.
Driver-selectable chassis settings that include, along with street modes, a Baja mode for high-speed sand running and a Rock mode for low-speed boulder crawling.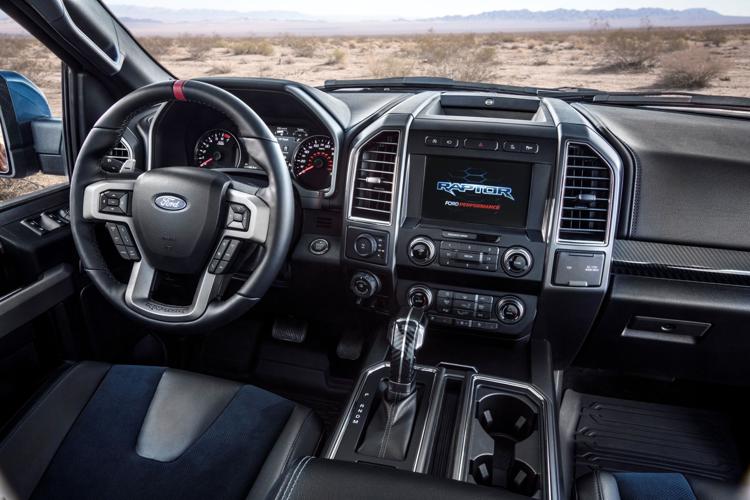 While it pretty much owns the outback, Raptor in town drives high, wide and handsome like the purpose-built brute it is. You'll want to pay close attention to keeping this bad boy within its lane lines.
That said, truck buyers seeking a stylish and comfortable ride in town and a capable roughneck on weekends will find it all in Raptor. Of course, Ford knows it's onto something here and doesn't give it away. Raptor's base price is $57,435. Our truck, with the gotta-have perks of Equipment Group 802A and lots of add-on, hey-look-at-me eye candy, was nearly 75 grand.
---
This content was produced by Brand Ave. Studios. The news and editorial departments of the St. Louis Post-Dispatch had no role in its creation or display. For more information about Brand Ave. Studios, contact tgriffin@stltoday.com.