Enter the 60s and American automobiles were undergoing notable changes in styling. Nineteen sixty-three marked the second year for fin-less, full-sized Fords. Many other brands saw totally new roof lines, many with the look of a top up convertible, and the universal term "T-Bird roof line" became a common phrase among auto enthusiasts.
FoMoCo marketers claimed that, "Only great flair can turn heads in Monaco (at the Monte Carlo Rallye), but eyes followed this sleek shape wherever it went." They were referring to the 1963-1/2 Ford Sports Hardtop, shown here, a two-door, fastback coupe introduced mid-year.
Ford also had an ulterior motive for the new and sleek fastback coupe. The lower, fastback roof line was used not only for looks, but also to make the big cars more competitive on the NASCAR tracks with less drag and reduced aerodynamic lift at high speed.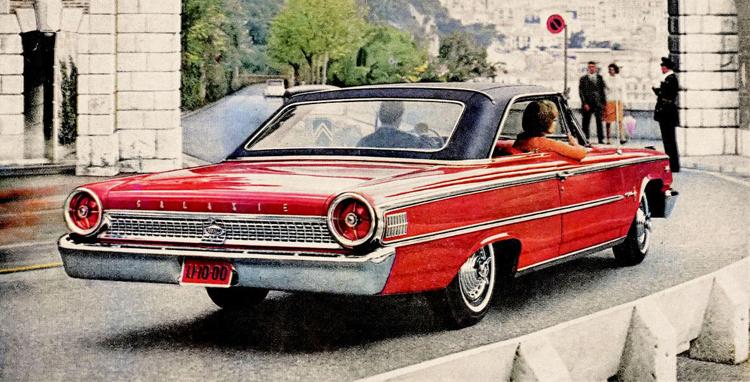 The model year also brought new, small block and big block V-8 engines to the Ford lineup. They were taking racing seriously like never before, inducing limited edition 406 and 427 engines specifically for racing applications, in order to meet NHRA and NASCAR 7-liter maximum engine size rules.
Ford used every trick in the book to make sure these racers would be competitive. The specially-prepared racing Galaxies came stock with Borg-Warner T-10 four-speed transmissions, and a 4.11:1 rear axle. They were fitted with a fiberglass hood, trunk, front fenders and fender aprons; not to mention aluminum bumpers and mounting brackets, transmission cases and bell housings. Hood springs, heater, trunk lining and mat, spare wheel and tire (and mounting bracket), trunk lid torsion bar, jack, lug wrench, one horn (of the stock two), armrests, rear ashtrays, courtesy lights and dome light were removed to reduce weight. The first 20 cars had functional fiberglass doors, which shaved 25 pounds off the total weight. The cars had all sound-deadening material removed, lightweight seats and floor mats, and no options.
The new, fastback styling was an instant hit as the Sports Roof Galaxies outsold their sibling "box top" square roof models by a margin of two-to-one with sales registering 100,500 units.
The Sports Roof two-door fastbacks were offered in the Galaxie and Galaxie 500 trim levels with MSRPs of  $2,674 for a Galaxie, six-cylinder, and $3,268 for a Galaxie 500 V-8.
A generous list of optional appearance, performance and safety options were offered. The Galaxie 500 came with bucket seats and console with floor-mounted shifter (for manual and automatic transmissions) as standard equipment. Bench seats were also available.
UPCOMING EVENTS: Join us tomorrow, Monday, May 27th for the huge Cobblestone Nationals Memorial Day Car Show at Fast Lane Classic Cars in St. Charles! Look for the FIN MAN's booth near the main building. Also check out my FaceBook page at The FIN MAN for more event listings.
---
This content was produced by Brand Ave. Studios. The news and editorial departments of the St. Louis Post-Dispatch had no role in its creation or display. For more information about Brand Ave. Studios, contact tgriffin@stltoday.com.
---