When thinking of the pony-car icon that is the Ford Mustang, you're thinking of a sporty, four-seat coupe or convertible that, as likely as not, is powered by a snarly and muscular V-8, right?
Wrong.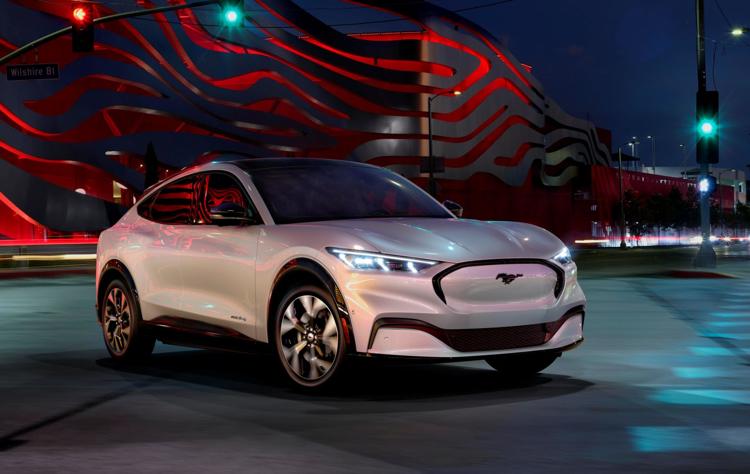 At least, it's wrong regarding the newest Mustang, just unveiled at the Los Angeles Auto Show. The 2021 Ford Mustang Mach-E is not a coupe, not a convertible and not powered by an internal-combustion engine -- V-8 or otherwise. The Mustang Mach-E is, in fact, a five-passenger, four-door crossover SUV motivated by a battery pack and an electric motor -- or two.
And it's a Mustang??!
Toto, I don't think we're in Dearborn anymore.
It's a brave new automotive world out there that, for the moment, seems to be losing interest in cars in favor of crossover SUVs and, at the same time, is gaining interest in electric propulsion to one extent or another. Ford is hedging its bets on the future with this high-volume (Ford hopes) electric crossover. And, to bestow upon it instant street cred, Ford has christened Mach-E with the revered Mustang name.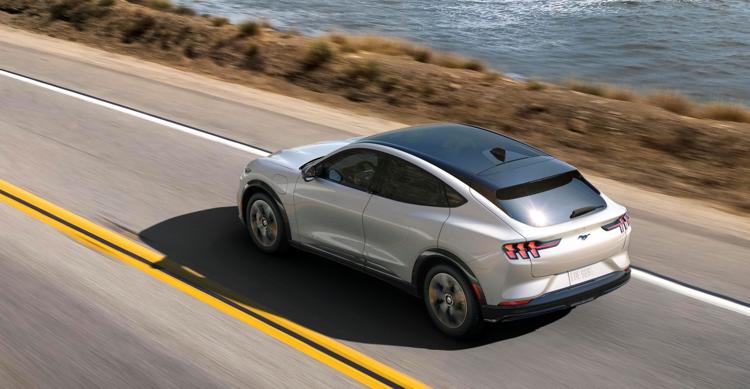 It'll be interesting to see if the legions of Mustang fans accept or reject this radical premise. But, Ford promises, one thing is certain: if they reject it, it won't be because of a lack of Mustang performance or styling pizzazz.
Set to be offered in Select, Premium, California Route 1, First Edition and GT trims, this shapely electric-crossover, in its slowest versions, is said to sprint from zero-to-60 in the mid-6's while the quickest -- the GT -- will make the same trip in the mid 3's.
Available with rear- or all-wheel drive and with standard- or extended-range powertrains, every 2021 Mustang Mach-E will be motivated by an electric motor (or two) and a lithium-ion battery pack located under the floor between the axles for better vehicle balance and weight distribution.
In rear-drive models, the electric motor resides on the rear axle. In AWD models, there's an electric motor at both axles.
In standard-range models, the battery is a 75.7-kWh affair; in extended range models, that grows to a 98.8-kWh pack.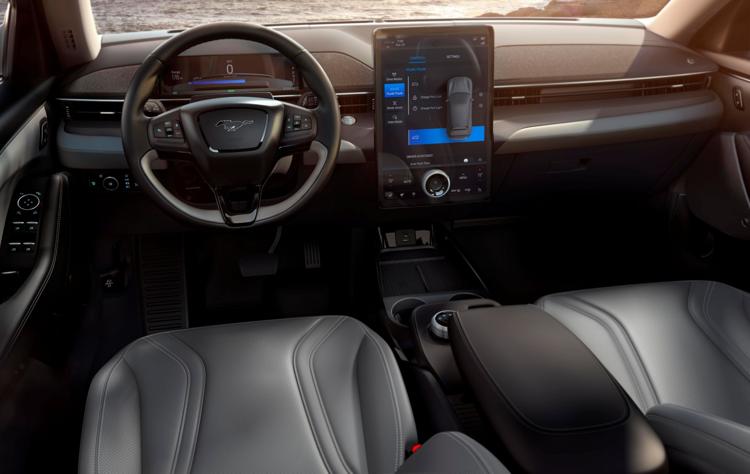 Regarding charging protocols, Ford offers an at-home Ford Connected Charging station that can add up to 32 miles of range each hour at a 240v outlet. Owners also can use what Ford calls "built-in charging solutions that route customers to nearby public charging stations, recommending where to charge on trips, and providing access to over 12,500 public charge stations in the FordPass charging network."
That said, here's a breakdown of trims, with "SR" meaning "standard range," "ER" meaning "extended range":
Select: RWD or AWD, 255 hp, SR only. The rear-driver, with a range of 230 miles, generates 306 lb.-ft. of torque; the AWD edition, which is said to go 210 miles before a charge is needed, is good for 417 lb.-ft. of grunt. Zero-to-60 is said to be mid-6's for the rear-driver, mid-5's for the AWD model. In showrooms: early 2021.
Premium: RWD or AWD; SR (255 hp) or ER (RWD: 255 hp; AWD: 332 hp); with a range of 210 miles in SR AWD, 230 miles in SR RWD, 270 miles in ER AWD, and 300 miles in ER RWD. Zero-to-60 is mid- 5's in AWD models, 6's in RWD models.
First Edition: This limited-edition model is AWD only and ER only, with a 270-mile range. It generates 332 hp and 417 lb.-ft. of torque, enabling it to greet 60 mph in the mid-5's. In showrooms: late 2020.
California Route 1: RWD only, ER only. Range: 300 miles. Its 282 hp and 306 lb.-ft. of torque is said to enable a 0-60 run in the mid-6's. In showrooms: early 2021.
GT: AWD only, ER only. Range: 235 miles. Power is rated at a lofty 459 hp and a pavement-rippling 612 lb.-ft. of torque. Drivers will say hello to 60 mph in the mid-3's. In showrooms: spring 2021.
Needless to say, all of the modern connectivity talent, including Ford's next-generation SYNC infotainment, is here. A Tesla-like autonomous-driving app, which will be downloadable to already-sold Mach-E's, is coming not long after launch.
Though the first Mustang Mach-E won't arrive in showrooms until late 2020, Ford is taking online orders now.
---
This content was produced by Brand Ave. Studios. The news and editorial departments of the St. Louis Post-Dispatch had no role in its creation or display. For more information about Brand Ave. Studios, contact tgriffin@stltoday.com.