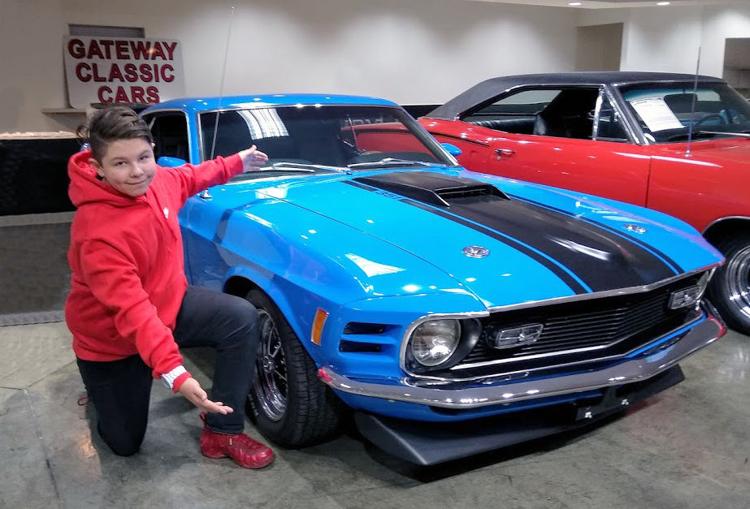 With nothing else to do on a chilly and cloudy Saturday afternoon in March, I thought I'd take 2020 TKCS-STL participating volunteer Ignacio (Nacho) to Gateway Classic Cars in O'Fallon, Illinois. Since he had yet to attend his first car show, I felt a tour of this dealership would be beneficial to introduce him to the collectible car hobby by showing him the 280-car assortment of show quality collectible automobiles and trucks on display.
As I was speaking to the "front desk ambassador," Jennifer, I suddenly realized Nacho had moved on. As I scanned the vast showroom (formerly an American TV & Appliance store), I finally spotted him ogling over a Grabber Blue, 1970 Ford Mustang Mach I "restomod."
Now, if you're not familiar with theterm "restomod," these are newer cars that mix old and new technology to create the best of both worlds – matching classic styling with modern comfort, performance and reliability. Such was this awesome 1970 Mustang.
The Mach I was one of three fastback styles in the 1970 lineup, the others being the entry level "sport roof" and the top-of-the-line Boss 302. Their base prices were $2,771; $3,271 and $3,720 respectively.
According to Gateway staffers, most of the black vinyl interior looks and feels new. And they tell us not to let the 351 badges (cubic-inch engine displacement) fool us because this beauty is far from stock. "Keith Craft Performance Engines put everything together in 2013 and built this bad boy right," said Gateway staff.
Under the hood is a 408 cubic-inch screamer built from a KC 351 fully-machined block. The engine list too long to list here, but the invoice for the engine work alone is over $8,000. The five-speed transmission paired up to the legendary 9-inch Ford rear end is a combination guaranteed not to disappoint. Among the comforts of modern-day motoring are power steering and air conditioning. Under the hood, many components and accessories are highly polished for show-quality looks.
It was a perfect day for perusing the gigantic showroom at GCC, and the perfect place to give Nacho a primer on collectible car lingo. Gateway Classic Cars St. Louis is offering this head-snapper (that's one notch above a head "turner") at $58,000.
---
This content was produced by Brand Ave. Studios. The news and editorial departments of the St. Louis Post-Dispatch had no role in its creation or display. For more information about Brand Ave. Studios, contact tgriffin@stltoday.com.
Auto reviews, driving trends and up-to-date news about life on the road.