Since 2011, the Ford Ranger has been AWOL from the U.S. truck market -- and you could scarcely blame it.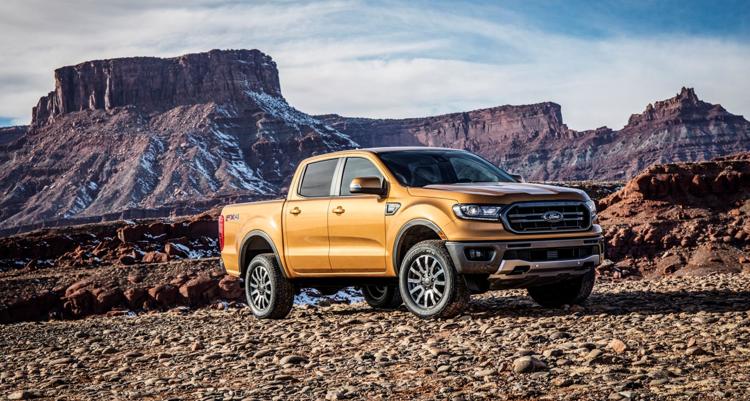 Back then, the stateside small-truck segment appeared moribund while the full-size category, as always, was doing just fine. So Ford seemingly figured, "Why give our own cash cow, the F-150, low-end price competition here at home? And from its own family!! To heck with that! We'll just sell our all-new 2012 Ranger in foreign markets." And so they did.
For the past seven years, this generation Ranger has been available in Europe, Australia, South Africa and other far-flung points across the globe. American small-truck fans, however, were invited elsewhere, with invitations coming from the Toyota Tacoma, Chevy Colorado, GMC Canyon, Honda Ridgeline and Nissan Frontier.
But the market for "midsize trucks" has -- you should pardon the expression -- seen a pick-up. Entries like Tacoma and Colorado are doing quite well, thank you, and Ford has decided it wants in on the action.
So, for 2019, Ranger is back home.
In taking on the established players, Ranger is limiting itself only in that it offers but a single engine and transmission: Every Ranger is powered by a turbo four that mates exclusively to a 10-speed automatic.
That powertrain compares to the manual transmission choices and four- and six-cylinder gasoline engine options -- along with a diesel from GM -- that can be had in other midsize offerings.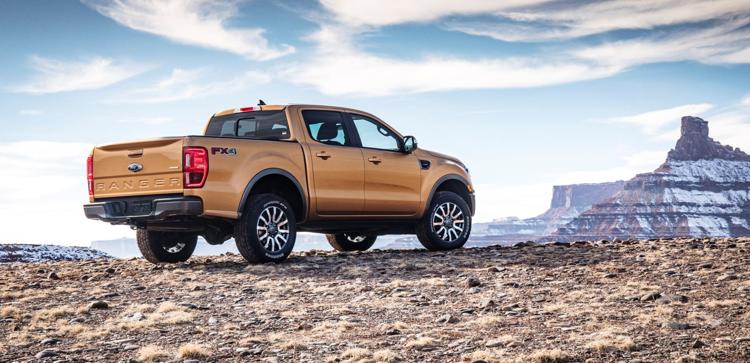 But buyers OK with a blown four and multi-speed automatic will find plenty of choices in Ranger. Its array of configurations include XL, XLT and Lariat trims; SuperCab (extended cab) and SuperCrew (crew cab) body styles; and 2- and 4WD motivation.
We drove the toniest of the lot: a 2019 Ranger Lariat SuperCrew 4x4 with the added pizzazz of the optional FX4 Off Road Pkg. That pack brings along nearly 9 inches of ground clearance, a locking rear differential, under-body skid plates, a front "bash plate" (love that label!), off-road-tuned suspension, Trail Control (essentially off-road cruise control), beefy, 18-inch off-road tires and a Terrain Management System with driver-selectable modes of Normal, Grass/Gravel/Snow, Mud/Ruts and Sand.
In civilization, our Ranger delivered an expectedly firm ride and thrifty fuel economy. In 120 miles, mainly in town, we realized 20 mpg. At the same time, Ranger was remarkably quiet during brief sessions at interstate speed. Only the occasional low-speed dithering of that 10-speed gear box detracted from the overall pleasantness.
Tuned with reasonable thrift and low-end truck grunt in mind -- the transmission boasts a direct 1.00:1 ratio in seventh gear, making eighth, ninth and tenth overdrives -- the up-to-26-mpg Ranger is capable of towing 7,500 pounds.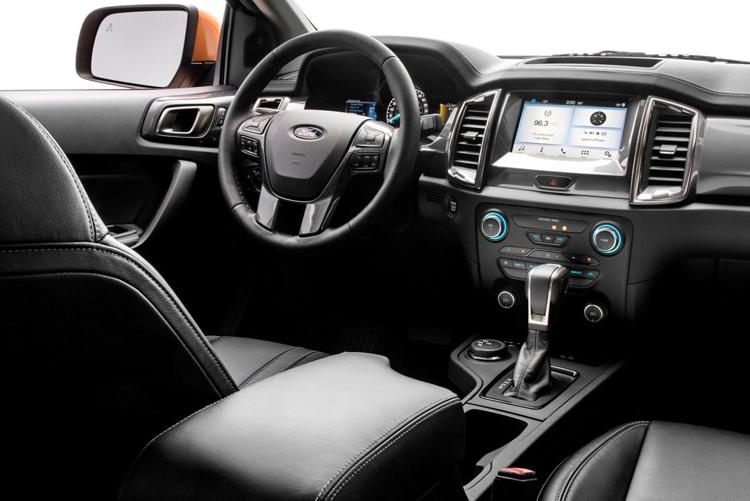 Of course, most of the credit goes to its turbo four, whose 270 hp is complemented by an impressive 310 lb.-ft. of torque that's fully onboard at 3,000 rpm. Add a frame beefed up for U.S. consumption, compared to the internationally sold Ranger, and you've got a midsize truck that can match the big boys in a lot of pickup assignments.
Inside our SuperCrew, room was fine both front and back although the (mostly) power driver's seat imposed a manual control for the seat-back rake.
Infotainment is intuitive, thanks in no small part to big knobs for radio tuning and volume. We also enjoyed a logically laid-out 8-inch touch screen and a handy, reconfigurable gauge display.
Finally, Ranger starts affordably enough -- the base truck has a sticker of about 25 grand -- but, as did our copy, this guy can crest 45 large for an options-happy buyer.
Still, its little turbo-four/10-speed combo nicely balances truck capability with modern expectations of fuel economy.
---
This content was produced by Brand Ave. Studios. The news and editorial departments of the St. Louis Post-Dispatch had no role in its creation or display. For more information about Brand Ave. Studios, contact tgriffin@stltoday.com.