The 2019 Genesis G70 is rolling proof that good things come in small packages -- provided you're at the front of this pack.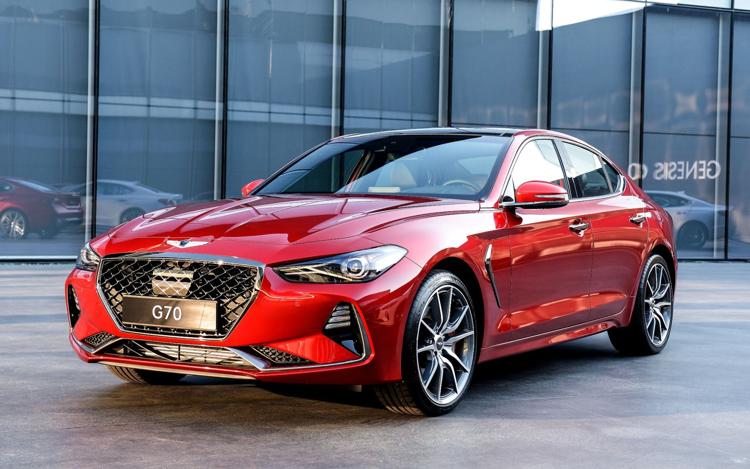 With another couple joining my wife and me, we drove a 365-hp, 2019 Genesis G70 3.3T on a 140-mile round trip to Ste. Genevieve, Mo. The two women, both 5-feet, 3-inches tall, were kind enough to voluntarily occupy the rear seat. The other guy and I, both of us over six feet tall, sat up front.
Cool.
Your humble correspondent was behind the wheel, having a ball with G70's torquey blown six. The other guy was comfortably ensconced shotgun. We enjoyed adequate head room, decent leg room and marvelously supportive front sport buckets.
The women squawked for 140 miles.
You couldn't blame 'em. At a later date, when I climbed in back to sample the accommodations, I could scarcely squeeze my 6-foot-4 frame back there. There's no denying rear-seat head room is at a premium, rear leg room is tight, particularly behind a tall driver, and the rear-bench's cushion is sternly firm.
There's also no denying that the G70 is a hoot to drive -- a compact Korean that credibly challenges such European sport-sedan royalty as the Alfa Romeo Giulia, Audi A4, BMW 3 Series, Jaguar XE and Mercedes-Benz C-Class.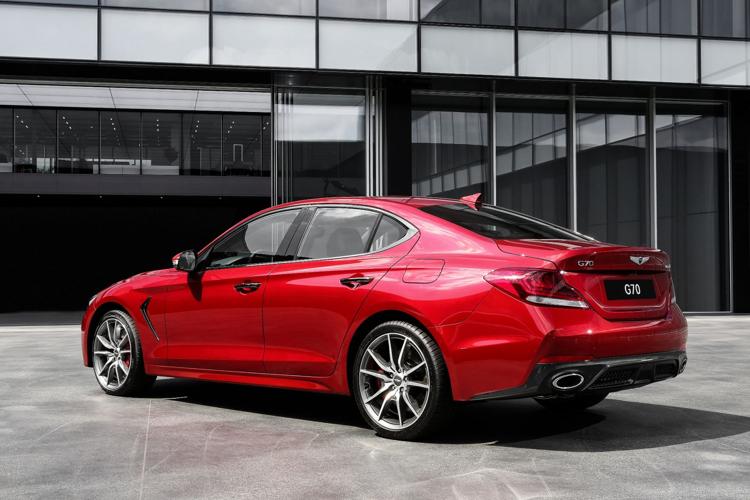 All new for 2019, G70, which shares its basic rear-drive platform with the Kia Stinger, is the first vehicle born, bred, raised and realized as a Genesis from the get-go. It comes to its luxury-performance station in life as a birthright, having no close-relative Hyundais, as do the Genesis G80 and G90.
G70, available with rear- or all-wheel drive, can be had as the 2.0T or the 3.3T we drove. The former is powered by a 2.0-liter, 252-hp turbo four, the latter by a 3.3-liter, 365-hp turbocharged V-6. An eight-speed automatic is standard across the line, although -- in a nifty nod to tradition -- a six-speed manual is optionally available on the rear-drive four-banger.
Trims include Advanced, Elite, Dynamic and Sport.
We drove a 3.3T AWD in Advanced trim, but added Elite and Prestige options packages to ensure we enjoyed such goodies as a surround-view monitor, quilted Nappa leather seats, heated rear seats, a microfiber suede headliner and a humongous sunroof.
On the road, G70 offers five drive modes -- Smart, Eco, Comfort, Sport and Custom. The first allows the car to pick the appropriate chassis conduct, the last lets the driver tailor the car to taste. We preferred the Sport mode, which allows the car to do the heavy lifting while we enjoyed a firm, controlled ride, razor-sharp handling, confidently athletic cornering, a quiet cabin in relaxed cruising and a snarly exhaust note under a heavy right foot.
We greeted 60 mph in a brisk 4.5 seconds while enjoying a surprisingly frugal 28 mpg on our long interstate trip -- 3 better than the EPA expected. On premium gas, of course.
Exterior styling is handsome. With this car's big, bold grille, multi-plane hood, long-hood/short-deck profile, coffee-can-sized tailpipes and winged Genesis badges, more than one observer compared it to a Bentley.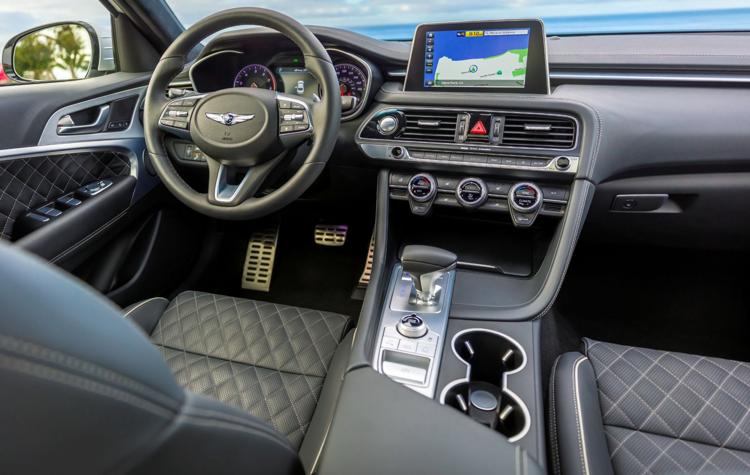 Inside, the appointments in our Prestige-package cabin were elegant, with the beautifully quilted leather seats, dazzling aluminum trim accents and sybaritic features like heated and cooled front seats and power-extending driver's-seat cushion.
Regarding infotainment, the touch screen, which is Android Auto and Apple CarPlay compatible, seemed a far reach, given the general coziness of the cabin, but lots of redundant hard buttons, knobs for radio volume and tuning, and three big-as-doorknobs controllers for climate made everything easy to navigate.
Really, the only debit here is the woefully snug back seat. Fans of compact luxury/performance sedans who only rarely need aft quarters are going to find this all-new Genesis G70 a real gem.
---
This content was produced by Brand Ave. Studios. The news and editorial departments of the St. Louis Post-Dispatch had no role in its creation or display. For more information about Brand Ave. Studios, contact tgriffin@stltoday.com.