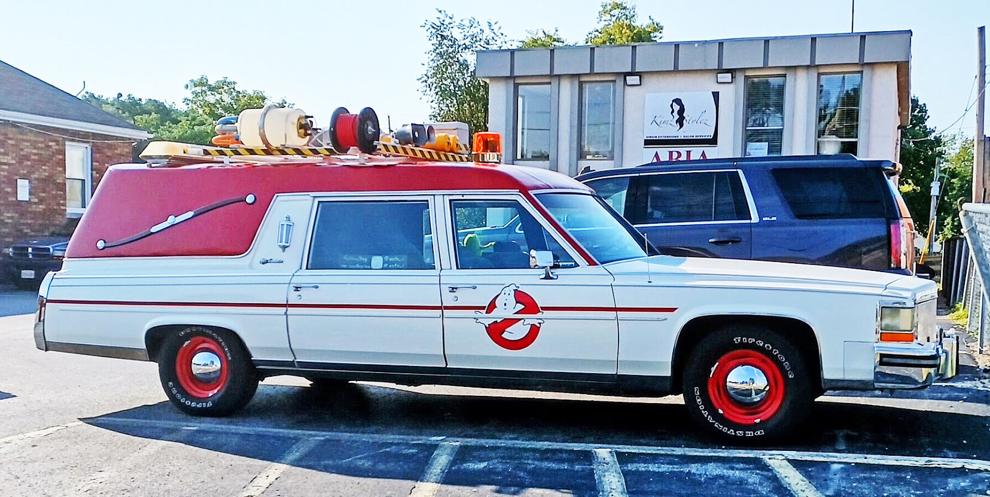 On my way home from work recently, I saw this "Ghostbusters" ambulance and just had to go back to meet the car's owner, Mike Harter, and get some basic info about his special ride.
The ambulance seen here (one like it, rather) starred in the 2016 "Ghostbusters: Answer the Call" movie – or as Mike puts it, "the one with the girls." It is based on a 1990 Cadillac Brougham body and chassis. The conversion to ambulance was done by the S&S Coach Company of Lima, Ohio, which has been in the ambulance and hearse building business since 1876. (And no, that's not a typo.)
My first question to Mike was, "Why?" It seems that Brianna, Mike's youngest of three daughters, when a senior in high school, asked her dad if they could get some sort of "fun car" to run around in. Dad liked the idea and began searching for a suitable "fun car." He thought it would be cool to get a Ghostbusters ambulance replica, and set out in search of one like that used in the original film from 1984.                                                          
It turns out Mike wasn't the only one with that thought in mind. He found that the ones, like used in the original movie, were bringing upwards of $20,000 even as fixer-uppers! That being way above Mike's budget, he started searching for the one like used in the 2016 "Ghostbusters: Answer the Call" movie.
He eventually found one for sale at the, now defunct, Hanley Coach Works right here in St. Louis. It had been sitting out in the back of the shop for some time with no interested parties. Mike was able to pick it up for a cool $1,000. Sure, it needed a good clean up inside and out, but was able to be brought back to the condition you see it in here, rather easily. The only change visible from the outside was the red paint on the padded roof which his brother, Steve, owner of Steve Harter Auto Body in Belleville, Illinois, took care of.
By the early '90s, cars were beginning to scale back in overall size, but Cadillac held on to their big boy Brougham for those demanding a stately appearance and a luxurious ride. The model remained virtually the same looks-wise from model years 1980 through 1990. 
FIN MAN FACTOID: This from Netflix, 09-24-2021: "Ghostbusters: Afterlife", will only be available in theaters, pending any unfortunate delays, on Nov. 19, 2021. It is not currently slated to be available on any streaming service on the same day as with Black Widow on Disney+ or Wonder Woman 1984 on HBO Max.
If you think this car doesn't get noticed wherever it goes, you have another thing coming! Mike has taken the car to a number of car cruises since purchasing it several years ago, including the Lakers Club Cruises held monthly in his hometown of Lebanon. It was also featured in a video promoting Fox 2 News for their Newsbusters segment. Mike also admits that he drives it occasionally to Home Depot when he is bringing home something big... and even drives it to Walmart once in a while just for the heck of it. It's too big to park in a regular angle parking spot on the lot, so he has to park it way out at the end of an aisle. Naturally, people stop to get a look at it, often taking pictures.
BREAKING NEWS: Hemmings Motor News has announced that they will stop publishing the best car show and cruise calendar in the St. Louis metro area, with information provided by Tom McDonald of the Lakers Car Club. This from Hemmings: We're changing how we host clubs. Dear Car Club members, As of January 1, 2022, Hemmings will no longer be able to host car club websites. We are glad we were able to help you host your car club websites for all these years, but as technology has advanced, this part of our services has not kept up to date.
As of November 1st, we will no longer be taking any updates/changes to your information hosted on hemmings.com, and will be ending all hosting permanently on January 1st, 2022. We believe this will give you ample time to make future arrangements.
This from Tom: "My Car Show & Car Cruise information now hosted by Hemmings.com will no longer be supporting any Car Club web site as of Jan 1, 2022. After 23 years I must be searching to find another web hosting service to continue. I am now trying to locate a host site that I could afford and be reasonable and less expensive to me." Good luck, Tom. And if anyone can help him out, please let him know. I have used this calendar since Tom started it 23 years ago. It has been a very important tool for me to plan the 200 or so events I have appeared in since becoming involved in the hobby and for planning my Take a Kid to a Car Show schedule for the past 10 years.     
---
This content was produced by Brand Ave. Studios. The news and editorial departments had no role in its creation or display. Brand Ave. Studios connects advertisers with a targeted audience through compelling content programs, from concept to production and distribution. For more information contact sales@brandavestudios.com.