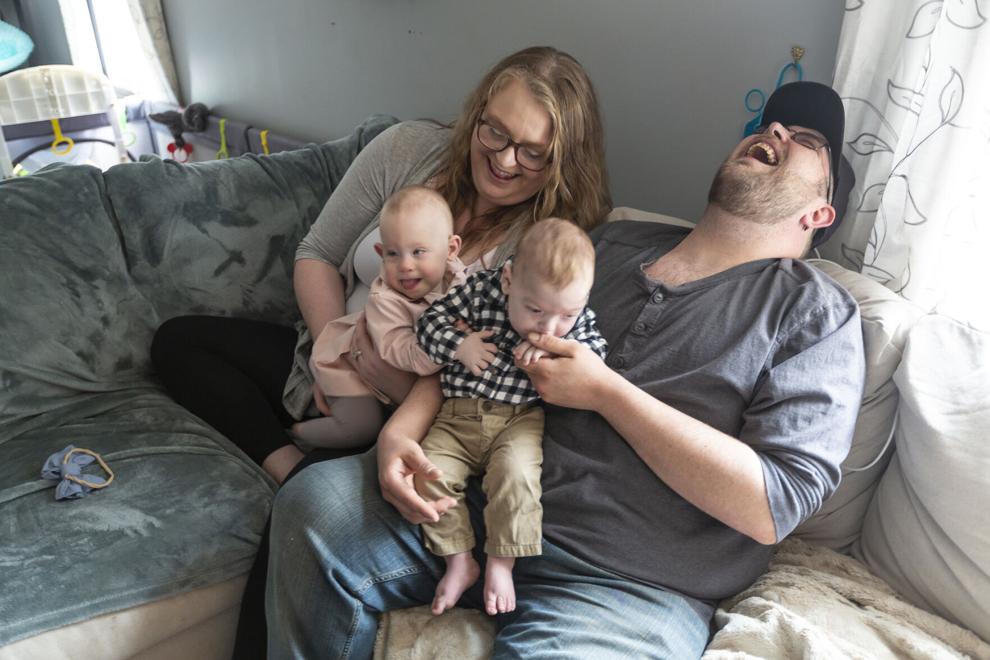 Lori and Robert Cromwell were thrilled to be expecting. After years of trying to start a family, they were preparing to welcome twins. It was a dream come true. Even when complications arose during the pregnancy, the couple took the issues in stride.
On April 2, 2021, at 27 weeks, the babies were born — Owen, a 2-pound, 10.4-ounce baby boy, and Olivia, a 2-pound, 4.4-ounce baby girl. After a stay in the neonatal intensive care unit, the babies came home in July.
At first, life seemed to be running as expected with preemie twins, but then Owen took a downturn. He had respiratory and gastrointestinal issues and was admitted to the pediatric intensive care unit.
"We could tell there was something wrong with our son, but at first the doctors thought it was just due to his premature birth. My mother's intuition told me something else was going on," said Lori.
The PICU doctors listened to Lori and Robert's concerns and recommended more testing to try to uncover the cause of his issues, which found that Owen has a rare genetic disorder called Bainbridge-Ropers syndrome. Bainbridge-Ropers syndrome is a genetic disorder characterized by abnormalities including severe psychomotor issues, feeding problems, severe postnatal growth delays, intellectual disabilities and skeletal abnormalities.
"Only about 200 people worldwide have Bainbridge-Ropers, and Owen is the first case in St. Louis. It was discovered in 2013, and there is no cure. Owen needs therapies to help him learn how to reach the milestones of normal children," said Lori.
Medical professionals in the PICU also recognized the financial strain the mounting medical costs and associated expenses were having on the Cromwells. They gave Lori a list of resources, like St. Vincent de Paul, that might be able to help.
"Our savings had dwindled to nothing with all the medical expenses, so I took a chance and called St. Vincent de Paul. I reached out for help, and God sent me a lot of help. St. Vincent de Paul saved our home," said Lori.
Thanks to the generosity of donors, St. Vincent de Paul was able to pay the Cromwells' mortgage for the three months that were past due and also paid for a fourth month to get the family through the end of the year. SVdP also provided Christmas gifts for the babies.
"The Christmas gifts were so comforting and with the help with the mortgage — we couldn't ask for more. St. Vincent de Paul has been amazing," said Lori.
Owen continues to receive physical and occupational therapy through Missouri's First Steps program and Washington University. Meanwhile, Olivia is thriving. Her parents describe her as a spitfire.
"She's resilient. She is always on the move and does not like to stop. She is a sweet­heart and a good baby, especially considering all we've been through," said Robert.
While the family continues to face struggles, they are adjusting to their new reality. Because of the kindness on donors like you, they are getting back on their feet.
"We are extremely grateful to have SVdP step in and help someone who is just part of the community. They didn't even know us, and they helped us. It was one of the worst times of our lives, but also the best," said Lori.
Your generosity allows SVdP to make a difference in the lives of those in need. Please donate online at svdpstlouis.org or by calling 314.881.6035.
*Names have been changed to protect the privacy of the neighbor.
---
This content was produced by Brand Ave. Studios. The news and editorial departments had no role in its creation or display. Brand Ave. Studios connects advertisers with a targeted audience through compelling content programs, from concept to production and distribution. For more information contact sales@brandavestudios.com.