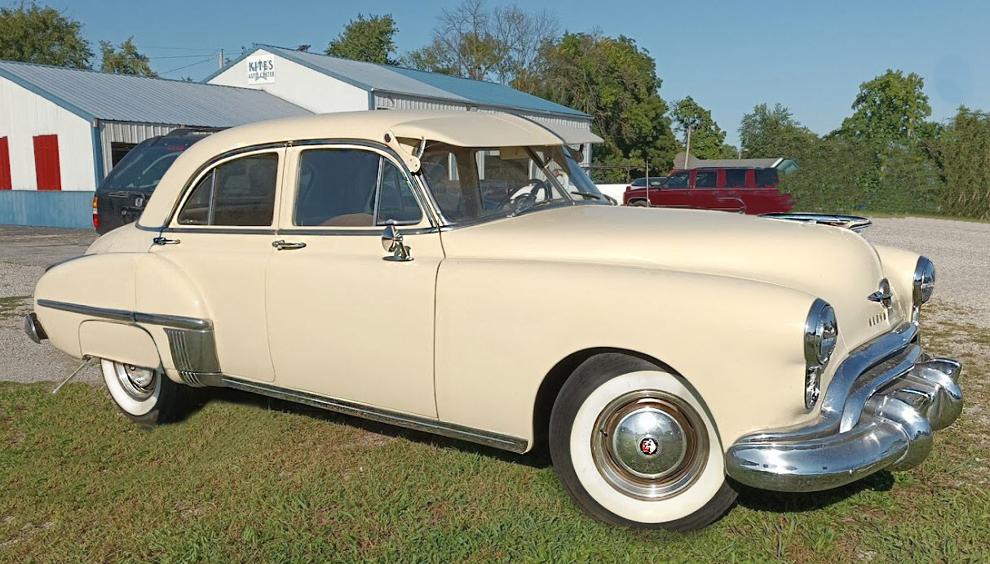 I saw this '49 Oldsmobile 76 sedan at Kite's Auto Center in Collinsville, Illinois a week ago. I looked the car over inside and out, and although it's a 20-footer when it comes to the paint, it is very presentable and show-worthy, although I wouldn't expect it to bring home a trophy.
This example is in better than average condition – including original Oldsmobile hub caps and beauty rings. Entering the cabin, one is pleasantly surprised to find a correctly restored interior from headliner to floorboard and everything in between.
Getting behind the wheel of this Olds time machine is like a real trip back in time. The in-line, six cylinder flat head engine starts with the touch of a dash-mounted pushbutton and the motor comes alive with a smooth response and a steady, quiet idle.
FIN MAN FACTOID: With its distinctive design, the P-38 Lightning fighter was sleek but its twin tails gave the Lightning a radical new look. The pilot, pumping 409 rounds per minute from its nose-mounted machine guns, dispatched the Condor in seconds, marking the first successful American engagement of a German aircraft during World War II. The F-35B Lightning II entered service with the U.S. Marine Corps in July 2015, followed by the U.S. Air Force F-35A in August 2016 and the U.S. Navy F-35C in February 2019 and is still in production as of this writing. (Information sourced from Lockheed-Martin.)
Although this Oldsmobile 76 was the entry-level model for the 1949 model year, this one was fitted with the Deluxe option which included foam rubber seat cushions, front and rear floor mats, special external chrome moldings, clock, deluxe steering wheel, wheel trim rings and turn signals. I'm sold!
A FIN MAN EXTRA! At RWFM V guest, Cliff Mueller, asked me about a certain automobile color name and questioned, "How in the world do they come up with these crazy names for colors on cars – like the Highlander Green on Jeremy Sanders Lincoln?" (OCC, 09-19-2021)
My theory – the marketing team had been sitting around a lengthy conference table for hours trying to come up with creative names, and when the clock on the wall was nearing five, they had but one color left – black... and the boss said, "Oh hell, let's just call it 'black' and be done with it!"
But when you just bought a new car and were describing it to a friend, doesn't Raven Black, Presidential Black, Jet Black or any one of the 11 listed in today's trivia sound more impressive?
So I'll bet you are wondering, just what is that "Nankeen" reference in Oldsmobile's color name for this car? Nankeen is a kind of pale yellowish cloth originally made in Nanking (modern Nanjing), China from a yellow variety of cotton, but subsequently manufactured from ordinary cotton that is then dyed. So there you have it and now you know.
Oldsmobile was no slouch when it came to performance. The 1949 Oldsmobile 88, powered by the Rocket 88 V-8 engine, would do zero-to-60 in 12.2 seconds and run the quarter mile in 19.9 which was considered fast in those days. A 1949 Oldsmobile 88 convertible was chosen as the official pace car for the 1949 Indianapolis 500. The pace car featured a special, clear Plexiglas hood to show off the Rocket 88 V-8 engine. This unique feature was made available as a factory option. Oldsmobile took home five NASCAR Grand National Races for the 1949 season.
Oh, by the way... Cliff Mueller had a 1969 Corvette back in the day, but decided to get rid of it and has been wanting another Corvette ever since. It took him 50 years to reach his dream and in 2019, Cliff purchased a brand new C-7 Corvette in Blade Silver. Cliff is an active member of the Ozark Corvette Club and has now been on four Rollin' with the FIN MAN tours.
UPCOMING EVENTS: Many people at last Friday's tour of Charles Gallagher's museum asked me when the next Rollin' with the FIN MAN VI would take place. All I can at this time is that it will be near year's end or early 2022. Details will be announced right here as they become available.
Thanks to all of you who attended RWFM V and kudos to Charles Gallagher for a wonderful day!
---
This content was produced by Brand Ave. Studios. The news and editorial departments had no role in its creation or display. Brand Ave. Studios connects advertisers with a targeted audience through compelling content programs, from concept to production and distribution. For more information contact sales@brandavestudios.com.