It was Marv Johnson, dispensing words of wisdom via SiriusXM's '50s channel, that led me to softly intone my own words of comfort to the 2020 Hyundai Palisade.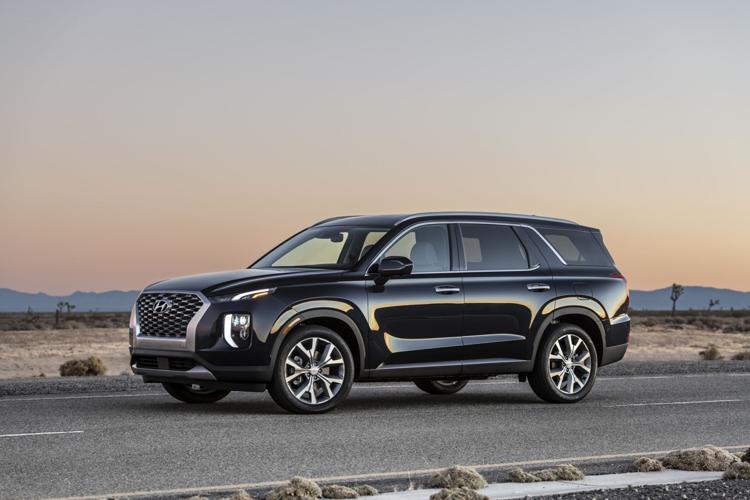 As Marv, courtesy of Palisade's boffo audio system, sang his original '59 version of the great R&B romp "You've Got What It Takes," he put the plight of Hyundai's Palisade succinctly: " . . . nature didn't give you such a beautiful face, but, baby, you've got what it takes -- to satisfy! . . ."
I patted Palisade on its handsome dashboard and said, "He's right, you know."
All new for 2020, this big crossover, a replacement for Hyundai's outgoing Santa Fe XL, gets the important stuff right, even if Hyundai stylists -- pinch-hitting for nature -- didn't give it such a beautiful face.
But it's what's inside that counts, and that's where Palisade shines. Available in SE, SEL and Limited trim, each offered with front- or all-wheel drive, Palisade provides a cabin that's roomy, quiet, convenient, handy, techy, handsome -- everything you could want from a three-row family crossover.
Only the front end is awkward. The mouthful-of-metal grille -- in, admittedly, a subjective observation --  creates a face only a mother could love. Among the dozen or so people who commented on it during our week with Palisade, only one, a longtime pal, thought it looked "classy." (Of course, this guy also thought "Dumb & Dumber To" was robbed on Oscar night.)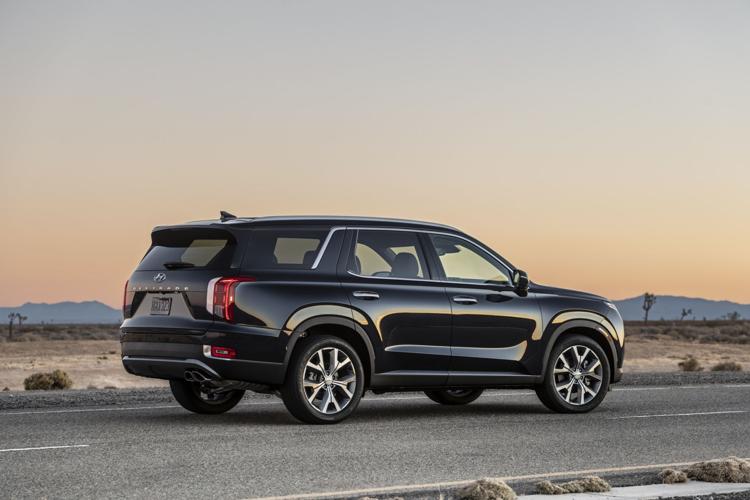 On the other hand, we didn't find a soul who didn't fall head-over-heels in love with Palisade once inside.
For starters, room -- pretty much the whole reason for buying a big crossover -- is fabulous throughout the cabin. Even the three-place third row is capable of accommodating two adults or three kids. Though middle-row captain's chairs are available, our middle-bench SEL provided seating for eight via a 2/3/3 arrangement.
And we should mention that access to that third row is easy. The rear doors open wide while a button on the fore/aft adjustable middle row enables that row to tilt and scoot forward for spacious passage to the third-row perch.
As if all that wasn't convenient enough, our SEL's $2,400 Premium Pkg. ensured our third row power folded and raised. Nice.
Meanwhile, our SEL's decor was classy -- two tone leather, boat-like wood trim on dash and doors, patterned metal on the center console, all  handsome and stylish.
Regarding infotainment, Palisade provides a big touch screen with all the modern perks -- and does it in a way that makes the tech easy to use. The reconfigurable screen in the gauge pod and the cruise control functions are handled via handy thumb-toggles on the wheel. They're easy to use, and easy to find without taking your eyes from the road. Meanwhile, old-school conveniences like hard buttons and knobs are abundant, even though the touch-screen is intuitive. Thanks, Palisade!
Regardless of trim, every Palisade is powered by a 3.8-liter, direct-injection V-6 that generates 291 hp and 262 lb.-ft. of torque through a standard, paddle-shiftable, eight-speed automatic.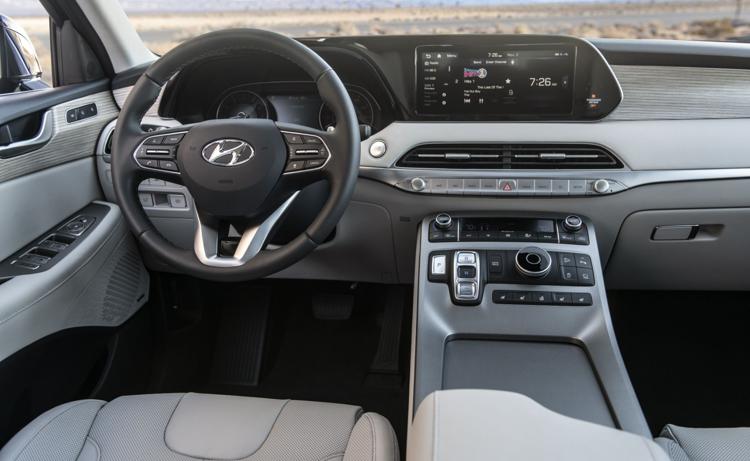 While no hot-rod -- hey, the big guy tips the scales at more than two tons -- Palisade does provide class-competitive power. In our all-wheel drive SEL, we greeted 60 mph in a blink over 7 seconds while realizing 24 mpg in 120 miles of mixed city/hwy driving.
Ride quality is aces, cabin serenity peaceful.
Palisade also provides driver-selectable chassis modes of Comfort, Eco, Snow, Sport and Smart, that last one letting the car do all the thinking.
Finally, all the hand-wringing safety stuff is here with such standards as Forward Collision-Avoidance Assist with Pedestrian Detection; Blind Spot Collision-Avoidance Assist; Lane Following Assist; Rear Cross-Traffic Collision Avoidance Assist; High Beam Assist; Driver Attention Warning; Smart Cruise Control with Stop and Go capability; and Safe Exit Assist.
You could argue that, given its mug, Palisade is lucky to be blessed with a great personality. But, really, isn't that just the kind of thing that makes for a genuinely happy long-term relationship?
---
This content was produced by Brand Ave. Studios. The news and editorial departments of the St. Louis Post-Dispatch had no role in its creation or display. For more information about Brand Ave. Studios, contact tgriffin@stltoday.com.