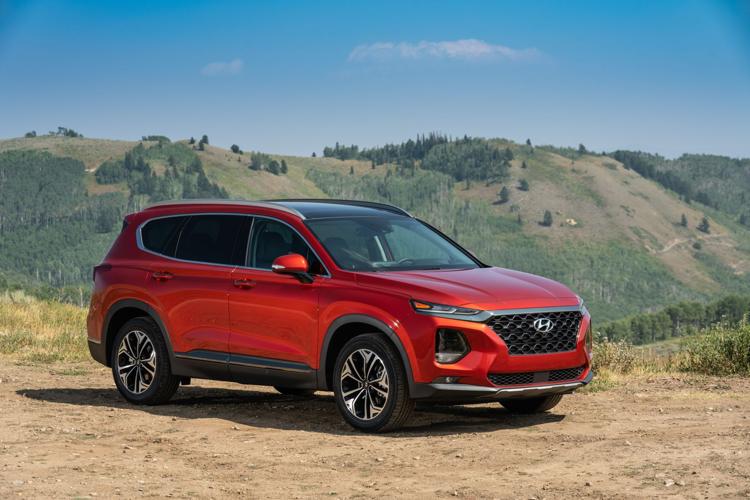 Its namesake is located on the high desert of the American southwest, but this Hyundai crossover's residency in our driveway had it facing more than half a foot of St. Louis snow.
It was December 16, and the white stuff had piled up to just over 6 inches in our neighborhood. But my daughter and I, for over a week, had planned a Christmas-shopping excursion for that day and we were not to be denied. So, taking solace from the "Santa Fe" name, which (I'm told) translates from the Spanish as "Holy Faith," we headed for the wilds of retail.
And -- Holy Toledo! -- my faith was not misplaced.
Our all-wheel drive 2020 Hyundai Santa Fe Limited proved sure-footed on snowy, slushy roads, allowing us -- admittedly, slowly and cautiously -- not only to uneventfully reach our destinations, but also enabling for us an unexpectedly stress-free shopping experience: with the weather so miserable, the stores -- nine days from Christmas -- were all but empty.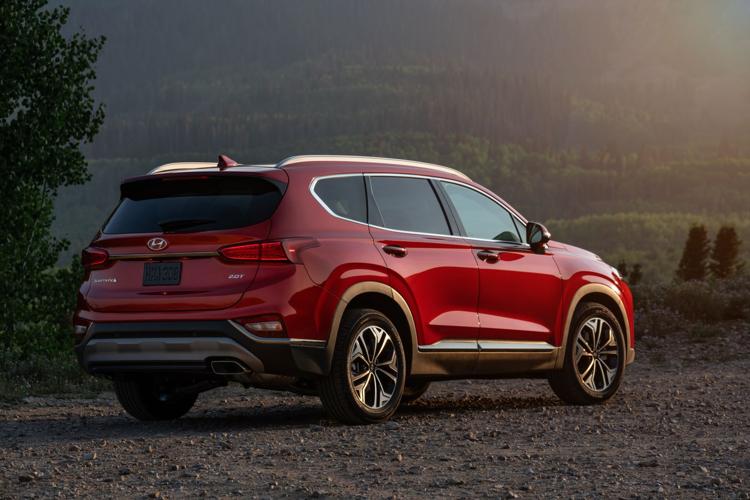 Thanks, Santa... uh... Fe!
This fourth-generation Santa Fe is a midsize, five-passenger crossover SUV that can be had in any of three trims: SE, SEL and Limited. All come standard with a 2.4-liter, 185-hp I-4 and front-wheel drive, and all but SE can be optioned up to all-wheel drive. In addition, SEL and Limited also can be optionally upgraded with 235-hp, turbocharged 2.0-liter four.
Regardless of drive format or engine, every 2020 Santa Fe is managed by an eight-speed automatic transmission.
We drove the top-of-the-line Santa Fe Limited 2.0T AWD, finding it a fine companion in both good times and bad.
In fact, our only complaint was fuel economy, although -- in Santa Fe's defense -- our mpg figure was likely impacted by what ultimately turned out to be two days of slogging over snow-covered roads. In any event, in 120 miles of urban driving, we realized 17 mpg -- 2 less that the EPA figured we'd get.
Otherwise, this guy is a pleasant companion in daily living.
On the road, the cabin is quiet at-speed, the ride quite comfortable and the handling is drama-free. Even with the turbo engine, this guy is no hot rod, but that's not much of a complaint when the category is a family-friendly and affordable crossover SUV. Its get-up-and-go is more than adequate in the urban stoplight grand prix.
Inside, room is aces front and rear, with plenty of head room throughout the cabin and loads of rear-seat leg room, even behind a tall driver. Meanwhile, the cargo bay, with seats folded, expands to more than 71 cubic feet while providing handy hidden storage beneath the floor.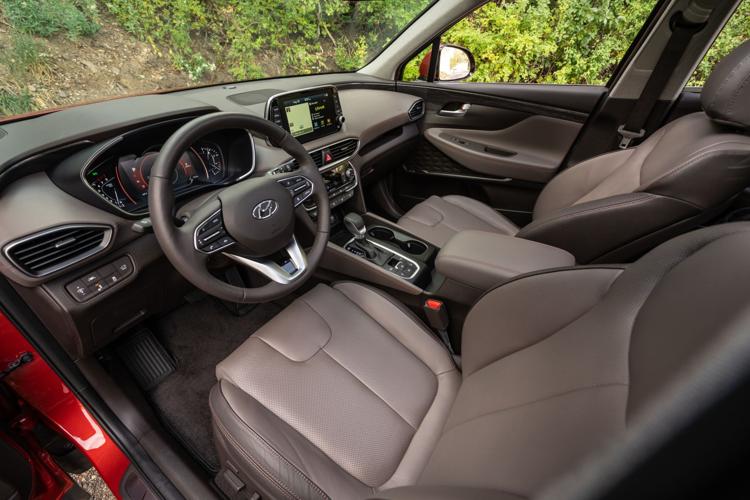 Regarding the infotainment stuff in our Limited, the interface -- an 8-inch touch screen that's Android Auto and Apple CarPlay friendly -- is wonderfully intuitive and hassle-free. Not only are redundant hard buttons provided, along with volume and tuning knobs for the radio, but the steering wheel in our Limited exhibited handy toggle switches for volume and tuning that are easy to manipulate without taking your eyes from the road. Just great.
Of course, all the expected safety nannies are offered, including such Santa Fe standards as forward collision warning and auto emergency braking, adaptive cruise control, lane-departure warning and lane-keep assist.
Our Limited also boasted a Blind-View Monitor, which gives a real-time camera view of the aft flank of the vehicle when the turn signal is engaged -- images display not on the center stack screen, but in the gauge pod right in front of the driver. Just great.
All-new last year, the few changes in the 2020 Santa Fe include more standard driver-assist stuff in the SEL and the aforementioned Blind-View Monitor for Limited.
Priced from the mid-20s to about 40 grand, the Santa Fe is a solid value for families seeking a handy crossover. And, judging from our experience, it may even help you have a Merry Christmas and Happy Holidays.
---
This content was produced by Brand Ave. Studios. The news and editorial departments of the St. Louis Post-Dispatch had no role in its creation or display. For more information about Brand Ave. Studios, contact tgriffin@stltoday.com.